The great guide to London's best wine places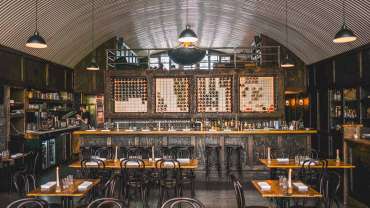 Phone: +44 20 77344677

Address: 10 Greek St, Soho, London W1D 4DL

Small, buzzy bistro in the heart of Soho, serving comforting and wine-friendly, modern European dishes. 10 Greek Street is a great option in London for drinking finer wines in a fun, easy-going space with hearty food on the side.

Phone: +44 20 7486 7922

Address: 15-17 Marylebone Ln, Marylebone, London W1U

Part wine-bar, part restaurant the decor has a stylish, rustic-industrial feel. Serving modern European cuisine, 28°-50° has more than 30 wines constantly on by the glass and a large bottle list, as well as a Collector's List from private cellars. The space features a 'workshop' where they regularly host wine tastings and themed wine dinners, so there's lots on offer whether it be a business drink, a dinner date or a night out with friends.

Phone: +44 20 7237 9247

Address: 40 Maltby Street, London

Wine bar located in the warehouse of Gergovie Wines, a natural wine importer of mostly European wines, on Maltby Street in London, a haven of artisan food and drink producers and suppliers. It's very relaxed with a mix of counter and high table and stool seating. The seasonal food is superbly cooked with a British and regional French slant. 40 Maltby Street is a unique and delicious continental experience in the heart of Bermondsey and a must for adventurous wine geeks in London.

Phone: +44 20 7437 5708

Address: 46 Lexington St, Soho, London W1F 0LP

Andrew Edmunds is the cherished Soho bistro, known almost as much for its cosy interior, quirky but delightful service and honest, delicious food as it is for its solid wine list; a list that's offered amazing value for over 30 years.

Phone: +44 20 7287 84 88

Address: 12A Newburgh Street, London

Central London wine bar with small dining room upstairs, tucked away behind the madness of Oxford Circus tube station at the start of Soho, just off Carnaby Street. Whilst the atmosphere is laid back and buzzy they are serious about wine, with an extensive wine list comprising of the very best small producers of biodynamic & organic wines, largely from France. The menu is focused on French cuisine and inspired by the cycle of the seasons with cheese & charcuterie available all day.

Phone: +44 20 3609 6602

Address: 114a-116 Fortess Road, London

Authentique is a modern epicierie in Tufnell Park, north London. Foodwise, guest chefs rotate every few months with a full menu Thursday - Sunday. Cheese, charcuterie, salads and a hot dish are on earlier in the week. It's super relaxed, bright and spacious with a terrace out the back for summer drinking. Run by four friends - all French of course - who know and love their wine and fine regional produce which they also sell from the large deli section. Not many places manage to successfully combine shop, wine bar, cafe and bistro but they've nailed it - Authentique by name and nature.

Phone: 020 7935 4626

Address: 1 Blandford Street, London

Small but perfectly formed, Blandford Comptoir is a slick little wine bar on a stylish Marylebone street. The contemporary Mediterranean menu showcases the best, well-sourced ingredients with a selection of meat, seafood, raw and vegetable small and large plates, designed to be enjoyed in any order. Guests can enjoy the extensive range of 250 wines, 20 champagnes and a tempting selection of home-brewed cocktails, created to reflect styles of wine. It's sister bar of the equally recommended Comptoir Mayfair, and they host tastings on Saturdays. Blandford is ideal for a quick glass or three whi...

Phone: +44 20 3696 8240

Address: 115 Hammersmith Grove, Hammersmith, London W6 0NQ

The wine list at Brackenbury Wine Rooms in London comprises 150 bins from all over the world, leaning towards organic and biodynamic, with an especially strong new wave South African section. There are 40 wines available by the glass, served from enomatics. They have a large leafy terrace, relaxed interior and a private room available. It's all good value, including the menu of fuss-free, brasserie classics, each with a wine pairing to make life as simple as possible. It's a user-friendly place – the wine list has something for everyone whether you are a novice just wanting a quick glass of de...

Address: 4 Redchurch St, London E1 6JL

New and rightfully popular Basque-inspired, wood-fired grill restaurant on the first floor above Smoking Goat (an equally excellent but separate entity – and Thai). Housed in a decommissioned East end strip club, it looks more like a smart old man's London pub with wood panels and original features. Wine is obviously a focus – empty bottles sit above the front door and line the corridor to the stairs. The specialty is of course Turbot (Brat) alongside quality cuts of meat, whole game birds and clean, superlatively sourced sides – all simply but expertly cooked.

Phone: +44 20 7729 5692

Address: 49 Columbia Rd, London E2 7RG

Informal bistro with an open kitchen in the back, on the hip and historical Columbia Road, in Hackney – home of the famous Sunday flower market. The superb cooking has a relaxed ease – a daily menu of seasonal, produce-driven, regional European dishes and not-to-be-missed classic desserts. Set up in 2010 by wine importer Les Caves de Pyrene the wine list is thorough and natural/sustainable/biodynamic. It's now solely owned by the original (and very wine-savvy) chef Ed Wilson, who's taken the whole offer from strength to strength. The sizeable list is mostly European with a smattering of New Wo...

Phone: 020 3095 9407

Address: 1 Westgate Street, London

The hotly anticipated London wine bar and restaurant Bright opened in Spring 2018 and has been packed ever since. It's the third outpost from the P Franco / Noble Fine Liquor stable in Hackney - all championing natural and low intervention wines with a fun-loving passion. The small open kitchen knocks out some seriously good wine-friendly plates, taking inspiration from all over the world (whether it's their house-rolled pasta or utterly 'grammable Katsu Sando). Pet Nat, Grower Champagne, skin contact whits and plenty of juicy 'vin de soif' are the order of the day on the wine list and whilst...

Phone: +44 20 7637 7770

Address: 70 Charlotte St, Bloomsbury, London W1T 4QG

Bubbledogs in London takes fine wines to a whole new pairing level with the ultimate American comfort food – hot dogs. As the name gives away, Bubbledog's wine list is almost exclusively bubbling, specifically withgrower Champagne, served with a creative and culinary menu of sweet and savoury dogs. Bubbledogs has a comprehensive and fairly priced wine list, with a few options from elsewhere (Cava, English Sparkling…) and even some still wines from Champagne. Sandia, the co-owner and sommelier, and her chef husband James, also have their Michelin starred dining experience, Kitchen Table, in the...