Great wine restaurants in London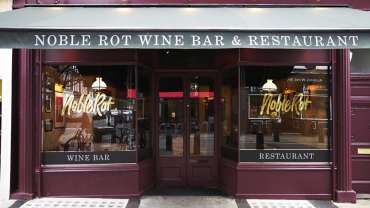 London is one of the greatest cities in the world for eating, from world-renowned fine dining restaurants to classic bistros, boundary-busting new wave kitchens, multi-cultural street food and everything in between. There's something for everyone and that includes wine. Here is our guide to a number of the greatest wine restaurants in London – and be sure to check back often as we plan to grow this guide coverage. If you're in London and want to find places near you, choose Map in the menu and click "Wine places near me", voilà!
10 Greek street

Address: 10 Greek St, Soho, London W1D 4DL

Small, buzzy bistro in the heart of Soho, serving comforting and wine-friendly, modern European dishes. The 10 Greek street main wine list is concise, affordable and reliable – with something to please most palates. Real wine enthusiasts know to ask for the Little Black Book of specials – an updated daily list of odd bottles and fine wines at low markups. 10 Greek Street is a great option in London for drinking finer wines in a fun, easy-going space with hearty food on the side.

The 10 Cases

Phone: +44 20 7836 6801

Address: 16 Endell St, London WC2H 9BD

The 10 Cases Bistro à Vin is located in the middle of Theatreland in Covent Garden in London. The concept is simple – to offer a short list of 10 whites and 10 reds (alongside rosé, some bubbly and some fortified) and to never buy more than 10 cases of each wine, guaranteeing a constantly evolving selection. One of the most unpretentious yet high-quality wine bars in London, The 10 Cases is as popular with the trade as it is with the wine-loving public. The menu is French bistro style, three starters, three mains and some smaller tapas plates on the side. The bistro wine list is available by t...

Andrew Edmunds

Phone: +44 20 7437 5708

Address: 46 Lexington St, Soho, London W1F 0LP

Andrew Edmunds is the cherished Soho bistro, known almost as much for its cosy interior, quirky but delightful service and honest, delicious food as it is for its solid wine list; a list that's offered amazing value for over 30 years. All the classical regions are covered, with a few 'out there' producers thrown in for good measure, alongside some classy bottles from the New World and a proper selection of sweet and fortified wines. It's all about quality and longevity over fashion here – a little piece of Paris with a dose of old-school British reality, right in the heart of sexy Soho. Hugely...

28°-50° Marylebone

Address: 15-17 Marylebone Ln, Marylebone, London W1U

Part wine-bar, part restaurant the decor has a stylish, rustic-industrial feel. Serving modern European cuisine, 28°-50° has more than 30 wines constantly on by the glass and a large bottle list, as well as a Collector's List from private cellars. The space features a 'workshop' where they regularly host wine tastings and themed wine dinners, so there's lots on offer whether it be a business drink, a dinner date or a night out with friends. BYO: £20 / btl. Limited to one bottle per person, up to 6 people.

Comptoir Mayfair

Phone: +44 20 7499 9800

Address: 21-22 Weighhouse St, Mayfair, London W1K 5LU

Comptoir Mayfair is a wine lovers' place with more than 1800 bottles in their cellar and operates as part wine shop, part café, part wine bar. Located on a little corner in Mayfair it's cosy, classic and stylish all rolled into one. The counter cafe space upstairs is light and relaxed, downstairs you'll find you´ll find two tasting rooms – the Tasting Table in the cellar surrounded by bottles and the Library, a cosy intimate lounge for small groups. Comptoir Mayfair – sister of Blandford Comptoir in Marylebone – was set up in 2016 by MS Xavier Rousset so it's no surprise the wine list is on th...

Chez Bruce

Phone: +44 20 8672 0114

Address: 2 Bellevue Rd, London SW17 7EG

A long-time favourite of Londoners, all of whom are very willing to make the journey out to leafy Wandsworth (not as far as you think) for the timeless and consistently excellent Chez Bruce. They say it best: "from the outset, it was our intention to serve the very best food and drink but within a relaxed, informal yet thoroughly professionally orchestrated environment". Sharing a co-owner with La Trompette, The Glasshouse and The Ledbury the wine cellar is impressive. The list is extensive – classic French and Italian regions dominate but Portugal, Spain, Islands, Central Europe and the New W...

Brat

Address: 4 Redchurch St, London E1 6JL

New and rightfully popular Basque-inspired, wood-fired grill restaurant on the first floor above Smoking Goat (an equally excellent but separate entity – and Thai). Housed in a decommissioned East end strip club, it looks more like a smart old man's London pub with wood panels and original features. Wine is obviously a focus – empty bottles sit above the front door and line the corridor to the stairs. The specialty is of course Turbot (Brat) alongside quality cuts of meat, whole game birds and clean, superlatively sourced sides – all simply but expertly cooked. The wine list doesn't disappoint...

Brawn

Phone: +44 20 7729 5692

Address: 49 Columbia Rd, London E2 7RG

Informal bistro with an open kitchen in the back, on the hip and historical Columbia Road, in Hackney – home of the famous Sunday flower market. The superb cooking has a relaxed ease – a daily menu of seasonal, produce-driven, regional European dishes and not-to-be-missed classic desserts. Set up in 2010 by wine importer Les Caves de Pyrene the wine list is thorough and natural/sustainable/biodynamic. It's now solely owned by the original (and very wine-savvy) chef Ed Wilson, who's taken the whole offer from strength to strength. The sizeable list is mostly European with a smattering of New Wo...

Bubbledogs

Phone: +44 20 7637 7770

Address: 70 Charlotte St, Bloomsbury, London W1T 4QG

Bubbledogs in London takes fine wines to a whole new pairing level with the ultimate American comfort food – hot dogs. As the name gives away, Bubbledog's wine list is almost exclusively bubbling, specifically withgrower Champagne, served with a creative and culinary menu of sweet and savoury dogs. Bubbledogs has a comprehensive and fairly priced wine list, with a few options from elsewhere (Cava, English Sparkling…) and even some still wines from Champagne. Sandia, the co-owner and sommelier, and her chef husband James, also have their Michelin starred dining experience, Kitchen Table, in the...

Kitchen Table

Address: 70 Charlotte St, Fitzrovia, London W1T 4QQ

Tucked away at the back of Bubbledogs through a discreet entrance, lies the 20 seat Kitchen Table. Run by the same husband and wife team as Bubbledogs, Kitchen Table is a 'dining experience', encouraging full interaction with the chefs and showcasing all the action throughout the evening. They prepare, cook and serve a daily tasting menu of meticulously sourced and foraged British ingredients, in two overlapping sittings. Sandia, who looks after the wine and front of house, has put together a neat and precise wine list of some of the best, artisanal growers, covering the main regions and gra...

Cabotte

Phone: +44 20 7600 1616

Address: 48 Gresham St, London EC2V 7AY

Cabotte is a recent addition to the City in London and has a superb, long wine list majoring on the great wines of Burgundy. Set up by two Master Sommeliers (Xavier Rousset and Gearoid Devaney) along with the backing of some high profile Burgundian Growers, Cabotte lists about 1000 wines with 650 of those from Burgundy. But of course that still leaves plenty of room for other regions, whether it be a single vineyard Gruner or old, rare Madeira. It's a smart but trendy space with two private dining rooms upstairs and very wine friendly European menu. Despite its location in the City and its foc...

City Social

Phone: +44 20 7877 7703

Address: Tower 42, 25 Old Broad St, London EC2N 1HQ

City Social is located on the 24th floor of Tower 42 with dramatic views over the City of London and boasts a smart decor, a buzzy, slick atmosphere and top notch cooking. City Social's wine list has a fairly classic approach with a thorough range of producers and regions and bottles for all occasions.

Fare Bar + Canteen

Phone: 07757 676174

Address: 11 Old Street, London

Fare Bar + Canteen is from the Sager + Wilde stable - ex-Sommelier Michael Sager on wine and bartender Marcis Dzelzainis looking after the innovative cocktail offer. It's a multifunctional space split across two floors offering a grab-and-go coffee, intimate cocktail and wine bar and dining room serving a selection of modern seasonal small plates with larger sharing dishes from the robata grill. Located in trendy Clerkenwell in London, it's a bright open space with a contemporary industrial feel. Considering the chilled out, all-day vibe the wine list is unusually wide - over 400 entries, majo...

Core by Clare Smyth

Phone: +44 20 3937 5086

Address: 92 Kensington Park Rd, London W11 2PN

Core by Clare Smyth has achieved a lot after its opening in August 2017, including being awarded two stars from the Michelin Guide. The menu offers a la carte and a short and long tasting menu with optional wine pairings of 100ml per course. One of South Africa's (and beyond) best sommeliers, Gareth Ferreira, is behind the wine list. It has more than 400 bins covering the most important wine regions around the World and a generous number of wines by the glass, allowing the sommeliers to offer varied and exciting options with your tasting menu. If you´re seeking a top fine-dining experience in...

Frenchie Covent Garden

Phone: +44 20 7836 4422

Address: 16 Henrietta St, London WC2E 8QH

Central London outpost of the super successful Cave a Vin, wine shop and restaurant of the same name in Paris. The food is a mix of small plates, a la carte and short tasting menu options. It's contemporary, creative, in the new French 'bistronomie' style, with a flicker of international inspiration. The wine list is a decent size – with an artisan, biodynamic angle. Sommelier Bastien Ferreri hails from Marseille, and having worked in top restaurants in both France and London, has created a list that focuses mostly on dynamic French producers, followed by the rest of Europe and a healthy selec...

Hawksmoor Air Street

Phone: +44 20 7406 3980

Address: 5A Air Street, Piccadilly, Mayfair, London W1J 0AD

The most glamorous of the superb Hawskmoor group, who have been seriously upping the standard of British steakhouses since 2009. Also known for their good wine lists, they've got all the usual steakhouse suspects – Malbec, Syrah, Cali powerhouses – but it's balanced out with plenty of other options from Europe, classy classics (up to '82 First Growths), quirky new producers and the fresher side of the New World. The list is completed with magnums, port, sherry and a well-respected cocktail programme. Very user-friendly, 8-10 of each colour by the glass and sensibly priced.

Hide

Phone: +44 20 3146 8666

Address: 85 Piccadilly, Mayfair, London W1J 7NB

Hide is a restaurant and bar by the awe-inspiring wine shop Hedonism and chef Ollie Dabbous. Set over three floors, flooded with natural daylight and enjoying views across Green Park, Hide serves creative, contemporary and seasonal food in a warm yet visually striking space. Open every day from breakfast through to dinner, including afternoon tea, the menu is accompanied by Hedonism's incomparable wine list. The sommelier team has compiled a concise wine list of wines from all over the world, with a large selection of accessibly priced bottles and wines by the glass. Should you want to dig de...

Hunan

Phone: +44 20 7730 5712

Address: 51 Pimlico Rd, Belgravia, London SW1W 8NE

Family run Hunanese restaurant in Belgravia/Pimlico that's held in high-esteem whilst remaining low-key – all part of it's charm. It's simply, almost sparsely, decorated but you come here for the endless flow of delicious, tasty dishes and – more importantly – the under-the-radar wine list. They pretend you can order a la carte but you never really get chance – it's best to just let them take control food wise (there's a 'leave it to us' option) after giving them any dislikes, allergies or desires to be more adventurous. The wine list is discreet yet packed full of famous names – printed on...

Leroy

Phone: +44 20 7739 4443

Address: 18 Phipp St, London EC2A 4NU

Leroy is a wine bar & restaurant in London's Shoreditch from Sommeliers Ed Thaw and Jack Lewens. It opened shortly after their original venture Ellory in Hackney closed in March of 2018. As well as sharing a name with two great producers (Richard in the Loire, Lalou in Burgundy) Leroy was serendipitously one of their pet names for Ellory, since many people were unable to pronounce it correctly. Inside it's light but cosy, simply decorated with some elegant wine prints on the wall. The menu aims for simplicity and flavour – food that is thoughtful but not showy. The cod's roe and crisps and qua...

Lorne

Phone: +44 20 3327 0210

Address: 76 Wilton Rd, Pimlico, London SW1V 1DE

London restaurant Lorne's wine list is run by owner and ex-sommelier Katie Exton and Gianluca Bono (ex-Chez Bruce sommelier). It's a 200ish bin list that focuses on regions, varieties and wine styles that they both like and think work well with their food – and they do. Classic cru classés from Bordeaux sit happily next to smaller producers from lesser-known regions such as Dani Landi and Mac Forbes. Lorne applies cash margins on more expensive bottles. They also have a single bottle list available if requested, that has some great wines at even greater prices – plus a not-to-be-missed back vi...

Lyle's

Phone: +44 20 3011 5911

Address: Tea Building, 56 Shoreditch High St, London E1 6JJ

Lyle's is a stylish 'new British' restaurant in Shoreditch, on the London City fringes. Housed in a converted factory that's also home to a top ad agency, the room is a simple, clean and flooded with light toward the obviously high spec yet unshowy open kitchen. It has a functional but sleek interior (Ercol chairs, natural wood tables) with nothing unnecessary in sight, creating a calm space and puts the focus on the food and wine. The wine list is compact – a page of each red and white – and has a natural focus and hand-picked feel. Mostly French (it's Jura, Loire, Auvergne over Cru Classé Bo...

Mash Steak House

Phone: +44 20 7734 2608

Address: 77 Brewer St, Soho, London W1F 9ZN

The London outpost of the upscale Danish Modern American Steak House group is slap bang in the centre of town in busy Soho/Piccadilly. You escape from the madness however as you descend into the rather dramatic and glamorous basement space. It's a vast, upscale restaurant boasting a plush art deco interior. Needless to say, they serve some of the best steaks in town, with cuts sourced from all over the world. The wine list is suitably impressive and includes one of the largest selections of American wine outside the US, with the opportunity for plenty of vertical drinking. There are enough a...

Noble Rot

Phone: +44 20 7242 8963

Address: 51 Lamb's Conduit St, London WC1N 3NB

Noble Rot opened their doors in late 2015 and immediately hit their stride as a not-to-miss wine venue in London. Located in Bloomsbury on the quaintly historic Lamb's Conduit Street, it's Parisian inspired and feels as if it's been there forever. The wine bar at the front is light and comfortable, with prize tables in the double fronted bay windows, a roaring fire in the colder months and walls adorned with the very cool front covers of their eponymous wine magazine. The restaurant at the back is cosy and inviting. The food is classic Franglais bistro fare – ideal for wine – and then you've...

Pollen Street Social

Phone: +44 20 7290 7600

Address: 8-10 Pollen St, Mayfair, London W1S 1NQ

Pollen Street Social is the flagship restaurant of the Social group in London, located in Mayfair. Pollen Street Social describes itself as a contemporary bistro with a relaxed fine dining atmosphere. The cuisine is modern and creative European and the wine list at Pollen Street Social follows suit. It's extensive and offers an impressive by the glass selection – over 50 wines, sake, sweet, fortifies and sparkling all served in different measures between 75ml, 125ml and 175ml – so plenty to suit all budgets and taste buds.

Sager + Wilde Paradise Row

Phone: +44 20 7613 0478

Address: Arch, 250 Paradise Row, London E2 9LE

The sister restaurant of the original Sager + Wilde bar, in trendy Bethnal Green, right next to the tube station. It has a laid-back, urban vibe with a short but decent menu of tasty and affordable snacks and a few bigger plates and great value fresh pasta. In line with the bar up the road, the Sager + Wilde Paradise Row wine list is quality, fun and dynamic with depth so plenty to get stuck into at all price points. There's a cocktail mezzanine upstairs too and a large terrace out front. They regularly host relaxed tastings and winemaker nights inside and out, and just like the bar, it is one...

Salon

Phone: +44 20 7501 9152

Address: 18 Market Row, Brixton, London SW9 8LD

A relaxed modern bistro, Salon serves seasonal and inventive food in Brixton Village market. It has an independent, family feel about it – co-owned by Nick the chef and Mark on wine and front of house. Downstairs there's a bar serving snacks and sharing dishes and an upstairs dining room offering seasonal set menus. In their words, "it's fine dining, but without any of the fuss." The wine list is a reduced version of their offer next door at Salon Wine Store, which sells 130 lines of low intervention, organic and biodynamic wine from across the world (which incidentally has zero corkage to dri...

Social Wine & Tapas

Phone: +44 20 7993 3257

Address: 39 James St, Marylebone, London W1U 1DL

Social Wine & Tapas is located just off the bustling Bond Street end of Oxford Street in London. With a wine shop at their entrance and a split-level restaurant behind, it's stylish but cosy with lots of hidden corners, counter dining, banquettes and a cellar bar. The menu serves modern Mediterranean tapas using seasonal English ingredients. Wines are offered at retail prices to take-away as well to drink in. On the wine list, you'll find a selection of bottles sourced from all corners of the world, from European classics, regional gems, newly popular pet-nats and beyond into the New World.

Terroirs

Phone: +44 20 7036 0660

Address: 5 William IV St, London WC2N 4DN

Terroirs was one of, if not the first, natural wine bars in London in 2009. In their own words, "our philosophy has always been to make natural wine as accessible as possible for everyone", and they have done exactly that. After 10 successful years trading their selection of low intervention and natural wines (including an extended skin macerated wine section) has been supplemented with artisan cider, poiré, sherries and beers. Inside it looks and feels like a bustling French bistro, lots of traditional posters on the wall, rustic furniture and a menu full of the cheese, ham, hearty mains and...

The Five Fields

Phone: +44 20 7838 1082

Address: 8-9 Blacklands Terrace, Chelsea, London SW3 2SP

The Five Fields restaurant is in the heart of Chelsea, London, with a classic and elegant decor. The menus offer prix fixe and tasting options for both lunch and dinner, and use seasonal ingredients sourced from their own kitchen gardens in East Sussex. The wine list at The Five Fields is extensive and classic, and includes large formats and back vintages from the 80's and 90's. Classic French regions are the main focus, but you can still find superb wines from further afield including Central Europe, the new world and even China.

The Ledbury

Phone: +44 20 7792 9090

Address: 127 Ledbury Rd, London W11 2AQ

The Ledbury has become one of the most iconic fine-dining restaurants in London. The wine list is accessible, balanced and with depth should you want to experiment or splurge on some of the finest bottles in town. It covers the classics from all over the world and more esoteric options, also demonstrated in their wine pairings. In traditional fashion, The Ledbury has been buying and storing their own wine for years, which has given them a deep reserve of older vintages to share. Their selection of whiskies and Madeira is also well worth a look. BYO: £60

The Mandrake

Phone: +44 20 3146 7770

Address: 20-21 Newman St, Fitzrovia, London W1T 1PG

This newly opened West End's boutique hotel showcases provocative artwork. Located in Fitzrovia, the space and the food speak the same language with contemporary European cuisine served at the fine dining restaurant Serge et le phoque. The wine list at the Mandrake highlights selected fine and rare wines.

Trishna

Phone: +44 20 7935 5624

Address: 15-17 Blandford St, Marylebone, London W1U 3DG

Located in the heart of Marylebone in London, Trishna delivers a contemporary taste of Indian coastal cuisine, and an extensive wine list that focuses on emerging regions and fine wines from niche producers and boutique wineries from all over the world. The informal and pared back aesthetic of the interiors complete with antique mirrors, marble tabletops and original wooden paneling makes it a very welcoming space. In the summer the terrace doors open onto Blandford Street, creating an almost alfresco ambiance. They take wine seriously here, and have spent time and energy sourcing bottles to s...

Ducksoup

Phone: +44 20 7287 4599

Address: 41 Dean St, Soho, London W1D 4PY

Ducksoup is the swan in London's little duck empire, which besides this wine bar in Soho also includes Rawduck and Little Duck-The Picklery. If the place is small, the atmosphere is generous. From the bar, natural wines of all colours are poured by the glass and the kitchen produces creative and tasty dishes. It is crowded and friendly and if you want to DJ, there is a vinyl player by the entrance. There is no wine list, instead the wines of the moment can be found on the blackboard, or just ask.

La Dame de Pic

Phone: +44 20 3297 3799

Address: Four Seasons Hotel at Ten Trinity Square, 10 Trinity Square, London EC3N 4AJ

La Dame de Pic is Chef Anne-Sophie Pic's London debut located in the luxurious Four Seasons hotel. The original three-generation-year-old Maison Pic is in Valence in the Rhône Valley, the selection of wines by the glass leans gently but not exclusively in this direction. The menu is upscale, refined and inventive French cuisine from one of the worlds top chefs. The full wine list has been put together by Wine Director Jan Konetzki and reflects the quality and elegance of the food. Gaining an award as the best mid-size format wine list in 2018, the wine list offers unique fine and rare wines wi...

Les 110 de Taillevent

Phone: 020 3141 6016

Address: 16 Cavendish Square, London

Les 110 de Taillevent in London is an embassy of the classic Paris restaurant Le Taillevent and its sibling Les 110 de Taillevent in Paris. Located by Cavendish Square just a short walk from Oxford Street, this gorgeous brasserie has a relaxed but high-end approach to wine. As for the name "Les 110 de Taillevent", the 110 refers to the numbers of wines available by the glass, in either 70ml or 125ml. To go with the 110 wines (or many more by the bottle), you'll find 30 a la carte dishes. BYO: £35

Bright

Phone: 020 3095 9407

Address: 1 Westgate Street, London

The hotly anticipated London wine bar and restaurant Bright opened in Spring 2018 and has been packed ever since. It's the third outpost from the P Franco / Noble Fine Liquor stable in Hackney - all championing natural and low intervention wines with a fun-loving passion. The small open kitchen knocks out some seriously good wine-friendly plates, taking inspiration from all over the world (whether it's their house-rolled pasta or utterly 'grammable Katsu Sando). Pet Nat, Grower Champagne, skin contact whits and plenty of juicy 'vin de soif' are the order of the day on the wine list and whilst...