The guide to great London wine bars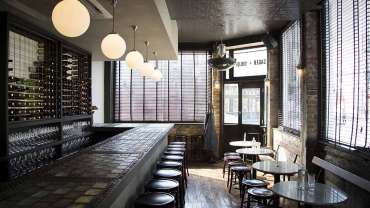 London has much to offer – culture, history, architecture and a strong identity alongside a diversity rarely seen elsewhere. And as one of the major capitals in the wine world, there is something for everyone. London boasts some seriously deep and impressive cellars and wine bars ranging from the cosy and traditional to the young, vibrant and creative, shaking things up and giving wine an exciting new image for a new generation. Here is a selection of top wine bars in London right now – but we will be expanding this list a lot so be sure to check back. And let us know your favourites too. Here is our London wine bar guide, from east to west:
Bright

Phone: 020 3095 9407

Address: 1 Westgate Street, London

The hotly anticipated London wine bar and restaurant Bright opened in Spring 2018 and has been packed ever since. It's the third outpost from the P Franco / Noble Fine Liquor stable in Hackney - all championing natural and low intervention wines with a fun-loving passion. The small open kitchen knocks out some seriously good wine-friendly plates, taking inspiration from all over the world (whether it's their house-rolled pasta or utterly 'grammable Katsu Sando). Pet Nat, Grower Champagne, skin contact whits and plenty of juicy 'vin de soif' are the order of the day on the wine list and whilst...

The Laughing Heart

Phone: 020 7686 9535

Address: 277 Hackney Rd, London, E2 8NA, London, Hackney E2 8NA, Reino Unido

Late night wine bar, dining room & off-licence on Hackney Road in East London. The restaurant serves a contemporary cuisine that draws inspiration from many parts of the world. The place as a whole has some really nice design features and plenty of space, perfect for settling in and staying up late. The Laughing Heart wine list supports artisan farmers who work their vineyards organically. Whatever your taste or budget they aim to serve wine people will love. On the lower ground floor they operate an off-licence selling wine to take away at reduced prices and behind is The Laughing Heart Cave...

Sager + Wilde Hackney Rd

Phone: +44 20 8127 7330

Address: 193 Hackney Rd, London E2 8JL

Sager + Wilde put the cool and the hip into London's wine bar scene back in 2013, following a successful pop up the year before. The interior has elements of both wine and cocktail bar, housed in a small converted East End pub on trendy Hackney Road. The staff is knowledgeable, passionate and very relaxed. The wine list features lots of interesting options by the glass and a keenly priced long reserve list of some of the great and most interesting wines on offer in London today. To eat there's cheese, charcuteries, and their famous grilled chilled sandwich. All in all, a really fun place that'...

Leroy

Phone: +44 20 7739 4443

Address: 18 Phipp St, London EC2A 4NU

Leroy is a wine bar & restaurant in London's Shoreditch from Sommeliers Ed Thaw and Jack Lewens. It opened shortly after their original venture Ellory in Hackney closed in March of 2018. As well as sharing a name with two great producers (Richard in the Loire, Lalou in Burgundy) Leroy was serendipitously one of their pet names for Ellory, since many people were unable to pronounce it correctly. Inside it's light but cosy, simply decorated with some elegant wine prints on the wall. The menu aims for simplicity and flavour – food that is thoughtful but not showy. The cod's roe and crisps and qua...

Fare Bar + Canteen

Phone: 07757 676174

Address: 11 Old Street, London

Fare Bar + Canteen is from the Sager + Wilde stable - ex-Sommelier Michael Sager on wine and bartender Marcis Dzelzainis looking after the innovative cocktail offer. It's a multifunctional space split across two floors offering a grab-and-go coffee, intimate cocktail and wine bar and dining room serving a selection of modern seasonal small plates with larger sharing dishes from the robata grill. Located in trendy Clerkenwell in London, it's a bright open space with a contemporary industrial feel. Considering the chilled out, all-day vibe the wine list is unusually wide - over 400 entries, majo...

40 Maltby Street

Address: 40 Maltby St, London SE1 3PA

Wine bar located in the warehouse of Gergovie Wines, a natural wine importer of mostly European wines, on Maltby Street in London, a haven of artisan food and drink producers and suppliers. It's very relaxed with a mix of counter and high table and stool seating. The seasonal food is superbly cooked with a British and regional French slant. The wine list is around 120-150 bins long – all natural of course – and has plenty of unusual bottles to try and new, small producers to discover. Whilst it might appear quite niche, the staff are super passionate and know their stuff to guide you towards p...

The Winemakers Club

Phone: +44 20 7236 2936

Address: 41a Farringdon St, London EC4A 4AN

One of London's most atmospheric (and excellent) wine bars. The Winemakers Club started life as an importer of some of the best Italian producers (hello Sesti), and whilst they still continue to do this, along with some top French and Hungarian on the portfolio too, they also have this space – a bar, shop and event space in the cavernous disused railway arches underneath Holborn Circus, straddling Clerkenwell, Holborn and the City. It's dark, candlelit and cellar like. It's a bargain to drink in with a flat cash mark up on retail prices, they offer both their own imports plus a handful of othe...

Noble Rot

Phone: +44 20 7242 8963

Address: 51 Lamb's Conduit St, London WC1N 3NB

Noble Rot opened their doors in late 2015 and immediately hit their stride as a not-to-miss wine venue in London. Located in Bloomsbury on the quaintly historic Lamb's Conduit Street, it's Parisian inspired and feels as if it's been there forever. The wine bar at the front is light and comfortable, with prize tables in the double fronted bay windows, a roaring fire in the colder months and walls adorned with the very cool front covers of their eponymous wine magazine. The restaurant at the back is cosy and inviting. The food is classic Franglais bistro fare – ideal for wine – and then you've...

The 10 Cases

Phone: +44 20 7836 6801

Address: 16 Endell St, London WC2H 9BD

The 10 Cases Bistro à Vin is located in the middle of Theatreland in Covent Garden in London. The concept is simple – to offer a short list of 10 whites and 10 reds (alongside rosé, some bubbly and some fortified) and to never buy more than 10 cases of each wine, guaranteeing a constantly evolving selection. One of the most unpretentious yet high-quality wine bars in London, The 10 Cases is as popular with the trade as it is with the wine-loving public. The menu is French bistro style, three starters, three mains and some smaller tapas plates on the side. The bistro wine list is available by t...

Quality Wines

Phone: 020 3602 8115

Address: 88 Farringdon Road, London

Established in June 2018, Quality Wines are actually situated on a historic vineyard from the St John's order of the Catholic Church dating back to 1100! The wine offer rests on the shoulders of the knowledgeable and characterful Gus Gluck. There's a concise but perfectly formed menu of small plates and snacks. They operate as a shop and deli throughout the day and a wine bar in the evenings - simply add on £15 to the retail price and get drinking (there is no wine list). The food is an hommage to European wine bar food with a Quality Chop Twist (game & British ingredients coming to the fore)....

Compagnie des vins surnaturels Seven Dials

Phone: +44 20 7734 7737

Address: 8-10 Neal's Yard, London WC2H 9DP

Trendy and sophisticated wine bar in the heart of Covent Garden, Compagnie des Vins Surnaturels (CVS for short) looks more like a cocktail bar – unsurprising as it is part of the Experimental Cocktail Club group who operate both wine and cocktail bars in London and Paris. The wine list is not quite as natural as the name might suggest (although there are plenty of natural / biodynamic options featured) but it is certainly very good nonetheless – it's long without being intimidating; French heavy with all regions skillfully covered at all price points. There's more than enough choice from the...

Terroirs

Phone: +44 20 7036 0660

Address: 5 William IV St, London WC2N 4DN

Terroirs was one of, if not the first, natural wine bars in London in 2009. In their own words, "our philosophy has always been to make natural wine as accessible as possible for everyone", and they have done exactly that. After 10 successful years trading their selection of low intervention and natural wines (including an extended skin macerated wine section) has been supplemented with artisan cider, poiré, sherries and beers. Inside it looks and feels like a bustling French bistro, lots of traditional posters on the wall, rustic furniture and a menu full of the cheese, ham, hearty mains and...

Ducksoup

Phone: +44 20 7287 4599

Address: 41 Dean St, Soho, London W1D 4PY

Ducksoup is the swan in London's little duck empire, which besides this wine bar in Soho also includes Rawduck and Little Duck-The Picklery. If the place is small, the atmosphere is generous. From the bar, natural wines of all colours are poured by the glass and the kitchen produces creative and tasty dishes. It is crowded and friendly and if you want to DJ, there is a vinyl player by the entrance. There is no wine list, instead the wines of the moment can be found on the blackboard, or just ask.

Comptoir Mayfair

Phone: +44 20 7499 9800

Address: 21-22 Weighhouse St, Mayfair, London W1K 5LU

Comptoir Mayfair is a wine lovers' place with more than 1800 bottles in their cellar and operates as part wine shop, part café, part wine bar. Located on a little corner in Mayfair it's cosy, classic and stylish all rolled into one. The counter cafe space upstairs is light and relaxed, downstairs you'll find you´ll find two tasting rooms – the Tasting Table in the cellar surrounded by bottles and the Library, a cosy intimate lounge for small groups. Comptoir Mayfair – sister of Blandford Comptoir in Marylebone – was set up in 2016 by MS Xavier Rousset so it's no surprise the wine list is on th...

28°-50° Marylebone

Address: 15-17 Marylebone Ln, Marylebone, London W1U

Part wine-bar, part restaurant the decor has a stylish, rustic-industrial feel. Serving modern European cuisine, 28°-50° has more than 30 wines constantly on by the glass and a large bottle list, as well as a Collector's List from private cellars. The space features a 'workshop' where they regularly host wine tastings and themed wine dinners, so there's lots on offer whether it be a business drink, a dinner date or a night out with friends. BYO: £20 / btl. Limited to one bottle per person, up to 6 people.

Clarette

Phone: +44 20 3019 7750

Address: 44 Blandford St, Marylebone, London W1U 7HS

Housed in fashionable Marylebone, Clarette is a chic and stylish London restaurant and wine bar that is led by the owners Alexandra Petit-Mentzelopoulos of the Château Margaux family and restaurateur Natsuko Perromat du Marais who previously worked at the Alain Ducasse group. Clarette's wine list is mainly focusing on French premium wine regions with a broad focus on Bordeaux where you can find offerings all from entry-level Bordeaux to Premier Grand Cru Classé (including ex-chateau Château Margaux of course). The food offering is French-inspired to complement to the wine and mostly served in...

Brackenbury Wine Rooms

Phone: +44 20 3696 8240

Address: 115 Hammersmith Grove, Hammersmith, London W6 0NQ

The wine list at Brackenbury Wine Rooms in London comprises 150 bins from all over the world, leaning towards organic and biodynamic, with an especially strong new wave South African section. There are 40 wines available by the glass, served from enomatics. They have a large leafy terrace, relaxed interior and a private room available. It's all good value, including the menu of fuss-free, brasserie classics, each with a wine pairing to make life as simple as possible. It's a user-friendly place – the wine list has something for everyone whether you are a novice just wanting a quick glass of de...