Nordic Star Wine List of the Year 2019 – all the winners!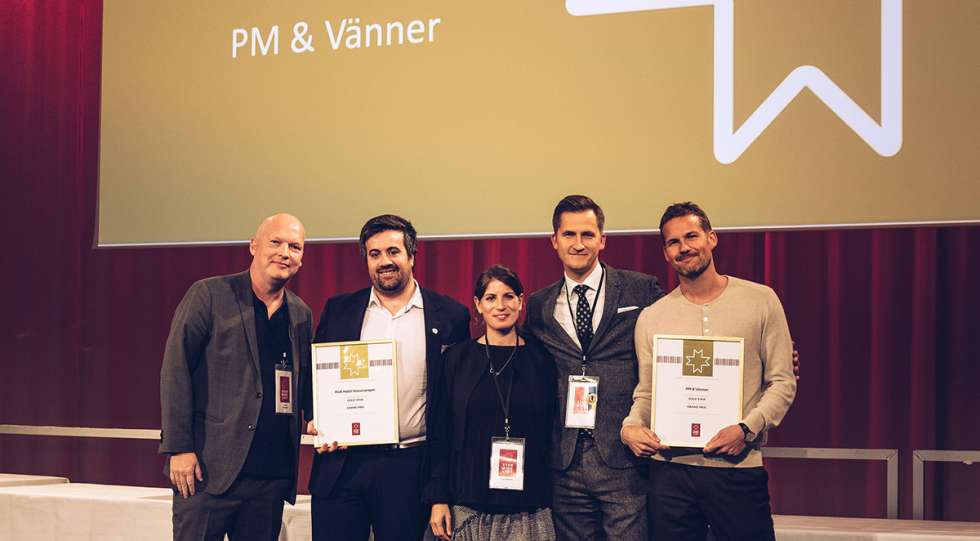 PM & Vänner and Park Hotel Vossevangen share the gold medal in the category Grand Prix in the Nordic Star Wine List of the Year 2019. PM & Vänner also wins Best Rhône Wine List.
The Star Wine List jury – Arvid Rosengren (Best Sommelier of the World 2016), Paz Levinson (Best Sommelier of Argentina 2010 and Best Sommelier of Americas 2015), Pascaline Lepeltier MS (Best Sommelier of France 2018) and Raimonds Tomsons (Best Sommelier of Europe 2017) – have evaluated more than 180 Nordic wine lists on Star Wine List, and nominated the wine bars and restaurants in nine categories.
In the main category, Grand Prix, two restaurants share the gold this year: Swedish PM & Vänner and Norwegian Park Hotel Vossevangen.
"Two lists approaching legendary reputation. Not only commendable because of the enormous width of these programs, but once you dig in you can clearly recognize the originality and vision of the sommeliers behind. Also the value is unprecedented. Wine lovers should be lining up to get their fills from these cellars," says Arvid Rosengren about the winners.
Fellow jury member Paz Levinson calls PM & Vänner's list "a wine list for eternity".
"PM & Vänner is a world of great minds behind the list. We feel the passion, the precision and the compromise on presenting classics and new wines but searched with the same eye. There are wines listed by the quality and not guided by fashion," she says.
Here are all the winners and finalists:
Categories:
Grand Prix
– The top Nordic wine list overall
Finalists:
Anarki, DK
Djuret, SE
Geranium, DK
Grand Hôtel Stockholm, SE
Park Hotel Vossevangen, NO
PM & Vänner, SE
Winners:
PM & Vänner, SE
Park Hotel Vossevangen, NO

By the Glass Wine List
– Recognizes the best wine list by the glass
The category is presented by Le Verre de Vin - professional wine preservation systems
Finalists:
Folii, SE
Le Benjamin, NO
Lystpå, NO
Operakällaren, SE
Park Hotel Vossevangen, NO
Sturehof, SE
Territoriet, NO
Winner:
Folii, SE

Austrian Wine List
– Recognizes the best wine list with Austrian wines
The category is presented by Austrian Wine
Finalists:
Bar Central, SE
Geranium, DK
Grand Hôtel Stockholm, SE
Happolati, NO
Heaven 23, SE
PM & Vänner, SE
Winner:
Heaven 23, SE

South African Wine List
– Recognizes the best wine list with South African wines
Finalists:
Andre til høyre, NO
Dorsia, SE
Happolati, NO
Kontrast, NO
Park Hotel Vossevangen, NO
Territoriet, NO
Winner:
Andre til høyre, NO

Italian Wine List
– Recognizes the best wine list with Italian wines
The category is presented by Mandrarossa
Finalists:
Djuret, SE
Enomania, DK
Geranium, DK
Granen, SE
Grand Hôtel Stockholm, SE
PM & Vänner, SE
Winner:
Djuret, SE

Rhône Wine List
– Recognizes the best wine list with Rhône wines
The category is presented by Paul Jaboulet
Finalists:
Anarki, DK
Djuret, SE
Geranium, DK
Park Hotel Vossevangen, NO
PM & Vänner, SE
Wine Mechanics, SE

Winner:
PM & Vänner, SE

Low intervention / Natural Wine List
– Recognizes the best Low intervention / Natural wine list
Finalists:
108, DK
Köksbordet/Hörte Brygga, SE
La Colline, SE
Mathias Dahlgren Matbaren / Rutabaga, SE
Tyge & Sessil, SE
Villa de Luxe, SE
Winner:
108, DK

Short Wine List
– Recognizes the best wine list with less than 250 listings
Finalists:
Babette, SE
Dryck & Mat, SE
Ett Hem, SE
Gaasa, NO
Kødbyens Fiskebar, DK
Spritmuseum, SE
Winner:
Ett Hem, SE

Niche Wine List
– Recognizes a venue that chooses to focus on a narrow spectrum and does it well
Finalists:
Ambar, SE
Bar Central, SE
Champagnebaren Kyrkogatan 13, SE
Far i Hatten, SE
Terroiristen, DK
Tyge & Sessil, SE
Winner:
Bar Central, SE