For wine bars / restaurants on Star Wine List
As a venue listed by Star Wine List, there are several ways you can use Star Wine List to both gather information and to promote your wine program. All free of charge.
First of all it is important to know that Star Wine List is a guide. Star Wine List's team and ambassadors choose the venues and wine lists we want to recommend. No venue can simply sign up to be on Star Wine List. Anyone is welcome to make suggestions, but we reserve the right to make the editorial selections.
There are two ways to be listed by Star Wine List: As a recommended venue - a Red Star. And as an approved wine list - a White Star.
If you are looking for info about criteria and how we select venues - read more here.
Star Wine List's ambassadors and team also write the description of the venues. This is our opinion about the venue. It is not a marketing text from the venue.
Star Wine List also chooses the main image to illustrate the venue on the info page.
However, there are cool things you can do as manager of a venue listed by Star Wine List.
For both Red Stars and White Stars:
Log in
First of all, log in. If you don't have a login, request your login from wine@starwinelist.com by emailing from the venue or work email address. You can either login through the "Manage venue" button to the right on your venue's info page, or through the login sign top right on the site.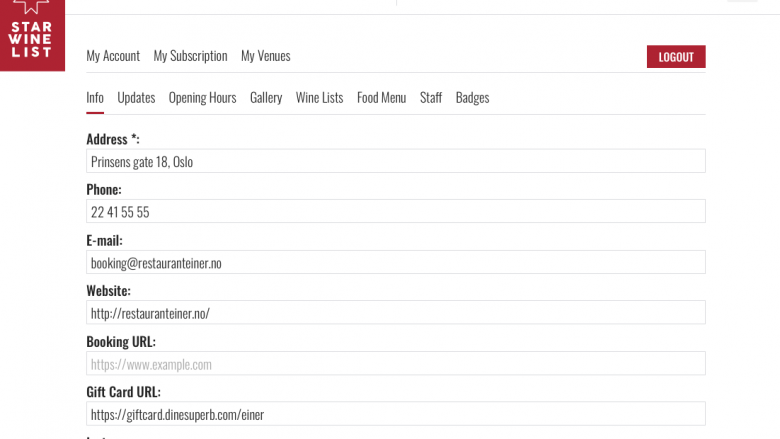 Once you are logged in to the Manager, you can:
Search wine lists
If your wine list is updated as a pdf with Star Wine List and is more recent than 90 days, then you have access to the Wine Search that otherwise is exclusive to Premium Members. Simply click on search and start searching.
In addition to search, via the Star Wine List Manager, you can view and edit:
Wine Lists
Update your wine list(s). If your wine list is a pdf and available on your public website, our system can automatically scan it for updates. If your wine list is not online or it's not in a pdf format, you can log in and update the list on starwinelist.com. If you need help with any of this, contact us on wine@starwinelist.com
For the Red Stars: Update
Promote your wine list updates and wine events on starwinelist.com and the Star Wine List app. Write an update and post it from the manager.
Info
Update your general info, such as booking url, contact email etc.
Opening Hours
Update your opening hours.
Gallery
The first image of the venue is always selected by Star Wine List. Other images can be added by the venue. Be sure to respect copyright and our terms.
Food Menu
Star Wine List is about the wine of course, but even wine lovers have to eat. Feel free to update your food menus here to show guests what you cuisine is about.
Staff
We love to show the sommeliers and wine team. This is both to give credit where credit is due. But also so that wine lovers can recognise the team and know that "aha, she is the one to ask" when they visit. Important: You need permission from the staff that are featured. See terms.
Badges
Download your digital badge and post on your website to show that you are listed by Star Wine List, either as a Red Star or White Star. (Physical stickers can be ordered through this page at the start of 2022)
FREQUENTLY ASKED QUESTIONS:
I can't search the wine lists?
Most likely this is because the wine list of your venue is too old. Check your own page on Star Wine List and verify that the list is fresher than 90 days. If not, update the list through the actions above.
If you need any help, contact us on wine@starwinelist.com
Terms - see fine print in link below.