Park Hotel Vossevangen
Fine Dining Restaurant
Voss, Norway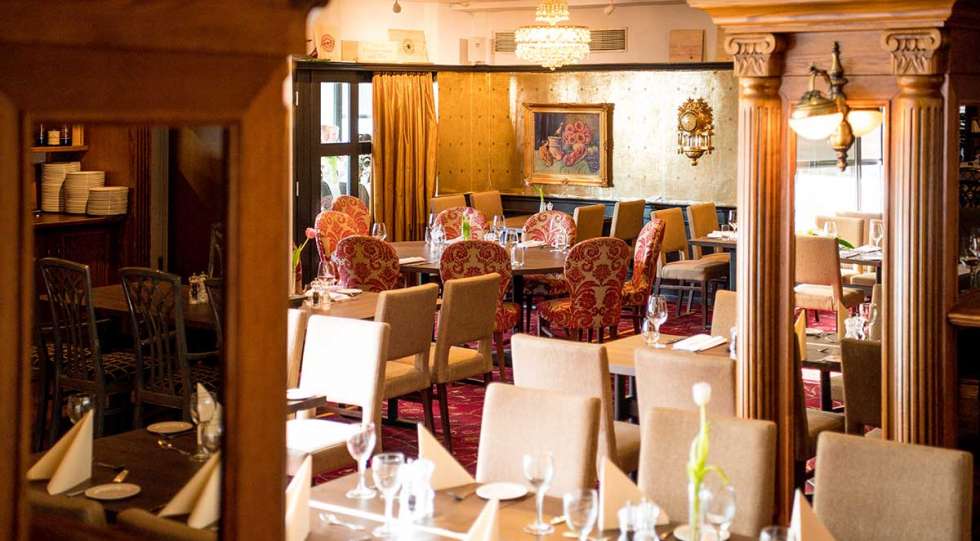 Park Hotel Vossevangen Wine List
About Park Hotel Vossevangen
Park Hotel Vossevangen is not a place visited for its convenient access – it is a place worth traveling for. Located in a village in the Western part of Norway, at least the road trip from Bergen can be spectacular. At Park Hotel Vossevangen it is possible to attend tastings in the wine cellar or try their restaurant Elysée which offers a classic menu.
About the Park Hotel Vossevangen Wine List
Their short wine list is always available, but there should be something for everyone in their wine cellar, which counts more than 70,000 bottles – and a full wine list with bottles from every corner of the world. If you order in advance the whole selection is available in the restaurant.
The wine cellar of Park Hotel Vossevangen is not only about quantity, but it also has one of the most extensive vintage collections of the country. If you ask nicely they might also have the time to give you a tour of the cellar.
Great for
Austrian wines
Awarded sommelier
Big wine list
Bordeaux
Bottles with age
Burgundy
By the glass
Californian wines
Champagne
Countryside
French wines
German wines
Italian wines
Piedmont
Rhône
Spanish wines
Stay over
Tuscany
US wines
Verticals
Wine tastings
Worth the trip
More recommendations
A very impressive list of Californian wine, with wines that you don't even see here in New York. A spectacular by the glass program and this mix of up and coming producers and classics. Congratulations to this very well-deserved prize, said Pascaline Lepeltier about Park Hotel winning gold for Best Californian Wine List 2021.

A superb collection of wines that makes a tribute to the world of fine wine. From the wines by the glass with an incredible choice of vintages and countries and the Champagne selection containing both big and small houses. A huge collective work to have a cellar like this means such a massive investment and engagement with the world of wine by the owner and the sommeliers in charge.

A deep & extravagant by the glass offering. And there are some gems hiding in plain sight at really fair prices! Save up, there's a vinous education to be had here, says Arvid when Park Hotel won the category Best By the Glass List Nordic 2022.

The winner of the 2023 Grand Prix wine list has, over the past year, made a remarkable effort by adding 700 new labels to their selection, representing a purchase of a whopping 6,000 bottles. This massive expansion of the wine list not only showcases a clear commitment to broadening their offering but also a desire to enhance the quality and diversity for the restaurant's guests, says jury member Rune Rake.

Every time I look at this list I am impressed about the sheer amount of work that has gone into crafting all of it together. Each subdivision of the list feels very focused and thus the list will provide excitement for both the lover of classics and someone keen to venture on new adventures, says Heidi Mäkinen about the gold for Best Long List 2023.

Only a short drive from one of Norway's largest cities, we find a unique wine cellar in beautiful surroundings. The winner offers several hundred wines by the glass and the opportunity to taste classic top wines as well as lesser-known treasures from a number of vintages. The jury particularly highlights the wide selection, quantity, quality and depth covering both the old and new world in the assessment, says Ole Edvard Berg when Park Hotel Vossevangen won Best By the Glass List 2023.

Very impressive California wine list. Complexity, depth, fantastic verticals in both white and red wine sections. Great selection and balance of classic and new-wave producers, says the jury's Piotr Pietras about the gold-winning wine list in Best California Wine List 2023.
Star Wine List Of The Year
Austrian Wine List of the Year Norway, presented by Austrian Wine, in cooperation with Norges Beste Vinkart 2023

California Wine List of the Year Norway, presented by DAOU, in cooperation with Norges Beste Vinkart 2023

By the Glass List of the Year Norway, presented by Zwiesel, in cooperation with Norges Beste Vinkart 2023

Sparkling Wine List of the Year Norway, presented by Nyetimber, in cooperation with Norges Beste Vinkart 2023

By the Glass List of the Year Nordic 2022

Sparkling Wine List of the Year Norway, presented by Nyetimber, in cooperation with Norges Beste Vinkart 2022

Grand Prix Norway, in cooperation with Norges Beste Vinkart 2021

Grand Prix Norway, in cooperation with Norges Beste Vinkart 2020
Wine team
Robert Russel Rosales Johansen

Head Sommelier

robertrrj94

Reidar R Rosales Johansen

Wine Director

reidarrrj
Wine Stories
Wine Guides