Geranium has Denmark's best wine list – won three Gold Stars 2021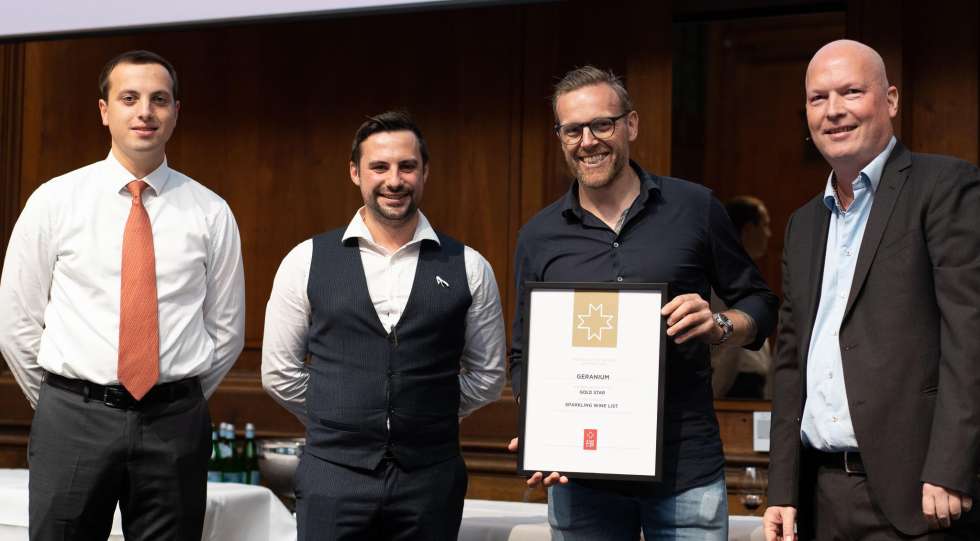 Geranium in Copenhagen won three out of the seven categories when Star Wine List of the Year Denmark 2021 was held on 13 September: Grand Prix, Austrian Wine List – presented by Austrian Wine – and Sparkling Wine List. This is the second year in a row that Geranium wins the prestigious Grand Prix category.
"It feels absolutely amazing. Its the best feeling in the world for me to know that the teams hard work is beeing recognized", says Søren Ørbek Ledet, Wine Director, General Manager and Co-owner at Geranium.
"We have so many different types of guests at Geranium, with very different taste in wine, and for that reason we have a very extensive list. A list that embraces almost all major wine regions around the world with depth in styles, appelations and vintages. It is based upon the classic wines of the world, as well as the more modern, more naturally made wines with less or no sulfur. It is important to us that we can serve wines for everyone, the international traveling businessman as well as the modern Scandinavian 'hipster'," he Søren describes the philosophy behind the wine list.
The best wine lists in Denmark were crowned during Star Wine List of the Year Denmark 2021 on 13 September, at a live event during the Danish sommelier championship – and online. The prizes were handed out by Krister Bengtsson, Star Wine List's founder and publisher.
The Silver Star winners in the Grand Prix category were:
Alchemist, Copenhagen
Anarki, Copenhagen
Dyvig Badehotel, Nordborg
Kong Hans Kælder, Copenhagen
Lyst, Vejle
Møntergade, Copenhagen

Geranium also won a Gold Star in the category Austrian Wine List, presented by Austrian Wine.
"The back vintage selection from several regions, not only Niederosterreich which we find on most lists, is very impressive, very complete and very fun to drink. Not only whites but also reds and sweet wines – and we're hoping for them to list some sparkling wines soon too," says jury member Marc Almert, Best Sommelier of the World 2019.
"I think one important note is that the Austrian government makes a lot of investments in sponsoring the wine industry. I wish more countries would do like that," said Geranium's Andrea Sala & Mattia Spedicato when receiving the Gold Star in the Austrian category on stage in Copenhagen.
In the Austrian Wine List category these venues won Silver Stars:
Admiralgade 26, Copenhagen
Domestic, Aarhus
Kødbyens Fiskebar, Copenhagen
Lyst, Vejle
Syttende, Sønderborg

The third Gold Star for Geranium was received in the category Sparkling Wine List.
"They have an extensive list of Grand Marques as well as small grower champagnes with impressive back vintages and a real spread of different styles and origins across Champagne. Also a small, but cleverly made, selection of sparkling wines from other countries," says Marc Almert.
Wine Director and General Manager Søren Ledet said on stage when receiving the award:
"I think what is happening out of Champagne, all over the world, is that the appellation systems are being refined. Sparkling wine is getting better and better. There are amazing wines to get hold of."
And, especially since Andrea Sala & Mattia Spedicato are Italian, we will probably see some more Italian sparkling on the list as well in the future.
"Yes, hopefully. There is still a lot to see when it comes to sparkling wine from Italy," said Andreas Sala.
And, in the Sparkling Wine List category, these were the Silver Star winners:
Alchemist, Copenhagen
Dyvig Badehotel, Nordborg
Frederikshøj, Aarhus
Kong Hans Kælder, Copenhagen
Lyst, Vejle
Syttende, Sønderborg

The jury for the Danish event was:
• Marc Almert, Best Sommelier of the World 2019
• Raimonds Tomsons, Best Sommelier of Europe 2017
• Rajat Parr, sommelier, winemaker, author
• Julie Dupouy-Young, three times Best Sommelier of Ireland
• Paz Levinson, Best Sommelier of Argentina and the Americas

Read more about how we judge Star Wine List of the Year here.
Published 13-September-2021
News / Denmark
Premium: Search more than 2000 wine lists in 35+ countries. Download an unlimited number of wine lists.