31 great Copenhagen wine restaurants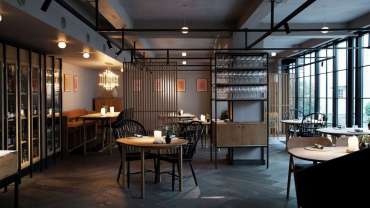 Copenhagen is one of the most renowned gastronomic capitals of the world, and rightly so. Here is our guide to a number of the wine restaurants in Copenhagen that excite us. Welcome to join us on a wine and food-tour of the city!
Phone: 32 96 32 92

Address: Strandgade 108, København K

Low intervention / Natural Wine List Of The Year Nordic 2019

Restaurant 108 first started as a pop-up within the walls of Noma, and was successful enough to warrant its own space next door. 108 isn't simply following its big brother's ethos, it manages to differentiate itself and is all the more interesting for it. The kitchen produces dishes that are as elegant as they are delicious and the menu adheres to New Nordic principles.

Phone: 33 33 79 73

Address: Admiralgade 26, København K

Admiralgade 26 is a restaurant by Christian Nedergaard and Sebastian Nellemann, who also run an amazing wine bar in Copenhagen – Ved Stranden 10. In fact, the two places are located just around the corner from each other. At Admiralgade 26, the wine is accompanied by a cuisine that is low-key but with an edge.

Phone: 22 13 11 34

Address: Vodroffsvej 47, Frederiksberg C

Grand Prix Nordic 2019

Anarki is a small bistro-style restaurant located in the Frederiksberg neighborhood of Copenhagen and it is also the sister restaurant of well-established Restaurant Mêlée. As opposed to the francophile Mêlée, the dogma of Anarki is that they don't have any dogmas. The wine list is created by award-winning partner & sommelier, Christian Thorsholt Jacobsen and the focus is on quality rather than ideology.

Phone: 60 40 74 14

Address: Oehlenschlægersgade 12, København V

Ancestrale is a natural wine bar and neighborhood restaurant in the Vesterbro area of Copenhagen. The name refers to the méthode ancestrale of making naturally sparkling wine, but of course, you get every type of wine here. The menu is simple, and so is the cooking style. You can choose from the à la carte list or the full five-course meal at a generous price.

Phone: 33 11 11 45

Address: Dronningens Tværgade 2, København K

AOC is a two-star Michelin restaurant situated in the vaulted cellars of the historic mansion Moltkes Palæ, dating back to the 17th century, and just a short walk from Kongens Nytorv in the very centre of Copenhagen. Behind the restaurant is Christian Aarø, president of the Danish Sommelier Association and award winning sommelier. The wine list has an impressive depth in vintages from some of the most recognized and coveted producers.

Phone: 22 51 50 33

Address: Helgolandsgade 2, København

Barril is one of Copenhagen's warmest wine bars and restaurants. The restaurant part offers a large selection of tapas and tasty charcuterie dishes. In terms of wines on the Barril wine list, they are specialised in California and Spain. But you can find a fine selection of Italian, German and French labels as well. Barril's wine menu covers approximately 30 different wines by the glass every day, for any taste and occasion.

Phone: 33 93 98 44

Address: Esplanaden 8, København K

The restaurant Bistro Boheme is one of the old traditional restaurants of Copenhagen. Owner and head chef Per Thøstesen has worked under Paul Bocuse and you will find the techniques and ideas of Bocuse in the menu. Per is a person with a big heart and well recognised by everyone. He is not only involved with the food, but also with the wine, and is a fantastic host at the same time. Just as the food is of French heritage, so is the wine list. You will find a very large and wide selection of Burgundy wines, topped up with the best of USA and some more modern producers. The Bistro Boheme wine...

Phone: 33 23 60 80

Address: Vesterbrogade 187, Frederiksberg C

Italian Wine List Of The Year Nordic 2019

Enomania is two old Greek words added together, Eno: wine and Mania: Maniac. And that is exactly what this Copenhagen restaurant is, maniac about wines. Enomania is an Italian restaurant and the depth of Piedmontese wine is one of the highlights. But the Burgundy section covers almost all the producers you can dream of. Damiano is the host of Enomania, where he happily shares his extended knowledge of the wine with you. The kitchen is inspired by the Tuscan background of Damiano and 25 seats are all that will fit in the restaurant.

Phone: 32 15 56 56

Address: Flæsketorvet 100, København V

Short Wine List Of The Year Nordic 2019

In the hyped meatpacking district in Copenhagen you will find "Kødbyens Fiskebar". Kødbyens Fiskebar stands for fresh seafood and easy-drinking wines. All in a pretty raw and rustic setting.

Phone: 33 25 10 66

Address: Vesterbrogade 182, Frederiksberg C

Copenhagen's Formel B is one of the absolute top Danish restaurants and awarded with a star by Michelin. Here you find an extensive a la carte menu consisting of approximately 20 dishes, which are continuously replaced after the season and the mood in the kitchen. The Formel B wine list has a range stretching from natural wines without sulfur or clarification to the great classic wines. The staff have visited a majority of the winemakers for several years and have developed a personal relationship and knowledge of them and their wines.

Phone: 38 41 41 37

Address: Ny Adelgade 3, København K

Restaurant Frank is a small French Wine Bistro located right next to Kongens Nytorv and Hotel D'Angleterre in Copenhagen. The 38-seater restaurant serves fine dining in an relaxed ambience, with an extended wine list. The kitchen serves classical dishes with local ingredients. The wine list is wide and deep with a large focus of French wines. The Frank wine list is well balanced between well-known names and up-and-coming producers.

Phone: 69 96 00 20

Address: 8, Per Henrik Lings Allé 4, København Ø

Grand Prix Nordic 2019

Geranium is the only three-star Michelin restaurant in Denmark and with Chef Rasmus Kofoed in the kitchen, you are set for an experience. Rasmus Kofoed is the only chef in the world who has received bronze, silver and gold at Bocuse D'Or. The restaurant is situated on the 8th floor in Fælledparken (Common Gardens) in the center of Copenhagen.

Phone: 33 25 22 23

Address: Wildersgade 10B, København

Kadeau Copenhagen is located in the area of Christianshavn in Copenhagen and the restaurant has earned two stars in the Michelin Guide. The backbone of the cuisine is the nature of Bornholm where the sister restaurant is located - the wild as well as the cultivated.

Phone: 32 95 13 30

Address: Wilders Plads 2, København K

Restaurant Kanalen is as the name suggests located on the channels of Christianshavn in Copenhagen. In the kitchen you will find the talented chef Jeppe Foldager, who has won a silver in the Bocuse D'Or. The restaurant has a long history and the wine list shows it in a good way. It has an incredible depth of vintages and producers. The wine list at Kanalen has also partly followed the trend of more natural wines and has a good selection of wines from Jura, but it is still small compared to the more conventional wines.

Phone: 60 18 74 14

Address: Sortedam Dossering 45a, København N

Behind Kaptajn you find two gentlemen with a shared passion for great wines, food and the full service experience. Kaptajn is first of all a restaurant and secondly a wine bodega, where you can enjoy great wines at fair prices. The food menu is ever-changing to suit the season, but focuses on fresh local ingredients and Nordic flavors. The two captains (Kaptajner) are big fans of natural winemakers. If you don't recognize anything on the wine list, the captains will help you find a wine to enjoy.

Phone: 56 48 22 24

Address: Landgreven 3, København K

Koefoed is located in the heart of Copenhagen, in a former coal cellar transformed into a modern restaurant with Scandinavian design and lots of atmosphere. Koefoed opened in late 2006 with the aim of providing a sense of the remote Danish island of Bornholm, and brining the islands produce to the capital. Apart from the regular wine list, there is a big passion for old Bordeaux and the collection includes bottles all the way back to the 1930's. The love of wine and especially mature Bordeaux has earned Restaurant Koefoed awards and recognition

Phone: 33 15 27 77

Address: Kronprinsessegade 64, København K

Kokkeriet is a little place in the heart of Copenhagen, formal as well as down to earth restaurant with one star in the Michelin guide. The menu is about all Danish gastronomy and heritage but not without innovation. Kokkeriet's wine list offers a large selection and variation with classic wine regions like Burgundy, Alsace and Germany – but also with an eye for newer ones like England, Eastern Europe and America.

Phone: 33 11 68 68

Address: Vingårdstræde 6, København K

Kong Hans Kælder was the first restaurant in Copenhagen to receive a Michelin star back in 1983 and it has kept its standards ever since. This small, basement restaurant on a small side street from Kongens Nytorv has been one of the most exclusive restaurants in the city for more than 30 years. Kong Hans Kælder specializes in French cuisine with a Nordic twist. The wine list of Kong Hans Kælder is driven by the award-winning sommeliers Peter Pepke and Nina Jensen. The wine list covers pretty much every area of the most important wine countries and regions, both the traditional old world coun...

Phone: 33 12 00 94

Address: Kongens Nytorv 34, København

Marchal is a one-star Michelin fine dining restaurant located in one of the oldest, historic and most luxurious hotels in Copenhagen: Hotel D'Angleterre. The cuisine is inspired by the Nordic and French classics, with a twist. The restaurant is an extravagant dining experience, accompanied by an extensive wine list. The wine list at Marchal is deep and geared towards the classical European wine countries and includes some of the highest prized and most known wineries from all over the world. The extensive wine list also covers various vintages of Château D'Yquem and several vineyards from D...

Phone: 33 91 01 91

Address: Snaregade 4, København K

The restaurant Marv & Ben is located in the beautiful "Old Town" Copenhagen. At Marv & Ben, you can dive into the Nordic gastronomy and a menu that's based on the best local ingredients with an emphasis on organic produce and a curiosity for new tastes and textures. The wine list at Marv & Ben offers you a mix of biodynamic, organic, natural and traditional wines. The wines are mainly from France, Germany, Italy and USA. All the wines that are listed at less than 1000 dkr on the wine list can be had by the glass. In the wine list you will probably both find wines you know all abo...

Phone: 33 13 93 00

Address: Bredgade 20, København K

In the vibrant city centre of Copenhagen, you will find MASH Bredgade. Bredgade was the original venue and where the MASH concept started in 2009 before growing internationally. MASH is a short for Modern American Steak House and was started by a group of award-winning sommeliers, who also opened the famous Le Sommelier which is now closed. The common theme for the MASH restaurants is the large selection of rare wines from the USA and the most known regions of Europe. MASH Bredgade has always been an important venue for the owners, and it is visible in the wine list where you will find a dept...

Phone: 33 13 93 00

Address: Gammel Kongevej 116, Frederiksberg C

MASH Frederiksberg is located centrally on Gammel Kongevej in a beautiful historical Copenhagen building. Enjoy world-class steaks and wine from the extensive wine cellar in stylish surroundings. MASH is a short for Modern American Steak House and was started by a group of award-winning sommeliers, who also opened the famous Le Sommelier. The wine list of MASH Frederiksberg has a large number of wines that were in the cellar of Le Sommelier before they closed. That makes the wine list of MASH Frederiksberg slightly more European than the other MASH restaurants. The whole wine program is toda...

Phone: 35 13 11 34

Address: Martensens Alle 16, Frederiksberg C

Restaurant Mêlée is an intimate restaurant and wine bar located on a small side street in Frederiksberg, Copenhagen. The atmosphere is relaxed and the cuisine is focused on simplicity, with French inspiration. The wine list at Mêlée includes different types of wines: both traditional and conventional as well as organic, biodynamic and natural. And even though you can find nice bottles from Spain, Italy and Germany, the main focus is on France and its vineyards.

Phone: 38 34 84 36

Address: Frederiksberg Runddel 1, Frederiksberg

Mielcke & Hurtigkarl is located in the beautiful Frederiksberg Gardens in Copenhagen and has always been a favourite among Danish food critics. Here, the chefs draw inspiration from across the globe, as they combine tradition and innovation.

Phone: 33 11 13 07

Address: Kronprinsessegade 13, København K

Modern and elegant restaurant in the romantic setting of Kongens Have in Copenhagen. Orangeriet is inspired by the Danish and classic European cuisine and this is the place where Geranium first opened in Denmark.

Phone: 70 82 82 88

Address: Palægade 8, København K

Restaurant Palægade is a classic restaurant in the heart of the historic city center in Copenhagen. More than 40 classic smørrebrød, the traditional open Danish sandwiches, are available at lunch - with plenty of local beers and snaps to accompany them. Things become more formal in the evenings, when they serve seasonal dishes in a traditional Northern European style.

Phone: 39 69 55 57

Address: Slagterboderne 1, København V

Paté Paté is the oldest restaurant in the meatpacking district in Copenhagen. The people behind Paté Paté run wine bars in other parts of the city, but this restaurant is located in a former paté factory (as the name might give away). Paté Paté presents itself as a wine bar, eatery, and tapas bar all at once. The food is inspired by Spain, France, the Middle East and Morocco. The wine list is large and instructive with lots of information on different grape varieties. It also has wines ranging from Beaujolais to heavy Californians. There is always at least 30 different wines by the glass.

Phone: 33 14 94 95

Address: Møntergade 19, København K

Restaurationen in Copenhagen is run by the fantastic chefs couple Bo and Lisbeth Jacobsen, who also owns the next door R Vinbar. At Restaurationen the atmosphere is relaxed and informal. The menu offers Danish specialties in a modern version and changes with the season.

Phone: 33 15 10 60

Address: Bredgade 63, København K

In this centre of beauty, it is quite natural that cook and gallery owner Claus Christensen chose to establish his restaurant, Salon. It's a place that houses art as well as gastronomy. This is one of the best restaurants in Copenhagen if you like the classics and a bit "old school" French and Danish cuisine.

Phone: 45 80 25 05

Address: Søllerødvej 35, Holte

Søllerød Kro is a peaceful place to unwind and enjoy yourself with their one-star Michelin food and service in a classical setting.

Phone: 44 22 74 74

Address: Jernbanegade 11, København K

Trio is the third restaurant from the AOC group and Michelin-starred chef Søren Selin's latest project. Søren's fingerprints are obvious at both restaurants, thanks to the casually cool, yet meticulous style that unites them. Like AOC, Trio has a signature stylish design and decor, top chefs and a serious wine list.