Great Copenhagen wine bars - the guide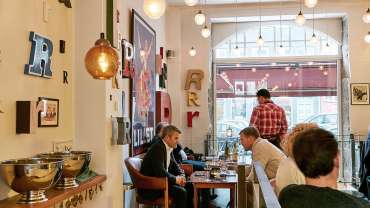 Copenhagen has it all for wine lovers - from the avant-gardists of natural wine to the most classic of Bordeaux vintage selections. And the wine bars include some of our favourites in the entire world. Join us with this guide to great wine bars in Copenhagen, in reversed alpabetical order. Cheers!
Vinbaren Vesterbro Torv

Address: Svendsgade 1, København V

This stylish wine bar was opened in 2009 by Martin Nygaard. Vinbaren Vesterbros Torv, located in Vesterbro Square in Copenhagen, has a wide selection of wine and with more than 50 wines by the glass - Vinbaren Vesterbro Torv should have a glass for you.

Ved Stranden 10

Phone: 35 42 40 40

Address: Ved Stranden 10, København K

This beautifully designed Copenhagen wine bar is located by the harbor and serves mostly natural and biodynamic wines. Every Wednesday you can immerse yourself in the precious grapes when Ved Stranden 10 opens its doors for an informal wine tasting which includes four to six wines. For an extra treat, check out their "Monday food" event, where a dish is served by guest chefs. Ved Stranden 10 does not have a permanent wine menu. Just go there, ask one of the sommeliers for a recommendation, and they will pour you something from a bottle they've opened recently. Taste it, tell them if you like...

The Corner

Phone: 32 96 32 92

Address: Strandgade 108, København K

Literally just on the corner of the Michelin-starred Restaurant 108, a little brother to the world-famous Noma in Copenhagen, you will find The Corner. A small, light and hip place serving freshly brewed coffee in the morning, it turns into a wine bar during the day, with more than 600 different wines to accompany shareable snacks and dishes. There are also different events happening like beer releases, champagne- or wine tastings. The Corner cooperates exclusively with small wine producers. The wine list is focused around biodynamic and natural wine producers and besides Jura and Burgundy,...

Terroiristen

Phone: 36 90 60 40

Address: Jægersborggade 52, København N

Terroiristen is a small wine bar with its own import of wine. Apart from the wines, you will find charcuterie servings and a cold and a hot dish. Terroiristen is located on the famous gourmet street Jægersborggade in Copenhagen. The wines are selected from lesser known places of the wine world such as Serbia, Slovenia, and Hungary, together with a large selection from Italy. All the wines are, as you could guess, aiming to be terroir-driven wines. At Terroiristen, they do not have a wines by the glass list, instead they offer guests to order glasses from the bottle list. (There are some bott...

Sabotøren

Phone: 21 32 00 19

Address: Fensmarkgade 27, København N

Sabotøren is a tiny corner wine bar and shop off the beaten track in Nørrebro in Copenhagen, serving organic wines from the southern regions of France. Sabotøren imports wines themselves. There is no traditional wine list but a list of winemakers they work with. And there is always between 40 and 50 different wines by the glass. If you're hungry, you can order a platter of cheese or charcuterie, homemade bread with vegan dip, olives, tomatoes and various kinds of snacks.

R Vinbar

Phone: 33 14 94 98

Address: Gammel Mønt 14, København K

Centrally located in Copenhagen, R Vin Bar is a great place with a top selection of wine by the glass. The bar offers more than 35 wines by the glass and changes the wines constantly. Apart from the wines by the glass, the wine list holds hundreds of wines, should you be in the mood for a whole bottle, and why wouldn't you. The wine list is both wide and seriously deep, lovers of Chablis will go bananas over the lengthy Raveneau and Dauvissat sections. Moreover, R Vin Bar is offering the wines at reasonable prices and nice food to complement the wine. You can learn a lot about the wines you...

Nebbiolo Winebar

Phone: 60 10 11 09

Address: Store Strandstræde 18, København K

Just off Nyhavn in Copenhagen, this wine bar offers Italian wines by the glass from smaller Italian vineyards. Focusing on Italian wine – primarily from the Piedmont region as you might guess – Nebbiolo Winebar's concept is straightforward: Great Italian wines by the glass in an elegant and relaxed setting. Nebbiolo serves their wines with a small selection of tasty antipasti. There is no wine list.

Pasteur

Phone: 42 67 09 07

Address: Trianglen 7, København Ø

Pasteur is an organic wine and charcuterie serving bar at Østerbro in Copenhagen. Since its opening in 2017, Pasteur has received great reviews for its wine, its food and its overall guest experience. The main focus on the wine list is natural and organic and you'll find a fair share of juicy stuff. It is no secret that they love Jura at Pasteur, and they have a large selection of both red and white Jura wines. They also serve a great selection of small dishes that complement your wine choice.

Malbeck

Phone: 33 31 19 70

Address: Istedgade 61, København V

Malbeck is a wine bar with a relaxed atmosphere on Istedgade. Wine is served by the bottle or by the glass, and there is plenty to choose from. A long with the wine you can enjoy a nice plate of cheese and sausage or olives and nuts to go with your glass of wine. And you guessed right, the wine bar is named after the Malbec grape. After living for several years in Argentina, the founders of Malbeck developed a passion for the local wine. So when they moved back to Copenhagen they decided to use their passion and knowledge in order to bring a taste of South America to their hometown. Over the...

Den Vandrette

Phone: 72 14 82 28

Address: Havnegade 53A, København K

If you like your wines to be more on the natural side, and you should at least try it when you're in Copenhagen, this is your place. Den Vandrette Vinbar mostly serves wines is from its own import, of the well-known natural wine import firm Rosforth & Rosforth. The wine selection shares a lot of values with Noma, which is not a surprise as Pontus Elofsson of Rosforth & Rosforth literally wrote the book on natural wines when he was the sommelier at Noma. Besides Den Vandrette's wine list you will have access to their wine cellar, where you can go and pick up a wine you would like to drink. In...

Cicchetti

Phone: 42 92 45 48

Address: Nørrebrogade 56, København N

Cicchetti is a small antipasti restaurant and wine bar at Nørrebrogade in Copenhagen. The name itself is an Italian expression for a small sample-style serving, and that's exactly what is on the menu. You can stop by for a quick "cicchetti" and a glass before you go on, or you can simply stay all night. The Cichetti wine list is focused on Italy, with a nice combination of the different regions. The wine list is constantly changing and has a good rotation of wines.

Bibendum

Phone: 33 33 07 74

Address: Nansensgade 45, København K

Bibendum was one of the first wine bars in Copenhagen and is still going strong with a large selection of wines by the bottle and by the glass. It is located at Nansensgade 45, a small street with a vibrant life, with a short distance to the lakes and Torvehallerne. It is a down to earth wine bar with a small food menu and charcuterie. Bibendum was created by Kenn Husted, an entrepreneur in the Copenhagen wine trade. Husted imports a lot of wines which are served at his wine bars and restaurants. The wine list is categorized by grape variety, and gives a short explanation of the aromas and o...

Barril

Phone: 22 51 50 33

Address: Helgolandsgade 2, København

Barril is one of Copenhagen's warmest wine bars and restaurants. The restaurant part offers a large selection of tapas and tasty charcuterie dishes. In terms of wines on the Barril wine list, they are specialised in California and Spain. But you can find a fine selection of Italian, German and French labels as well. Barril's wine menu covers approximately 30 different wines by the glass every day, for any taste and occasion.

Bar'Vin

Phone: 33 12 58 03

Address: Skindergade 3, København K

Bar'Vin is the name of this wonderful wine bar in Copenhagen, the name a play of words (Bar' = 'Just' or a Bar / Vin= Wine). As the name and decor reveal, wine occupies the place of honour. There is a wine list with a large selection by the glass and bottle, predominantly biodynamic, but also with organic and conventional wines. Most of them come from small wine farmers who are specialists in their field. Bar'Vin is always able to serve you a glass of one of the approximately 20 wines that are open at all times. They renew the selection regularly according to the season, weather conditions an...

Ancestrale

Phone: 60 40 74 14

Address: Oehlenschlægersgade 12, København V

Ancestrale is a natural wine bar and neighborhood restaurant in the Vesterbro area of Copenhagen. The name refers to the méthode ancestrale of making naturally sparkling wine, but of course, you get every type of wine here. The wines are constantly changing - therefore there is always a new experience to come for and a reason why you will not find a wine list. The menu is simple, and so is the cooking style. You can choose from the à la carte list or the full five-course meal at a generous price. As a wine bar first and foremost, Ancestrale has a lot of offers every day, where you get a chan...