12 natural wine places in Copenhagen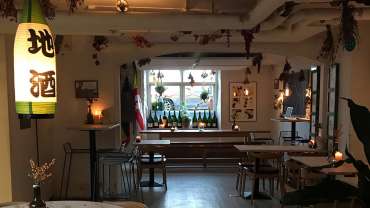 Copenhagen is an avant-garde city and that goes for the wine too - it is one of the most classical natural wine places on earth (if you can say that). Here you'll find a number of our favourite wine bars and restaurants where you can enjoy natural wines, whether you're a seasoned expert from Paris or a beginner. While you're there - make use of the experts and let them guide you. Cheers!
Phone: 32 96 32 92

Address: Strandgade 108, København K

Low intervention / Natural Wine List Of The Year Nordic 2019

Restaurant 108 first started as a pop-up within the walls of Noma, and was successful enough to warrant its own space next door. 108 isn't simply following its big brother's ethos, it manages to differentiate itself and is all the more interesting for it. The kitchen produces dishes that are as elegant as they are delicious and the menu adheres to New Nordic principles.

Phone: 33 33 79 73

Address: Admiralgade 26, København K

Admiralgade 26 is a restaurant by Christian Nedergaard and Sebastian Nellemann, who also run an amazing wine bar in Copenhagen – Ved Stranden 10. In fact, the two places are located just around the corner from each other. At Admiralgade 26, the wine is accompanied by a cuisine that is low-key but with an edge.

Phone: 60 40 74 14

Address: Oehlenschlægersgade 12, København V

Ancestrale is a natural wine bar and neighborhood restaurant in the Vesterbro area of Copenhagen. The name refers to the méthode ancestrale of making naturally sparkling wine, but of course, you get every type of wine here. The menu is simple, and so is the cooking style. You can choose from the à la carte list or the full five-course meal at a generous price.

Phone: 72 14 82 28

Address: Havnegade 53A, København K

If you like your wines to be more on the natural side, and you should at least try it when you're in Copenhagen, this is your place. Den Vandrette Vinbar mostly serves wines is from its own import, of the well-known natural wine import firm Rosforth & Rosforth. The wine selection shares a lot of values with Noma, which is not a surprise as Pontus Elofsson of Rosforth & Rosforth literally wrote the book on natural wines when he was the sommelier at Noma. Besides Den Vandrette's wine list you will have access to their wine cellar, where you can go and pick up a wine you would like to dr...

Phone: 32 15 56 56

Address: Flæsketorvet 100, København V

Short Wine List Of The Year Nordic 2019

In the hyped meatpacking district in Copenhagen you will find "Kødbyens Fiskebar". Kødbyens Fiskebar stands for fresh seafood and easy-drinking wines. All in a pretty raw and rustic setting.

Phone: 33 25 22 23

Address: Wildersgade 10B, København

Kadeau Copenhagen is located in the area of Christianshavn in Copenhagen and the restaurant has earned two stars in the Michelin Guide. The backbone of the cuisine is the nature of Bornholm where the sister restaurant is located - the wild as well as the cultivated.

Phone: 60 18 74 14

Address: Sortedam Dossering 45a, København N

Behind Kaptajn you find two gentlemen with a shared passion for great wines, food and the full service experience. Kaptajn is first of all a restaurant and secondly a wine bodega, where you can enjoy great wines at fair prices. The food menu is ever-changing to suit the season, but focuses on fresh local ingredients and Nordic flavors. The two captains (Kaptajner) are big fans of natural winemakers. If you don't recognize anything on the wine list, the captains will help you find a wine to enjoy.

Phone: 42 67 09 07

Address: Trianglen 7, København Ø

Pasteur is an organic wine and charcuterie serving bar at Østerbro in Copenhagen. Since its opening in 2017, Pasteur has received great reviews for its wine, its food and its overall guest experience.

Phone: 21 32 00 19

Address: Fensmarkgade 27, København N

Sabotøren is a tiny corner wine bar and shop off the beaten track in Nørrebro in Copenhagen, serving organic wines from the southern regions of France. Sabotøren imports wines themselves. There is no traditional wine list but a list of winemakers they work with. And there is always between 40 and 50 different wines by the glass. If you're hungry, you can order a platter of cheese or charcuterie, homemade bread with vegan dip, olives, tomatoes and various kinds of snacks.

Phone: 36 90 60 40

Address: Jægersborggade 52, København N

Niche Wine List Of The Year Nordic 2019

Terroiristen is a small wine bar with its own import of wine. Apart from the wines, you will find charcuterie servings and a cold and a hot dish. Terroiristen is located on the famous gourmet street Jægersborggade in Copenhagen. The wines are selected from lesser known places of the wine world such as Serbia, Slovenia, and Hungary, together with a large selection from Italy. All the wines are, as you could guess, aiming to be terroir-driven wines. At Terroiristen, they do not have a wines by the glass list, instead they offer guests to order glasses from the bottle list. (There are some bott...

Phone: 32 96 32 92

Address: Strandgade 108, København K

Literally just on the corner of the Michelin-starred Restaurant 108, a little brother to the world-famous Noma in Copenhagen, you will find The Corner. A small, light and hip place serving freshly brewed coffee in the morning, it turns into a wine bar during the day, with more than 600 different wines to accompany shareable snacks and dishes. There are also different events happening like beer releases, champagne- or wine tastings. The Corner cooperates exclusively with small wine producers. The wine list is focused around biodynamic and natural wine producers and besides Jura and Burgundy,...

Phone: 35 42 40 40

Address: Ved Stranden 10, København K

This beautifully designed Copenhagen wine bar is located by the harbor and serves mostly natural and biodynamic wines. Every Wednesday you can immerse yourself in the precious grapes when Ved Stranden 10 opens its doors for an informal wine tasting which includes four to six wines. For an extra treat, check out their "Monday food" event, where a dish is served by guest chefs. Ved Stranden 10 does not have a permanent wine menu. Just go there, ask one of the sommeliers for a recommendation, and they will pour you something from a bottle they've opened recently. Taste it, tell them if you like...