Terroiristen won Special Jury Prize in Denmark 2021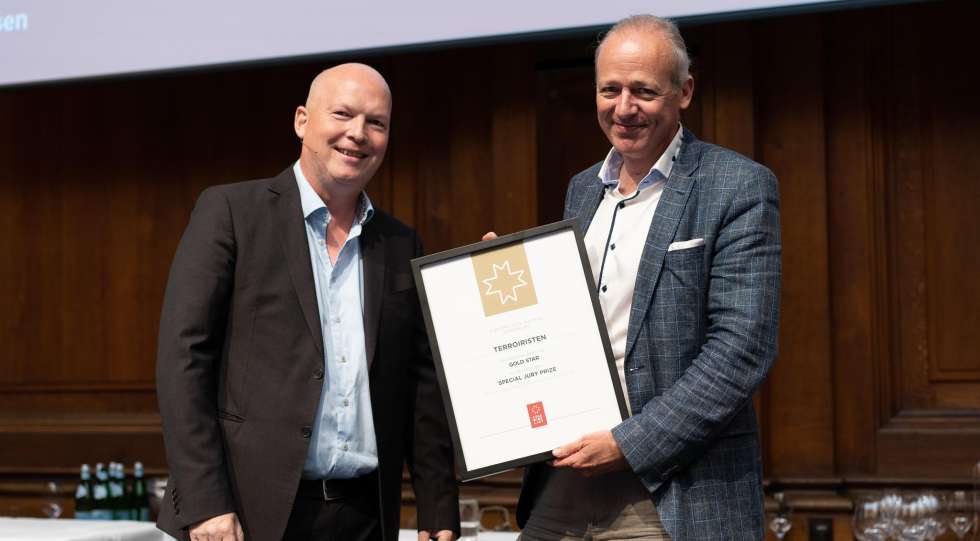 Terroiristen in Copenhagen won the Gold Star in the category Special Jury Prize when Star Wine List of the Year Denmark 2021 was celebrated. The category recognizes a venue that has done something extra with their wine list, such as the direction, the style or the value.
"It is always deeply satisfying to be recognized for hard, passionate work done over more than a decade! We get recognition every day from our guests but an award like this is a milestone that we are proud of reaching. It will assist us in realising our mission by expanding our reach further, I am sure," says Stefan Jensen from Terroiristen.
The jury's motivation was: "A wine list with personality and a great Eastern European selection".
The best wine lists in Denmark were crowned during Star Wine List of the Year Denmark 2021 on 13 September, at a live event during the Danish sommelier championship – and online. The prizes were handed out by Krister Bengtsson, Star Wine List's founder and publisher.
Stefan Jensen says that it has been Terroiristen's mission since the bar opened in 2008 to broaden the guests understanding of what good wine is and from where it may come.
"The jury's motivation shows us that we have succeeded in transmitting across the bar counter our philosophy of always being true to our deeply rooted passion for good wine – wherever it comes from, be it the great, internationally recognized wine districts or the almost forgotten great terroirs of Central and Eastern Europe. It is a passion that is never resting but continuously requires us to explore the ever-expanding, fascinating world of authentic wines made by passionate producers," he says.
The Silver Star winners in the Special Jury Prize category were:
Admiralgade 26, Copenhagen
Kokkeriet, Copenhagen
Kødbyens Fiskebar, Copenhagen
MASH Aarhus, Aarhus
MASH Bredgade, Copenhagen
Nr.30, Copenhagen

The jury for the Danish event was:
• Marc Almert, Best Sommelier of the World 2019
• Raimonds Tomsons, Best Sommelier of Europe 2017
• Rajat Parr, sommelier, winemaker, author
• Julie Dupouy-Young, three times Best Sommelier of Ireland
• Paz Levinson, Best Sommelier of Argentina and the Americas

Read more about how we judge Star Wine List of the Year here.
Published 13-September-2021
News / Denmark
Premium: Search more than 2000 wine lists in 35+ countries. Download an unlimited number of wine lists.