Operakällaren has the Best Sparkling Wine List in Sweden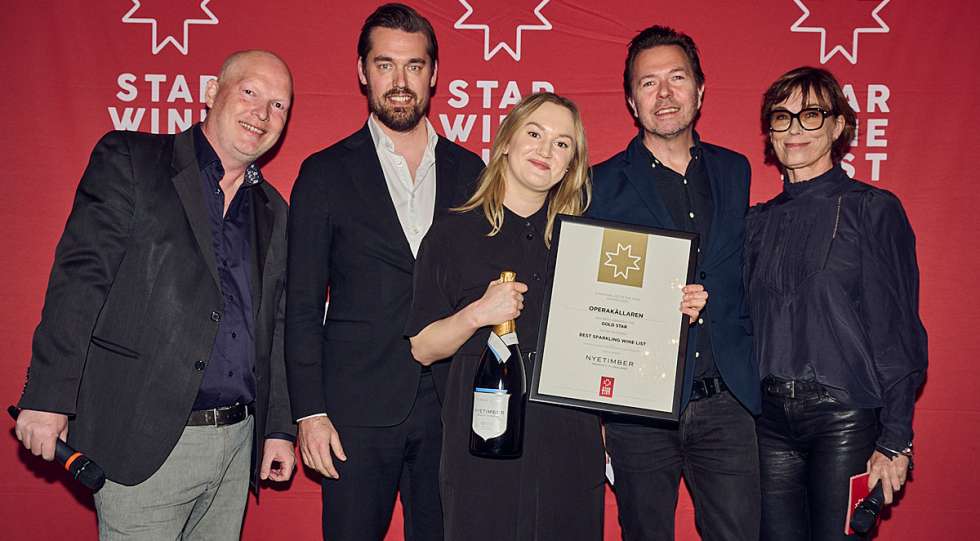 On 8 May, Star Wine List celebrated the best wine lists in Sweden and the teams behind them. Operakällaren in Stockholm won the category Best Sparkling Wine List, presented by Nyetimber.
"An amazing Champagne list with the classics but also with the new generation of winemakers listed. It is quite unique to see so many vintages going back to the 60's, 70's, 80's and so on for the finest Champagne in the world, together with very new labels on the market. It represents the past and the present of the appellation Champagne and the dynamism that the region is having right now," says jury member Paz Levinson about the winning list.
The first Swedish Star Wine List celebration took place in 2018. Five years later, Star Wine List and Sweden's best sommelier teams once again gathered in Stockholm. The awards was celebrated at Skyddsrummet, Söder Mälarstrand in central Stockholm on 8 May.
The event was judged by a line-up of exceptional judges: Mischa Billing, Rajat Parr, Heidi Mäkinen MW, and Paz Levinson.
Categories and criteria
The jury has evaluated the wine lists in several categories such as the Best Sparkling Wine List and Best By the Glass List. These categories are the same across all of the international events. In addition, local categories have been added for Sweden.
The silver medalists in this category were:
Bank Hotel, Stockholm
Djuret, Stockholm
Hotell Borgholm, Borgholm
PM & Vänner, Växjö
Restaurang AG, Stockholm
Sturehof, Stockholm
ÄNG, Tvååker

Operakällaren is now qualified for our International Final in June, where they will face off with the category winners from other countries and continents, such as South Africa, Australia, UK and New York.
Read about the terms and how Star Wine List judges the wine lists here.
Premium: Search more than 2000 wine lists in 35+ countries. Download an unlimited number of wine lists.