The Vineyard at Stockcross
Restaurant, Hotel
Newbury, UK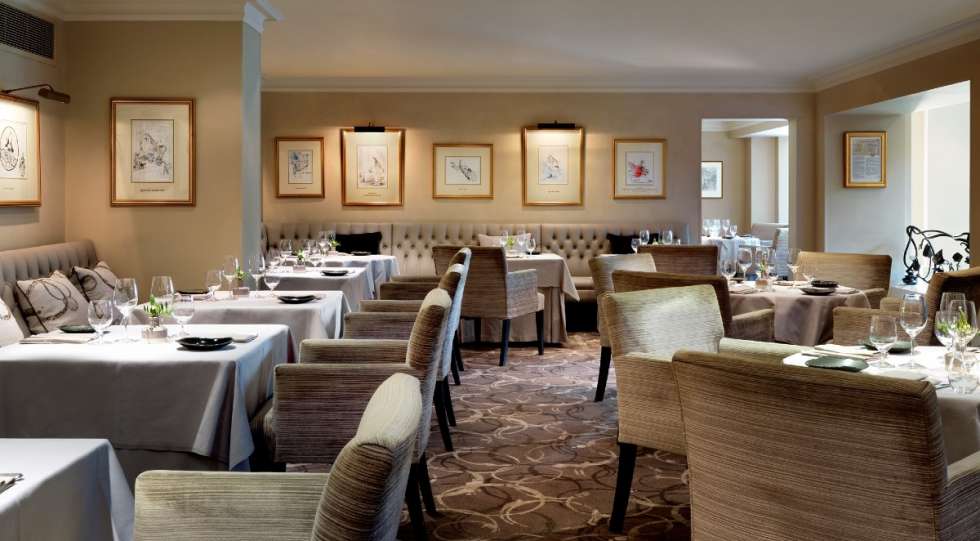 The Vineyard at Stockcross Wine List
About The Vineyard at Stockcross
A wine-focused (even themed) Relais & Chateaux country house hotel in Berkshire, famous for its cellar of over 30,000 bottles. Owned by Sir Peter Micheal, who has over the years invested in a premium vineyard holding in northern California (Sonoma Coast, Knights Valley and Napa). The main hotel restaurant is classic fine dining, using the best of seasonal British ingredients.
About the The Vineyard at Stockcross Wine List
A vast list of over 3,000 references and without doubt one of the largest restaurant collections in the country. They offer over 100 wines by the glass and carafe as well as blind tastings, cellar tours, wine dinners and masterclasses. With a list of this breadth and depth, it's hard to pinpoint a special focus, but their stock of Californian wine is legendary and they have an enthusiastic section of Magnums and larger formats too.
A particularly nice touch is a list of 34 great bottles under £30, so along with the wines open by the glass (100) there really is something for everyone. The cellar and sommelier team is headed up by Romain Bourger who in 2019 became UK Sommelier of the Year.
Wine Tasting at The Vineyard at Stockcross
Lots of wine tastings, dinners and events when open as normal.
More recommendations
Vineyard at Stockcross has a wine list that you rarely see when it comes to width and depth in Californian wines. It's highlighting sub-AVA's and benchmark producers at a fair price, but also the up and coming producers. The team has done a superb job, it is so nice to see such a high-quality list, says jury member Pascaline Lepeltier about Vineyard at Stockcross winning Best California Wine List 2021.

The list at Vineyard at Stockcross goes deep, even in the unexpected corners of German wine (check out the selection of reds!). There's plenty of ready to drink mature vintages from the benchmark producers at affordable prices, says jury member Arvid Rosengren, Best Sommelier of the World 2016, about Vineyard at Stockcross winning Best German Wine List 2022.

Perhaps no surprise as the Vineyard at Stockcross has been championing Californian wines since way before it was cool and are now reaping the benefits (or to be more precise: their guests are), with an exceptionally deep and broad list, that rival some of the best in the world, says jury member Arvid Rosengren, Best Sommelier of the World 2016, about Vineyard at Stockcross winning Best California Wine List 2022.

Vineyard at Stockcross has a thoughtful selection of New Zealand wines, covering both islands with great diversity of regions and appellations. The list also represents diversity of styles, displaying well-established and classic white and red varieties and wines, but also exciting emerging styles like Arneis, Pinot Gris and late harvested Riesling. And, most of the wines are from back vintages, adding a special value as well," says jury member Raimonds Tomsons, Best Sommelier of Europe and Africa 2017, about Vineyard at Stockcross winning Best New Zealand Wine List 2022.
Star Wine List Of The Year