The winners of the 2023 Star Wine List of the Year New York revealed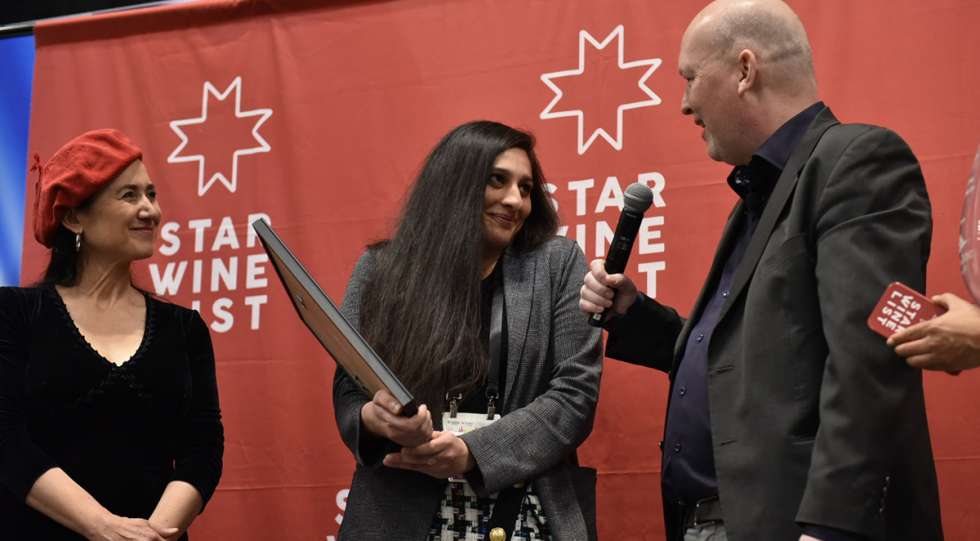 The wait is over and the winners of the Star Wine List New York awards have now been revealed. They were announced live on stage at Vinexpo America on 8 March 2023.
The New York awards started with an introduction on stage by Vinexposium CEO Rodolphe Lameyse.
"This is an important partnership where we work together to support sommeliers and gastronomy for the first time, and we will soon do it in Asia and take it further from there," said Lameyse.
Many of New York's top sommeliers had gathered at the Javits Center to celebrate the awards with their friends and taste wines on offer at the fair. Especially after the hardships of the pandemic, it was a time to get together.
"This is a privilege to be able to see so many wonderful wine lists," said Krister Bengtsson, Star Wine List's founder and publisher. "And to be here with the winners in New York itself was fantastic."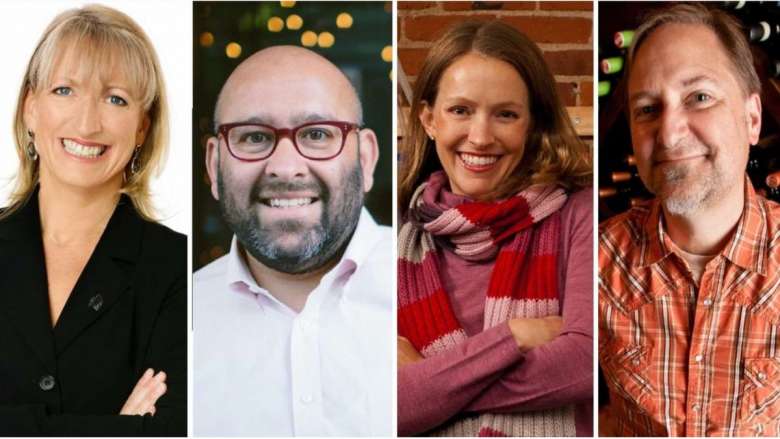 The benchmark for wine lists
Star Wine List of the Year is an international celebration of the great wine lists of the world and the people who create them. The New York edition had eight different categories, from Best By-the-Glass list to a Special Jury Prize.
"The winners of these awards sit at the very top of the world of wine," says Bengtsson.
Judgment was pronounced by a panel of outstanding jury members, including sommelier and winemaker Rajat Parr; top Canadian sommelier Véronique Rivest; Master of Wine and Master Sommelier Doug Frost; and Christy Canterbury MW.
The finals took place during Vinexpo America, and presented by Star Wine List founder Krister Bengtsson, jury members Rajat Parr, Doug Frost, Véronique Rivest, and Norwegian wine media star Liora Levi, who is also Star Wine List's Ambassador Manager.
The event was part of Star Wine List's international awards, now the benchmark for wine lists. Other competitions have taken place in the Nordics, South Africa, UK and Australia. The winners of the international sections of the award will now compete against their peers in the International Final in Stockholm, Sweden on 19 June 2023.
And now for the winners:
Categories:
Grand Prix
– The best wine list with more than 600 references.
The category is presented by Catena Zapata
Finalists:
Ai Fiori
Blue Hill at Stone Barns
Chambers
Eleven Madison Park
Le Pavillon
Momofuku Ko
The Four Horsemen
Tribeca Grill

Winner:
Momofuku Ko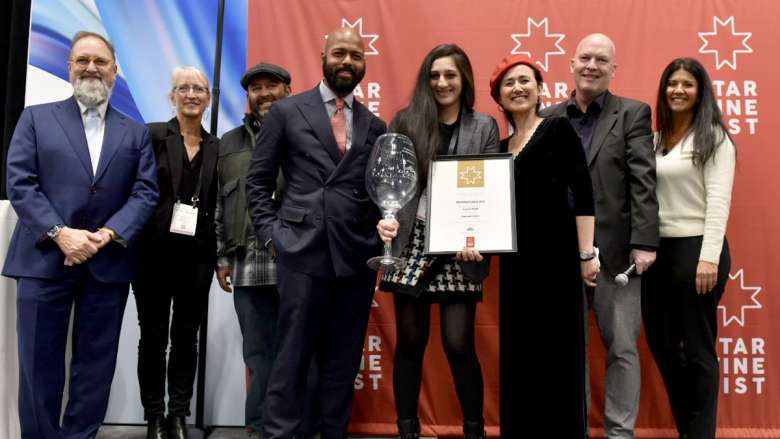 "The wine program at Momofuku Ko is the most comprehensive in New York," said judge Rajat Parr. "The depth and focus is unparalleled in such a wine-focused community."
Nikita Malhotra, Beverage Director at Momofuku Ko: "We opened in 2008 with maybe 18 wines and through the years each wine director has come on and added to that. I joined two years ago and at Momofuku Ko there is a narrative and we like to pair with the cuisine there, but it's not only about natural or classics, it's moving ourselves away from that dichotomy. For me, it has been the narratives of the winemakers and my narrative, I'm figuring out through the list!"
Best Austrian Wine List
– Recognizes the best wine list with Austrian wines.
The category is presented by Austrian Wine
Finalists:
Blue Hill at Stone Barns
Eleven Madison Park
Koloman Restaurant
La Compagnie des Vins Surnaturels
Wallsé

Winner:
Wallsé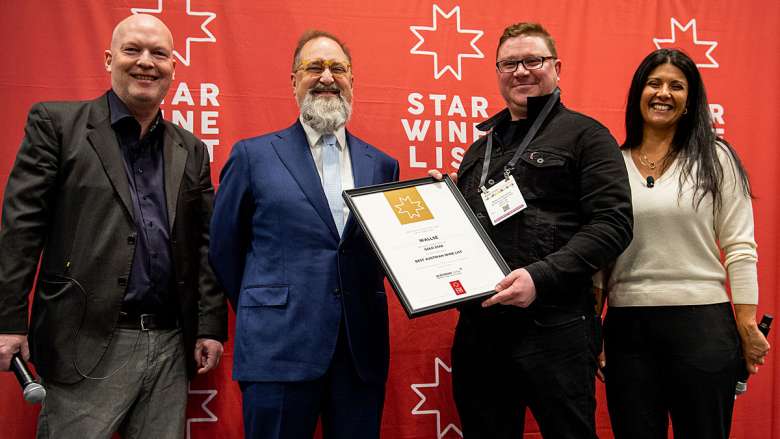 "Wallsé commits everything to the remarkable diversity of Austrian wine," said judge Doug Frost MW MS. "For those of us who love the many lesser-known grapes of that country, but even more those who obsess over the age-worthiness of their great Rieslings and Grüner Veltliners, this is not a wine list; it's a treasure trove."
Wallsé's Wine Director Ben Scheffler was honoured by the award: "Thank you, I've always been a big fan of Austrian wines and when the opportunity presented itself to join Wallse it was a no-brainer - here I have been able to go down the rabbit hole of Austrian wines."
Ben Scheffler then ran back to service at the restaurant and missed the opportunity to pick up the shared Gold Star for Medium-Sized! (We'll get it to him later.)
Best Medium-Sized Wine List
– Recognizes the best wine list with 200-600 references.
Finalists:
Al Coro
Franks Wine Bar
Legacy Records
Lord's
Momofuku Ssäm Bar
One Fifth
Pinch Chinese
Wallsé

Joint Winners:
Pinch Chinese
Wallsé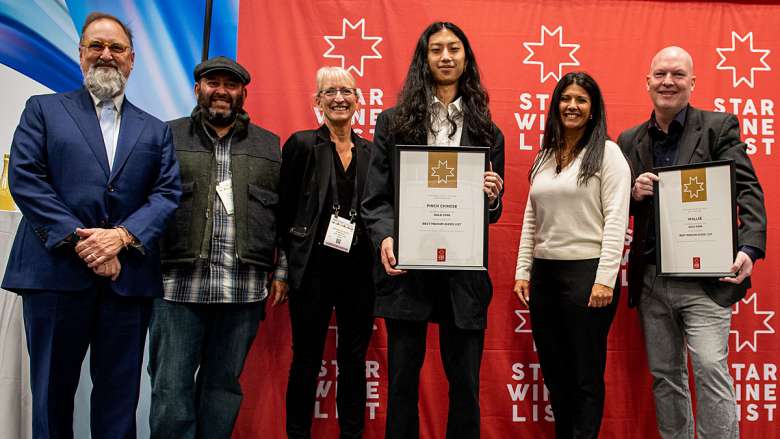 "We are beyond delighted and pleasantly surprised to have a spot-on tie in the Medium-Sized Wine List category. This duo showcases the dynamism of the world of wine and especially the wine world in New York City. The results also (we think, of course) show that this jury isn't strait-laced or single-minded. These two wine cellars are excellent in their offerings while being opposite in their personalities. One is very kool kids. One is Michelin-starred. One restaurant has been around more than long enough to legally drink in this country, were it a human. The other is working on its sixth birthday," says jury member Christy Canterbury MW.
"Not all of us have heard of all of the wines on one of the lists, but the wine crew has piqued our interest on them all. The other list is lovingly dedicated to a single country with admirable vintage depth that makes our mouths water. All of these contrasts have us smiling non-stop. We are very happy to congratulate Pinch Chinese and Wallsé for their remarkably enticing wine lists."
Jon Lundquist, sommelier at Pinch Chinese: "We at Pinch are looking to push what is the future of wine right now, and it's really cool to be recognized for it, thank you!"
Best By-the-Glass List
– Recognizes the best by the glass list.
Finalists:
Ai Fiori
Al Coro
Eleven Madison Park
Koloman Restaurant
La Compagnie des Vins Surnaturels
Momofuku Ko

Winner:
Eleven Madison Park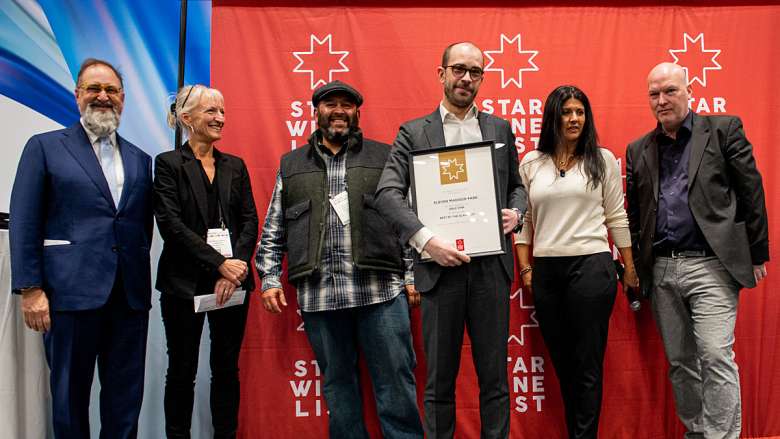 "The jury's top selection for the by the glass category was unanimous. EMP's wide range of selections in both colors made it highly enticing, and so did its very reasonable pricing. Most lists we looked at didn't have any or many wines under $20 by the glass, making them less accessible to experimentation, which is one of the big draws of a by the glass list. There was even a local, New York Riesling featured. Plus, the sweet and especially the fortified lists were a playground of opportunities to taste very special wines," says the jury's Christy Canterbury.
Gabriel Di Bella, Wine Director at Eleven Madison Park: "Thank you, we are very grateful. By the glass is obviously something we work with a lot. Having the history and 25 years of buying wine that allows us to have an extensive by the glass program and the team is always excited to chip in and bring in new stuff."
Best Sparkling Wine List
– Recognizes the best list with sparkling wines.
The category is presented by Nyetimber
Finalists:
Ai Fiori
Blue Hill at Stone Barns
Chambers
Eleven Madison Park
La Compagnie des Vins Surnaturels
Le Pavillon
Momofuku Ko

Winner:
Blue Hill at Stone Barns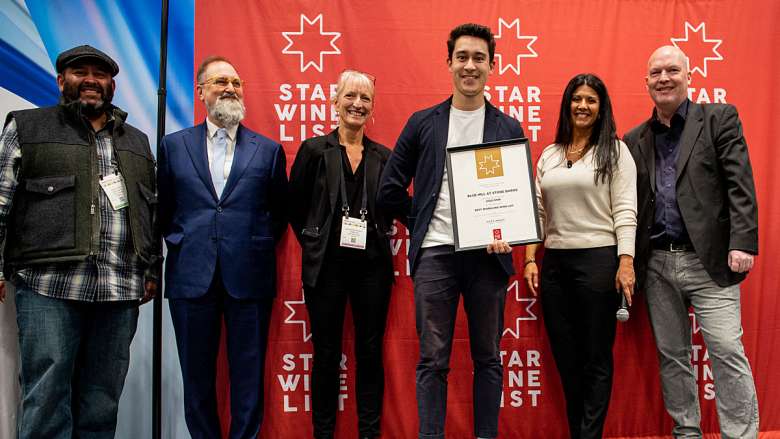 "A fabulous sparkling wine list, with an excellent, varied selection of grower and negociant Champagnes, lots of older vintages, verticals and big bottles, as well as a brief but excellent selection of sparkling wines," said judge Véronique Rivest. "All in a highly curated wine list with lots of info and photos throughout, taking guests beyond the list and into the wonderful stories behind the bottles."
"We have put a tremendous amount of work into our wine list over the last few years, as we transformed it into 'This is Not a Wine List.' Receiving the 'Best Sparkling Wine List Award' is in honor, and we will continue to support and share the stories of our favorite growers & producers from Champagne and beyond," says Hannah B. Williams, Beverage Director at Blue Hill at Stone Barns.
Daniel Congbalay, Head Sommelier at Blue Hill at Stone Barns: "The restaurant has been open since 2004 and the depth and vintages come from many wine directors who have put their heart and soul in the list."
Sustainable Wine List
– This award evaluates both the venue's wine list and how they work sustainably at the venue
Finalists:
Amali
Hawksmoor
Tonchin Brooklyn

Winner:
Tonchin Brooklyn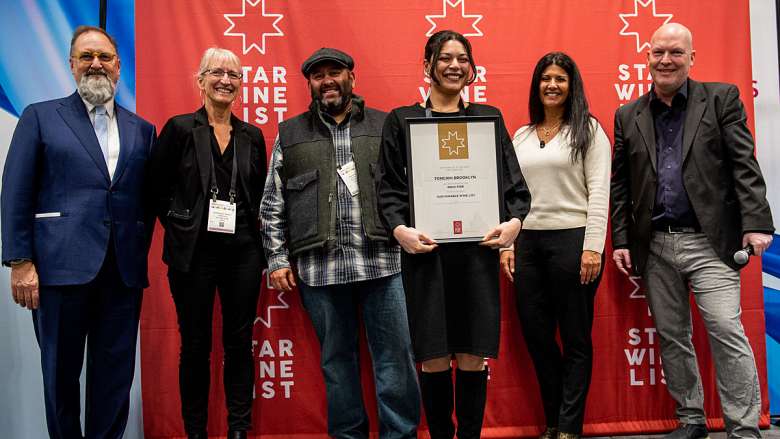 "To be nominated as a finalist in 2 categories was already an honor! I didn't think I stood a chance at winning either category…boy was I surprised. To receive feedback and validation from people like Doug Frost, Rajat Parr, Veronique Rivest, and Christy Canterbury is invaluable. I am immensely grateful for the recognition and I will use these wins to power and energize my work moving forward," says Raquel Vo, Wine Director at Tonchin Brooklyn.
"The wine list at Tonchin is very honest and thoughtful. Their focus on sustainability defines them as a leader in our industry," says jury member Rajat Parr.
Special Jury Prize
– Recognizes a venue that has done something extra with their wine list, such as the direction, the style or the value.
Finalists:
Blue Hill at Stone Barns
Chambers
Koloman Restaurant
Lord's
Pinch Chinese

Winner:
Chambers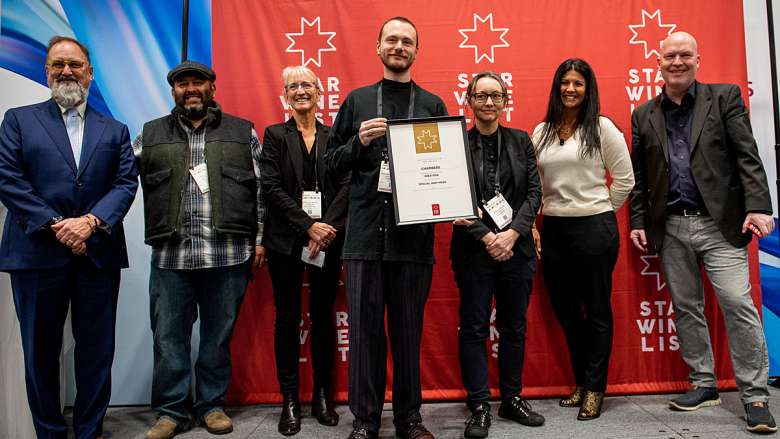 "This is a very special recognition for us— it means a great deal that the jury understands the ethos behind our program. We are trying to place the pleasure of drinking wines in a larger, more holistic perspective without schooling or moralizing. Yet, more than ever, we want to play a part in reconnecting our guests to the vignerons and vigneronnes, the farmers and producers who dedicate their lives to real sustainability and a possible future of reasonable, careful agriculture," says Pascaline Lepeltier, Beverage Director at Chambers.
"This prize gives us renewed energy to explore how thoughtful curation can really showcase the soul and humanity behind their stewardship, and to allow our guests to discover that there is both power and joy in consuming real wine & food."
The jury's Véronique Rivest says:
"Unique and singular wine list, unlike any other. It's not built on classics or on trends: these are all highly personalized choices, all reflecting the restaurant's clearly stated values of responsible farming, sustainability and authenticity. Extremely engaging."
Best Short List
– Recognizes the best wine list with fewer than 200 listings.
Finalists:
Dame
Kru
Mel's
Peasant
Tonchin Brooklyn

Winner:
Tonchin Brooklyn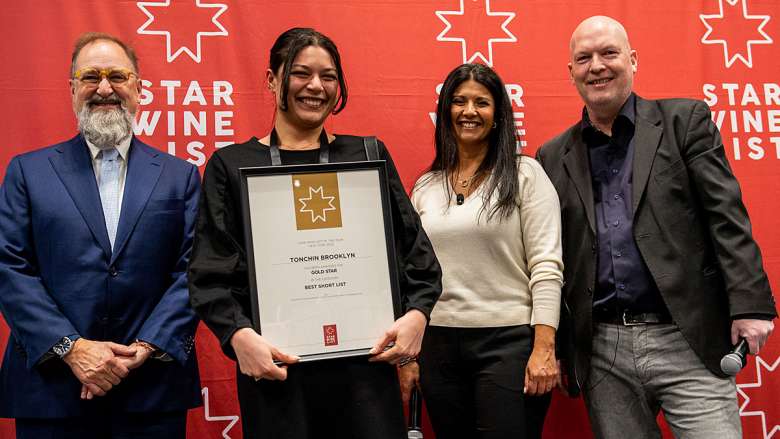 "There is a simple truth about wine lists: a good short list is the hardest list to write. Anybody with an outrageous budget can buy all the bottles the cool kids lust after, fill up a truckload of famed names and insist on their genius. But real smarts are required when you have only a few dozen slots you can fill and you still manage to offer a breadth of styles, with diversity in price, style and origin. That's what Tonchin does," says jury member Doug Frost, Master of Wine and Master Sommelier.
Raquel Vo, Wine Director at Tonchin explained the aim with the wine program: "Especially with Japanese food, it is so soft, I try to find things with texture, and match the body and length with the food. Curating a short list is a challenge in itself, especially with the added task of pairing with the delicacy of Japanese flavors. My goal: provide a succinct list that showcases international and domestic artisans that are committed to sustainable farming and ethical labor practices. I do not subscribe to hype-y wine or current trends; this is a quiet list, from my heart to yours."
Read about the terms and how Star Wine List judges the wine lists here.
Premium: Search more than 2000 wine lists in 35+ countries. Download an unlimited number of wine lists.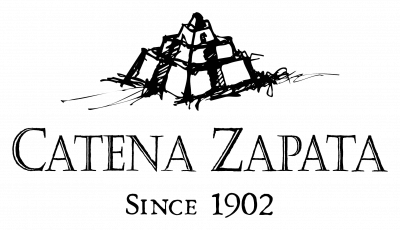 Argentina's Bodega Catena Zapata, founded in 1902, is known for its pioneering role in resurrecting Malbec and in discovering extreme high altitude terroirs in the Andean foothills of Mendoza.

The Austrian Wine Marketing Board is based in Vienna, and is a national service body for the Austrian wine industry. The aim is to strategically support, coordinate and maintain quality and sales.