MW Mark Andrew's London favourites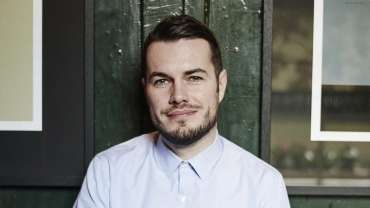 Mark Andrew MW is one of the founders of Noble Rot magazine and wine bar in London. Here is his guide to his favourite wine bars and wine restaurants in London, enjoy!
"Brat in Shoreditch is my favourite new restaurant in London. Tomos Parry's food is brilliant (he got a Michelin star at the first time of asking), marrying Basque ideas and techniques with the best produce from around Europe. Not only that, but we work closely with him on their wine programme, so I can be sure there is always plenty that I want to drink whenever I'm there!
If I'm in the mood for benchmark natural wines served with beautifully executed but hearty food, then I will head to Brawn in Hackney or Terroirs near Trafalgar Square, both of which have been among London's best places to eat and drink since they opened.
For fine dining alongside some of the most sharply priced fine wines in London, the Nigel Platts-Martin restaurants are hard to beat. Chez Bruce has been the scene of many wonderful meals (their Foie Gras dish is the stuff of dreams) and La Trompette is consistently excellent in both food and drink departments. The Ledbury makes a strong case for being the best restaurant in the country, and for a very special occasion it is hard to beat.
Soho has traditionally been a tricky place to drink well, but a notable exception is Andrew Edmunds, one of my favourite restaurants. The menu is full of Anglo/French classics, while the wine list changes regularly, is expertly chosen and very well priced. It's also one of the most charming restaurant spaces in London and the ideal spot for a long, boozy lunch!"
Brat

Address: 4 Redchurch St, London E1 6JL

New and rightfully popular Basque-inspired, wood-fired grill restaurant on the first floor above Smoking Goat (an equally excellent but separate entity – and Thai). Housed in a decommissioned East end strip club, it looks more like a smart old man's London pub with wood panels and original features. Wine is obviously a focus – empty bottles sit above the front door and line the corridor to the stairs. The specialty is of course Turbot (Brat) alongside quality cuts of meat, whole game birds and clean, superlatively sourced sides – all simply but expertly cooked. The wine list doesn't disappoint...

Brawn

Phone: +44 20 7729 5692

Address: 49 Columbia Rd, London E2 7RG

Informal bistro with an open kitchen in the back, on the hip and historical Columbia Road, in Hackney – home of the famous Sunday flower market. The superb cooking has a relaxed ease – a daily menu of seasonal, produce-driven, regional European dishes and not-to-be-missed classic desserts. Set up in 2010 by wine importer Les Caves de Pyrene the wine list is thorough and natural/sustainable/biodynamic. It's now solely owned by the original (and very wine-savvy) chef Ed Wilson, who's taken the whole offer from strength to strength. The sizeable list is mostly European with a smattering of New Wo...

Terroirs

Phone: +44 20 7036 0660

Address: 5 William IV St, London WC2N 4DN

Terroirs was one of, if not the first, natural wine bars in London in 2009. In their own words, "our philosophy has always been to make natural wine as accessible as possible for everyone", and they have done exactly that. After 10 successful years trading their selection of low intervention and natural wines (including an extended skin macerated wine section) has been supplemented with artisan cider, poiré, sherries and beers. Inside it looks and feels like a bustling French bistro, lots of traditional posters on the wall, rustic furniture and a menu full of the cheese, ham, hearty mains and...

Chez Bruce

Phone: +44 20 8672 0114

Address: 2 Bellevue Rd, London SW17 7EG

A long-time favourite of Londoners, all of whom are very willing to make the journey out to leafy Wandsworth (not as far as you think) for the timeless and consistently excellent Chez Bruce. They say it best: "from the outset, it was our intention to serve the very best food and drink but within a relaxed, informal yet thoroughly professionally orchestrated environment". Sharing a co-owner with La Trompette, The Glasshouse and The Ledbury the wine cellar is impressive. The list is extensive – classic French and Italian regions dominate but Portugal, Spain, Islands, Central Europe and the New W...

La Trompette

Phone: +44 20 8747 1836

Address: 5 - 7 Devonshire Rd, Chiswick, London W4 2EU

Since 2001 La Trompette has been a restaurant of warm yet polished fine dining in the leafy west London borough of Chiswick. From the same family as Chez Bruce, The Glasshouse and The Ledbury, La Trompette has managed to stay on the culinary map for some years now with consistently high levels of food and service. The La Trompette wine list has comprehensive selections of fine wines from Italy, Spain and Rest of Europe together with exciting new world bottles. Don´t forget to have a look at their producer of the month where you can spot some iconic growers. Their wine service is happy to offer...

The Ledbury

Phone: +44 20 7792 9090

Address: 127 Ledbury Rd, London W11 2AQ

The Ledbury has become one of the most iconic fine-dining restaurants in London. The wine list is accessible, balanced and with depth should you want to experiment or splurge on some of the finest bottles in town. It covers the classics from all over the world and more esoteric options, also demonstrated in their wine pairings. In traditional fashion, The Ledbury has been buying and storing their own wine for years, which has given them a deep reserve of older vintages to share. Their selection of whiskies and Madeira is also well worth a look. BYO: £60

Andrew Edmunds

Phone: +44 20 7437 5708

Address: 46 Lexington St, Soho, London W1F 0LP

Andrew Edmunds is the cherished Soho bistro, known almost as much for its cosy interior, quirky but delightful service and honest, delicious food as it is for its solid wine list; a list that's offered amazing value for over 30 years. All the classical regions are covered, with a few 'out there' producers thrown in for good measure, alongside some classy bottles from the New World and a proper selection of sweet and fortified wines. It's all about quality and longevity over fashion here – a little piece of Paris with a dose of old-school British reality, right in the heart of sexy Soho. Hugely...

Noble Rot

Phone: +44 20 7242 8963

Address: 51 Lamb's Conduit St, London WC1N 3NB

Noble Rot opened their doors in late 2015 and immediately hit their stride as a not-to-miss wine venue in London. Located in Bloomsbury on the quaintly historic Lamb's Conduit Street, it's Parisian inspired and feels as if it's been there forever. The wine bar at the front is light and comfortable, with prize tables in the double fronted bay windows, a roaring fire in the colder months and walls adorned with the very cool front covers of their eponymous wine magazine. The restaurant at the back is cosy and inviting. The food is classic Franglais bistro fare – ideal for wine – and then you've...