Eiskeller Weinbar
Wine Bar
Düsseldorf, Germany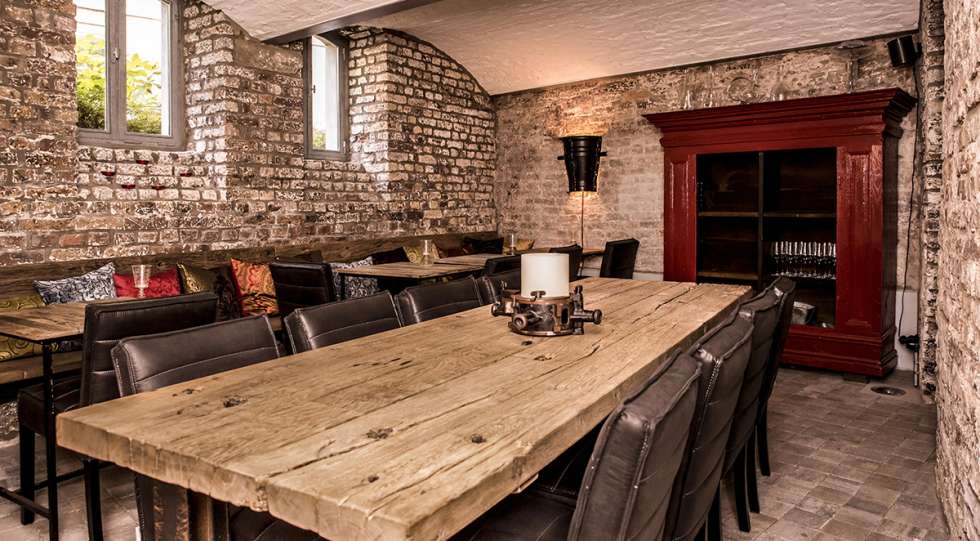 Eiskeller Weinbar Wine List
About Eiskeller Weinbar
The Eiskeller wine bar is located near the Rhine River in the "Altstadt" old city of Düsseldorf. It is tucked into an old building a few blocks from the river that was once used as a cellar to store ice brought down the river. This is how it got the name Eiskeller. This is a cozy little stone cellar with wooden tables and lots of candles. It is a classic wine bar in the sense that it serves a large assortment of wines by the glass and bottle, and charcuterie or cheese to go with it. Most of the snacks offered are bought from local producers. They are all top quality and served in generous portions with bread & olive oil for dipping. Try the local cheese that is aged specifically for them – it is one of the best German farm cheeses you can get.
The location is popular with the artists in the area; as the Kunst Academie is across the street, with wine folks and friends out for a quick glass. It is always lively and fun, offering a standing room in the front and intimate tables in the back. In warm months the street overflows with wine drinkers on tiny chairs soaking up the sun and nice weather. The staff is knowledgeable and helpful; most of them have visited many of the wineries on the list. Expect top service and wine knowledge all around.
About the Eiskeller Weinbar Wine List
The wine selection is put together by owners Dorina & Klaus; She comes from restaurants as a sommelier and he has a small wine import company along with a retail shop. The wine list is very natural with some funky skin contact things alongside DRC and other classic Burgundy producers.
The range of wines come from many countries, including Georgia, Germany, Austria, Italy, France, Switzerland and Slovenia, with new stuff coming in all the time. They have a large red leather-bound​ printed list for bottles along with chalkboards listing the by the glass wines of the moment. The list is very well appointed, fairly priced and always fun. It has received many awards for its great selection from German wine magazines. It is a wine bar that truly lives up to expectation!
Star Wine List Of The Year