22 great wine bars and wine restaurants in Buenos Aires 2022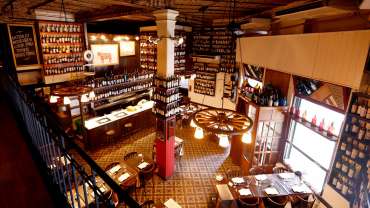 First time in Buenos Aires, new resident or is it your home town? Wonder where to go when in the mood for drinking great wine? Check out our guide to the best wine bars and wine restaurants in Buenos​ Aires.
Phone: +54 11 4773 1098

Address: Thames 878, Buenos Aires

A mythical bar, sommelier and owner Julián Diaz and his wife, designer Florencia Capella, opened 878 15 years ago, and it's long been the place for industry people to congregate and gather after the night shift. One of the first speakeasies in Argentina serving great cocktails as well as very good food. Julián also owns bar-café-restaurant Los Galgos in Congreso. A must.

Phone: +54 11 4811-1414

Address: Pasaje del Correo, Vicente López 1661, ACY Buenos Aires

With its 12 to 17-course tasting menu and wine pairings, you can expect a whirlwind class in not only modern Argentine cuisine but a great insight into what are some of the most exciting wines being produced in Argentina today. Gonzalo Aramburu's intimate eatery is known for creative cuisine using local ingredients, and his masterful work with different cuts of Argentine beef.

Phone: +54 11 4773-3739

Address: Arévalo 2032, Palermo, Buenos Aires

The brainchild of sommelier Aldo Graziani, the Palermo branch of his eponymous restaurant offers up the same solid contemporary Argentine fare and wide array of local vintages as the Monserrat branch, but with the added bonus of a whole lot more space. The leafy front patio is a lovely spot for a lazy outdoor lunch prepared by chef Maximilano Matusmuto, while a dynamic team of young sommeliers make excellent recommendations. Sample Patagonian oysters or charcuterie before tucking into trout with fennel and smoked almond purées. Renowned bartender Pablo Pignatta is in charge of cocktailing matt...

Phone: +54 11 4773-3739

Address: Arévalo 2032, Palermo, Buenos Aires

The creation of celebrity somm Aldo Graziani, Aldo's is a great combination of wine bar, restaurant and wine store. They have branches in Retiro and Palermo, but the one not to be missed is the one in San Telmo, as it boasts what is arguably Buenos Aires' best jazz club, Bebop, in its basement.

Phone: +54 11 4737-1246

Address: Blanco Encalada 2120, San Isidro, Buenos Aires

Located in an elegant residential neighbourhood in San Isidro in Greater Buenos Aires, Alo's is a fantastic spot to enjoy a breath of fresh culinary air outside the city of Buenos Aires. Book a spot at the kitchen bar, which is fun and offers closeups of the talented culinary team in action. Dishes are one-star level and are spectacular.

Phone: +54 11 4809-8600

Address: Cavia 2985, Buenos Aires

Located in one of Buenos Aires' most beautifully refurbished mansions, enjoy lunch on Casa Cavia's gorgeous outdoor patio or dinner in the impeccably designed dining room. The kitchen is led by executive chef Julieta Caruso, the former right-hand woman to Andoni Luis Aduriz at Mugaritz, who takes inspiration from music and literature for her menu. The extensive wine list was revised by British sommelier Sorrel Moseley-Williams while day-to-day service is led by front-of-house manager Lucás Angelillo. Enjoy a signature cocktail at the eye-catching bar, created by mixologist López Davalos and ex...

Phone: +54 11 4343-6067

Address: Avenida Alicia Moreau de Justo 1160, Puerto Madero, Buenos Aires

One of Buenos Aires' top fine-dining establishments, Chila is the only one to hold the Relais Chateaux accolade and also rank on Latin America's 50 Best Restaurants list 2019. Talented young Head Chef Pedro Bargero takes pride in sourcing ingredients from around Argentina for the seasonal tasting menu, while pastry chef Ana Irie's work with desserts is notable: her hibiscus box with raspberry ganache is a work of art. Sommelier Marco Scolnik, who worked in Europe, is in charge of the cellar and undertakes fantastic pairings focusing on Argentine vintages.

Phone: +54 11 4832-6058

Address: Guatemala 4699, Buenos Aires

Possibly the best steak in Argentina, Don Julio is a Buenos Aires classic for its beef but also has one of the most impressive cellars in the city. You'll have to queue up to get a seat at this busy restaurant which sits on a corner block in Palermo Soho, but the mouthwatering asado and eye-watering wine list are worth the wait. Don Julio has been an institution in Buenos Aires since it opened in 1999 and still sits comfortably at the top as one of the best parillas in the city. Steak and Malbec eat your heart out!

Phone: +54 11 4321-1200

Address: 1086/88 Posadas, ABB, Buenos Aires

This is the chic restaurant of Four Seasons which has top wine service and a great wine list with an extensive selection of 200 labels from Argentina. In the smart Recoleta neighbourhood, Elena is an oasis in the city for breakfast, lunch, dinner and late-night​ drinks. Modern Argentine cuisine in a stylish setting.

Phone: +54 11 4774-6585

Address: Jorge Luis Borges 2108, Buenos Aires

The new project from the team behind Don Julio steakhouse, ranked 33 in the World's 50 Best Restaurants, the emblematic El Preferido de Palermo underwent a considerable facelift in 2019, while managing to retain certain airs and flavours of years bygone. Take a seat at the bar for a view of chef Martín Lukesch and team in action, while dipping into in-house charcuterie such as calabresa and mature bacon over a glass of glou-glou house wine. Other must orders include marinated red mullet and lentil stew.

Phone: +54 11 4342-0802

Address: Chile 499,n Buenos Aires

In the bohemian San Telmo neighbourhood, El Baqueano is known for serving indigenous ingredients from around Argentina, specialising in​ exotic meats including llama and alligator. El Baqueano is owned by the creative husband and wife team, Fer Rivarola in the kitchen and Gabriela Lafuente in the cellar, who met while working in gastronomy and wine in Toro, Spain.

Phone: +54 11 4313-6093

Address: Arroyo 872, Buenos Aires

An absolute must i Buenos Aires! Why? Because it has everything and is ranked three in the World's 50 Best Bars 2019. Fantastic cocktails created by top bartender Tato Giovannoni, a great selection of natural wines and excellent bar food, with many dishes cooked over the parrilla (grill). A speakeasy-style bar, Florería is located in a stylish neighborhood in the basement of a florist. And, Giovannoni isn't just a great bartender: he also produces vermouth and gin, and he is the co-owner of a vineyard in the Chubut province in Patagonia.

Phone: +54 11 4811-1108

Address: Libertad 1161, AAW Buenos Aires

I love Gran Bar Danzon. This is where I stopped working as a bartender and started my training to become a sommelier over twenty years ago. It has a very comprehensive wine list, including many old vintages that are sometimes hard to find, and several different wines offered by the glass.

Phone: +54 11 4775-0625

Address: Thames 2296, Buenos Aires

Translating as 'the blackboards', both the food and wine lists are chalked up on boards hanging from walls, giving an authentic bistro ambience to this adorable Palermo spot. And, both food and wine menu change up regularly, according to chef-owner Rodrigo Castilla's market-to-table approach, which keeps local diners interested. Must orders include smoked bone marrow tortellini and cured grey mullet in a ponzu sauce. No reservations, open Sunday evenings.

Phone: +54 11 4854-9334

Address: Juan Ramirez de Velasco 1520, Buenos Aires

This year-old establishment is the brainchild of former pilot-turned-chef Enrique Piñeyro, who leads a young culinary team who prepares contemporary Argentine cuisine. Book ahead for comfy kitchen-side bar seats and order whole grilled surubí river fish, unusual in this city of steak fans.

Phone: +54 11 4778-0655

Address: Nicaragua 5935, BQG Buenos Aires

I loved this welcoming place when it was based out of a tiny location; these days it's a few blocks down the street with the same friendly vibe but in a larger, more accommodating space. Part wine bar, part wine store, enjoy a glass of wine or a bottle over some small plates. It's also one of the best wine bars for non-Argentine wines if you feel the need for a French, Italian or New Zealand vintage.

Phone: +54 11 15-4821-3741

Address: Beruti 2602, Buenos Aires

A true classic of Buenos Aires, Oviedo is well-known for its smart service and Mediterranean cuisine. Although what many diners don't realise is that the owner has almost 20,000 wines in his cellar – with some incredible back vintages of Argentina's most iconic wines. Delve into the impressive cellar of this passionate collector while experiencing classic fine dining and swift service from a team of bow-tied waiters.

Phone: +54 11 5171-1234

Address: Avenida Alvear 1661, Buenos Aires

The Duhau Palace is today a Park Hyatt hotel. It was built almost a century ago, when Argentina was one of the richest countries on Earth. This beautiful place boasts a restaurant, a cocktail and cigar bar, a wine bar and Buenos Aires' only serious cheese cellar. It is like a food & wine lover's heaven...

Phone: +54 11 4832-5654

Address: Gorriti 5132, Buenos Aires

Since opening its doors in 2013, this casual wine bar in Palermo is one of the best places to sit down for a wine tasting to explore Argentina's wine regions one-on-one with a sommelier. Every afternoon Pain et Vin offers an hour-long tutored wine tasting, exploring Argentina's wine history and grape varieties. You can also try the daily wine flight and cheese board, or order wines by the glass or bottle, in your own time.

Phone: +54 11 4816-6711

Address: Montevideo 938, Buenos Aires

I started my sommelier career at this restaurant in 2003, although back then, it was under different ownership. That was when Restó established its reputation for great wines and food. Located within the stylish Architecture Society's headquarters, this elegant restaurant is a tucked-away gem. The wine list is compiled by Matias Chiesa, one of few Master of Wine students in Argentina. A truly lovely place to go for lunch accompanied by a glass of something delicious, or for dinner for the tasting menu. The cheese trolley is fantastic.

Phone: +54 11 4770-9500

Address: Costa Rica 5852, BTJ Buenos Aires

Known for its fantastic service and top notch cuisine, Tegui is one of the most sought-after dinner dates in Buenos Aires. Owned by celebrity chef Germán Martitegui, his team of chefs serve an innovative tasting menu of contemporary Argentine cuisine.

Phone: +54 11 4773-2311

Address: Gurruchaga 1149, Buenos Aires

This was one of the first wine bars in Buenos Aires to import pour-yourself-wine machines and it is wall to wall with the shiny wine dispensers with over a hundred wines from around Argentina and a bit further afield. A low-lit, urban-industrial vibe makes it a good date night spot, and the menu includes main dishes as well as sharing plates from their cheese bar. The wine bar now has two locations, one in the bohemian Villa Crespo neighbourhood and another in the hip Palermo Hollywood neighbourhood, where you can also dine at the chef's table.