Toni Weber at Toronto's Giulietta: "I'm excited for what's to come"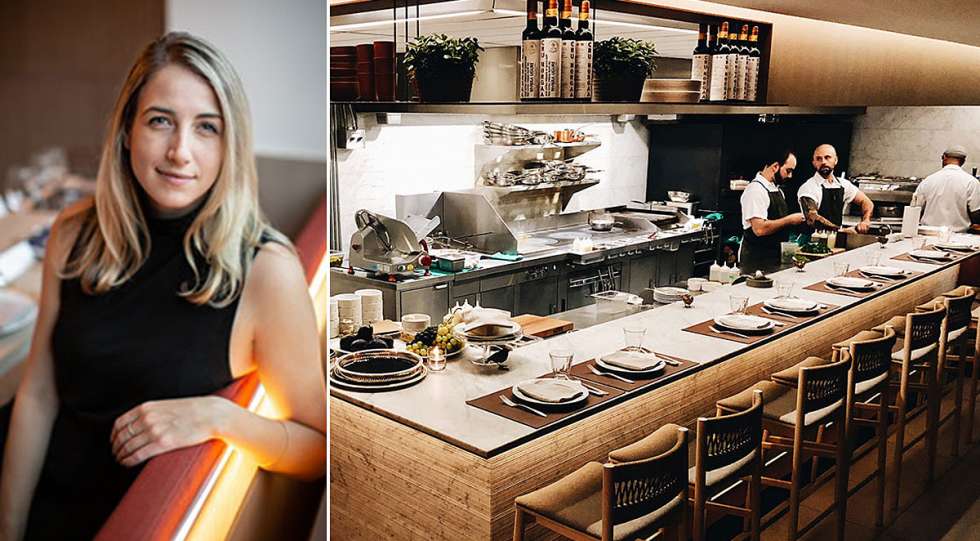 Toni Weber is the Beverage Director at restaurant Giulietta in Toronto, recently listed as number 9 on Canada's 100 Best Restaurants 2019. Throughout her 12 years in the industry she's been based in Toronto and have seen the city's wine scene grow and evolve. Star Wine List's Jascha Baraness sat down with her for a chat.
Toni Weber started her career as a server, and then turned her focus to cocktail bartending for a few years. Her interest in wine was initially driven by a simple desire to work in better restaurants, but her lack of wine knowledge was a hindrance. When Toni eventually started her wine studies she was completely taken in by all the different perspectives through which one can experience wine.
"The historical, cultural, geographical, geological and environmental aspects are fascinating, and it all appealed deeply to my innate restlessness and short-ish attention span. And for me, I never had that singular, eye opening experience with THAT ONE WINE that completely changed my life. It was really a series of moments and mentors and wines that ultimately solidified my path," says Toni Weber.
When it comes to her work as Beverage Director, it's really a classic mantra that she keeps as her guiding light in her job: The guest is always right.
"Even when they're so clearly wrong, needing them to acknowledge that just means that you have lost the plot. Grace is any hospitality professional's most important virtue. Obviously, if a guest is being abusive or their behaviour is disruptive to other guests, it's a different situation entirely," she says.
Tell us about the philosophy behind your wine list at Giulietta?
"Our program is really meant to reflect Chef Rob Rossi's philosophy in the kitchen. It's 75 % Italian, sprinkled with a Mediterranean and classic Old-world influence. We also have a tiny fraction of the list that is New world focused, but typically it will highlight wines with an extreme coastal influence, or Mediterranean varietals grown in California or Australia. Rob's approach to this menu is a light touch and admirable restraint. It's truly ego-less food. I try to make sure that the wines on the list are equally fresh and pleasantly unpolished, without unnecessary manipulation or extraction."
What are the biggest challenges or advantages of writing and maintaining a great wine list?
"Dealing with suppliers and maintaining those relationships is absolutely paramount to building and maintaining a good wine list. In Ontario, the LCBO (Liquor Control Board of Ontario, Editor's note) is the greatest, unavoidable collective challenge that we face, however I prefer to think of it as a positive in that it forces sommeliers to be determined and resourceful to create a great list."
How do you think Toronto compares to other cities when it comes to wine culture?
"It has gotten markedly better in the last few years. I think for all the pitfalls that natural wine can present, it has engaged a new generation of wine drinkers in a way that conventional and luxury wines have failed to do. I'm having very different conversations table side than I was five years ago, people are excited and curious about wine in a way that didn't really exist in Ontario before. We were, and in some places still are, a beer and whisky province. Obviously, compared to other cities like NYC or Paris, we have some way to go. But I'm proud of how far we have come and excited for what's to come."
---
QUICKFIRE
Burgundy or Bordeaux?
"Burgundy."
Champagne flutes or wine glasses?
"Wine glasses, mostly."
Coravin - Like or dislike?
"Like, mostly."
Wine or wine list pet peeves?
"Mouse taint. And casual venues with high mark-ups – if I'm sitting on a folding chair, I don't expect a 300 percent mark-up, and yet often that is the case."
---
Check out Toni Weber's wine list and restaurant Giulietta here.
By Jascha Baraness
Published 21-April-2019
Interview / Toronto