Top wine bars in Toronto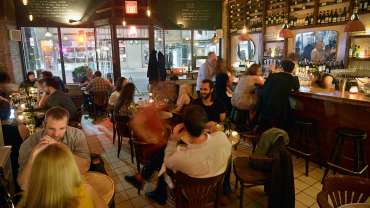 The ever-growing number of wine bars in Toronto is certainly encouraging to see. From the traditional to the trendy, venues and their sommeliers are digging deep to find hidden gems and offer intriguing wine lists for oenophiles to peruse and ultimately taste. Here is a list of our top wine bars in Toronto, which considers not only the wine list themselves but also the best service, stemware and overall wine experience. Is your favourite wine bar in Toronto missing? Let us know!
Archive

Phone: +1 647-748-0909

Address: 909 Dundas St W, Toronto, ON M6J 1V9, Kanada

Archive is a casual Toronto wine bar with small plates for sharing. The wine list is constantly changing with a wide range of regions from small local Ontario producers to Jura, Morgon, Niederösterreich and Barbaresco. Wine lovers have fun and try the blind flight or periodic mystery wine challenge on Instagram.

Brothers

Phone: +1 416-804-6066

Address: 1240 Bay St, Toronto, ON M5R 2A7

Brothers is a small food and wine bar located just outside the Bay subway station in Toronto. Brothers is focusing on tasty small plates and a well curated short list of wines.

Grey Gardens

Phone: +1 647-351-1552

Address: 199 Augusta Ave, Toronto, ON M5T 2L4

Grey Gardens is a wine bar in Kensington Market in Toronto with small and medium sized dishes of international cuisine. The wine list has diverse selections from well known regions like Burgundy, Rhone and Loire to lesser known regions like Jura and Canary Islands with a focus on natural wines.

Midfield Wine Bar & Tavern

Phone: +1 (647) 345 7005

Address: 1434 Dundas St W, Toronto, ON M6J 1Y7

Midfield is a relaxed and casual Toronto wine bar focusing on small plates, cheese and charcuterie to complement the interesting and always changing wine list. The wine list at Midfield Wine bar & tavern focuses on smaller producers ranging from classic old world regions like the Loire Valley, Burgundy, Piedmont to Burgenland and Catalonia.

Paris Paris

Phone: +1 416-535-5656

Address: 1161 Dundas St W, Toronto, ON M6J 1X4

The Toronto wine bar Paris Paris offers patrons to enjoy wine in a fun, unpretentious setting (Rock and Pop classics from the 1990s fill the room). The food menu has some original gems showing French/Chinese influence. The wine list at Paris Paris focuses on natural, organic and biodynamic producers with often 20+ by-the-glass selections each night.