Somm360 gathered world sommelier elite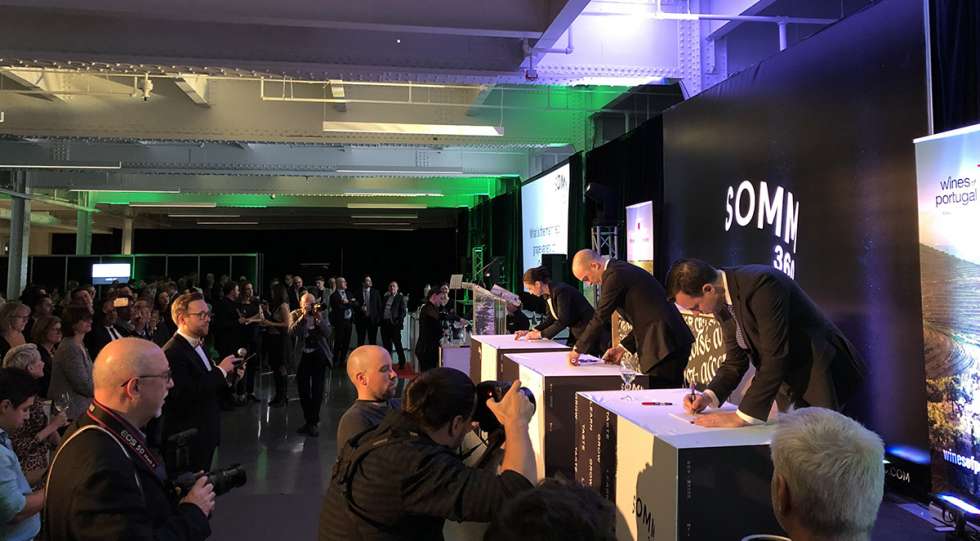 Last week, many of the world's top sommeliers descended on Montreal, Canada, for the inaugural Somm360 wine event. During the conference, 22 top sommeliers were treated to a boot camp of training, designed to bring them out of their comfort zone.
"I haven't seen anything like it. It's so many layers, so many days, so many people, so much information. Not just wine but other components of the beverage industry as well: beer, tea, coffee," says Rajat Parr, renowned winemaker, ex-sommelier and one of the coaches during the conference.
Somm360 is the brainchild of entrepreneur and former sommelier Vincent Lafortune. Based in Quebec city, Lafortune and his team have already produced 10 years of the Quebec City International wine and spirit show. This helps explain why the first Somm360 conference started at a rather massive scale with nearly a week of trade events that gathered 300 wine professionals from 20 countries, employed close to a hundred volunteers and staff and ran up a budget of nearly 600,000 CAD (400,000 Euros).
"We decided two years ago to see how big the need was for continuing education, because here in Quebec, when students finish their sommelier school and want to learn more, they are on their own. Of course there are some great certifications like the Court of Master Sommeliers but if you want to achieve these goals, you need to have knowledge. So that is what Somm360 is all about, it is about learning, tasting, growing, with the community," says Vincent Lafortune.
The Somm360 program had several parts: At first three days of congress, open to members of the wine trade and including events like Rajat Parr presenting his new book and Guillermo Cruz, wine director of Mugaritz, sharing how he creates the wine and food pairing program. There were also a number tastings and master classes led by sponsors such as Wines of Portugal and Austrian Wine.
The second part was the boot camp, where 22 of the world's top sommeliers were invited on an all-expenses-paid five day-program with intense classes, practice sessions and coaching by renowned professionals and sommeliers like Paz Levinson, Terry Kandylis, Veronique Rivest and Arvid Rosengren.
A full day's program could look like this:
06.30: Morning yoga and mindfulness
08.30: Stress management, sleep psychology and mindfulness
10.00: Individual blind tasting in the hotel rooms; 3 min orally, filmed with our tablets and 3 min written
12.00: Understanding minerality in wine; detectable by smell and/or taste?
14.00: Boot camp 15 stations: theory (97 questions, 30min) 138 picture slides, wine, spirit, liqueur, chocolate tasting, food & wine, sake, cigars.
18.30: Why Brettanomyces works wonders in the world of Beer
20.00: Quebec wines Masterclass
21.30: Dinner
The set-up of the boot camp was inspired by an executive business school program in Québec that Vincent Lafortune is involved in.
"You're joining a group of 24 entrepreneurs and then they exchange through the activities. It's kind of a boot camp with psychology and its really, really intense and the experience I want the sommeliers to live is a little bit the same, but adapted for the wine world. So that's why they are 22 to 24 people maximum to be able to get this family impression," says Lafortune.
How did you select the boot camp candidates, they are nearly all competing in the upcoming ASI Sommelier World Championship in March?
"I would say for the first edition it has been more a selection of candidates than just formal applications. A lot of them I know personally before inviting them, but for future editions, we will put in place a way that people can register and apply," says Vincent Lafortune.
The third and final part of the conference was an evening where both trade and consumers could mingle, taste wines from the many sponsors, chew on pizza and focaccia and watch as three of the boot camp sommeliers were put through tests on stage in a live setting.
Feedback from the trade
Star Wine List only visited during the second and third stages of Somm360, and was impressed by the scale, innovation, and quality of it, particularly the high level of events for the boot camp. Some sommeliers who attended the first stage told us that there were a bit too many events mainly driven by the sponsors in that part.
For the invited boot campers, the conference clearly offered a lot of value. Julie Dupouy-Young, Best Sommelier of Ireland 2018 and sommelier at Chapter One Restaurant in Dublin was one of them:
"The boot camp training was very valuable as it gave me the opportunity to judge how efficient my training had been until then and it highlighted the cracks and topics I need to work on more. It was also a great opportunity to do some practical tests under stress and deal with different scenarios like in a competition. I would definitely encourage any sommelier to attend the next season of it if they can afford the travel to Montreal and the cost of attending. (And if they get invited they should not think twice and say yes!). The first three days of talks and tastings were also very interesting. There was a good balance between traditional master classes and more down to earth and testimony talks. Overall I think it was a wonderful opportunity and I feel extremely lucky."
It is not yet decided what the future will look like for Somm360, but Vincent Lafortune and his team are planning activities in other cities around the world on the same theme. And most likely a returning Somm360 event in Montreal.
Photo: Iulia Scavo, Mattia Cianca and Pier-Alexis Soulière were tested on stage during the final part of Somm360.
By Krister Bengtsson
Here were all the participating sommeliers in the Somm360 boot camp:
Argentina, Martin Bruno, Best Sommelier of Argentina 2017, Pernod Ricard Brand Ambassador, Executive Sommelier, Tegui Restaurant
Australia, Mattia Cianca, Best Sommelier of Australia 2017, formerly Assistant Head Sommelier, Dinner by Heston Blumenthal
Belgium, Antoine Lehebel, Best Sommelier of Belgium 2014, Chef Sommelier, at Restaurant Bon-Bon in Brussels
Canada, Carl Villeneuve-Lepage, Best Sommelier of Canada 2017, Wine Director, Restaurant Toqué
Canada, Pier-Alexis Soulière MS, Best Sommelier of the Americas 2018, Wine Director, La Chronique
China, Jasper Sun, Vice Champion – Best Sommelier of China 2017, Owner & Sommelier, Wine Universe By Little Somms
Denmark, Christian Jacobsen, Best Sommelier of Denmark 2015, Partner & Sommelier, Restaurant Anarki
Estonia, Ketri Leis, Best Sommelier of Estonia 2018, Manager and Sommelier, Pazzo Wine Bar
France, David Biraud, Vice Champion Best Sommelier of the World 2016, One of the Best Craftsmen in France (Meilleur Ouvrier de France - MOF), Wine Director, Mandarin Oriental Paris
Germany, Marc Almert, Best Sommelier of Germany 2017, Sommelier, Baur au Lac
Ireland, Julie Dupouy, Best Sommelier of Ireland 2018, Sommelier, Chapter One Restaurant
Latvia, Raimonds Tomsons, Best Sommelier of Europe 2017, Wine Director, Restaurant Vincents
Mexico, Luis Morones, Best Sommelier of Mexico 2014, Wine Director, Hotel Presidente Intercontinental México City
Monaco, Bruno Scavo, Head Sommelier, Monte-Carlo SBM Resort
Norway, Henrik Dahl Jahnsen, Best Sommelier of Norway 2018, Sommelier, Bølgen & Moi Kristiansand
Poland, Piotr Pietras MS, Best Sommelier of Poland 2016, formerly Wine Director, HIDE at 85 Piccadilly
Romania, Iulia Scavo, 3rd Best Sommelier of Europe 2017, Iulia Scavo Formation Conseil
Spain, Guillermo Cruz, Best Sommelier of Spain 2014, Wine Director, Mugaritz
Sweden, Fredrik Lindfors, Nordic Sommelier Champion 2017, Head Sommelier, Grand Hotel Stockholm
UK, Eric Zwiebel MS, 4th Best Sommelier of the World 2013, Wine Director, Summer Lodge
USA, Pascaline Lepeltier MS, Best Sommelier of France 2018, Un des Meilleurs Ouvriers de France 2018, Wine Director & Managing Partner, Racines NY
China, Reeze Choi, 2nd Best Sommelier of Asia 2018, Sommelier and Wine Consultant