Veuve Fourny & Fils: "To make wine is to make art"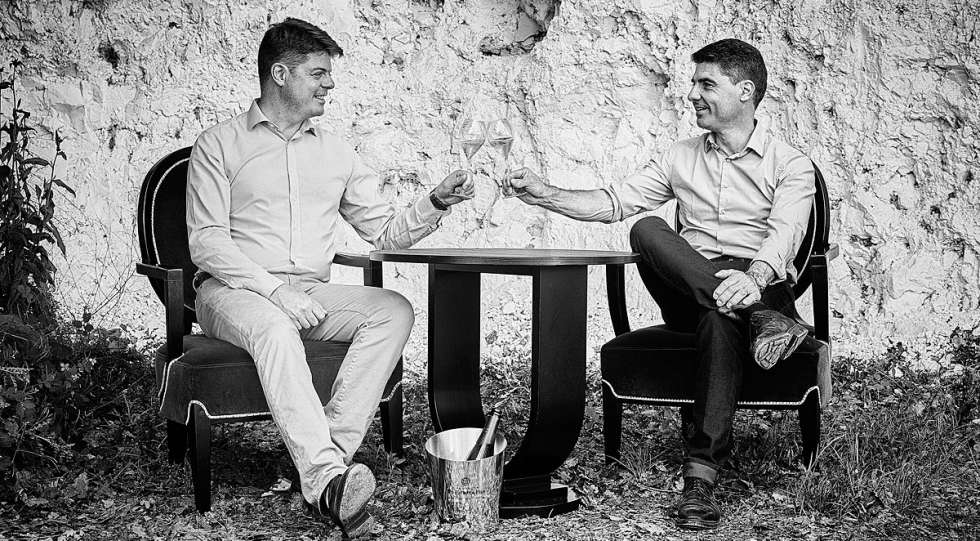 One family, two brothers and the fifth generation of winemakers. The Fourny family has made wine in Vertus in Champagne since 1856, and today it is the brothers Charles-Henry and Emmanuel Fourny who run the domain – focusing on passion, respect for the environment and the details in the production.
(Partner story with Nigab)
"It's important to understand each plot so that you can be very precise when you create the blends, and we have done a lot of research on the soil to truly understand our terroir. At the same time, it is also important with feelings: To make wine is to make art," says Charles-Henry Fourny.
Veuve Fourny & Fils is based in Vertus, a 500-hectare Premier Cru in the southern part of the famous Côte des Blancs. The village is particularly known for its calcareous and dry soils, and the Fourny brothers grow wine in 40 different plots in and outside of Vertus. The most spectacular vineyard is the Clos Faubourg Notre-Dame, a walled plot of only 0.29 hectares.
"'One family, one clos, one Premier Cru' is our slogan. We only make Champagne from Premier and Grand Cru plots, and we only use grape juice from the first pressing. The second and third press we sell," says Charles-Henry.
He describes the family's house style like this:
"Rich in minerals, clean, dry and fresh, but also with significant aromatics and dry fruitiness. But to make your own style as a winemaker, you need 30 years minimum. When my brother and I took over the domain, we decided not to replant because we wanted older vines that could produce wines with more depth and complexity. It takes almost one generation to do that."
Caring for the soil and the environment is key for Fourny, and two years ago, the domain was HVE-certified. This certificate not only applies to the work in the vineyards but takes a holistic approach also when it comes to aspects such as energy consumption in the winery, transportation and handling of waste.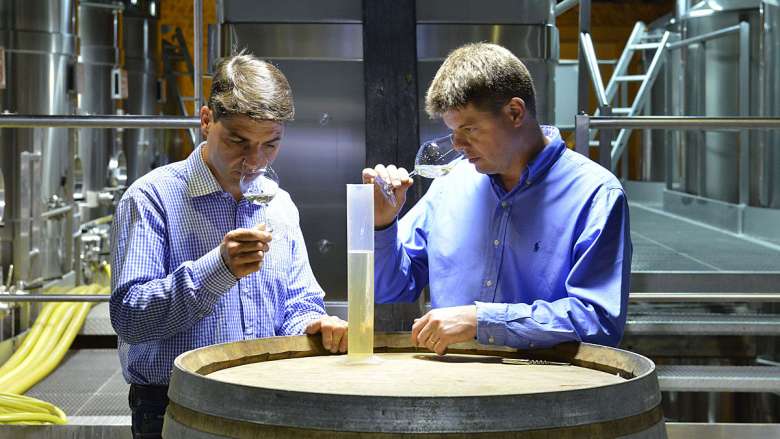 In the winery, they have a "hands-off" strategy:
"We are non-interventionists. We do not touch the wines and, for example, we don't do racking. The wines must be allowed to develop at their own pace."
The wines are also unfiltered: When Fourny once left their vintage Champagne unfiltered, they noticed that it both became more complex and that the taste of the origin shone through clearer. Now, all their champagnes are left unfiltered.
We want to give people an opportunity to drink great Champagne. Champagne should be for everybody
Great care for the details, as said, and at the same time very modest pricing.
"We want to give people an opportunity to drink great Champagne. Champagne should be for everybody. We have also decided to give each cuvée its own label colour; the export market is important and the French language can be difficult for people to understand. It is easier just to say 'I like the purple' or 'I like the black'," says Charles-Henry.
Today, global warming and climate change are topics on everyone's minds, both in Champagne and the rest of the wine world. Charles-Henry Fourny says that the style of Champagne, in general, has changed over the past ten years. Previously, the acidity was higher, while today, it is moving towards more fruit maturation and lower acidity.
"This also means less dosage plus a higher rate of minerality and salinity in the wines. Dosage for us is not about making the wines sweeter, but about balancing the three main aspects of Champagne: natural acidity, salinity and texture.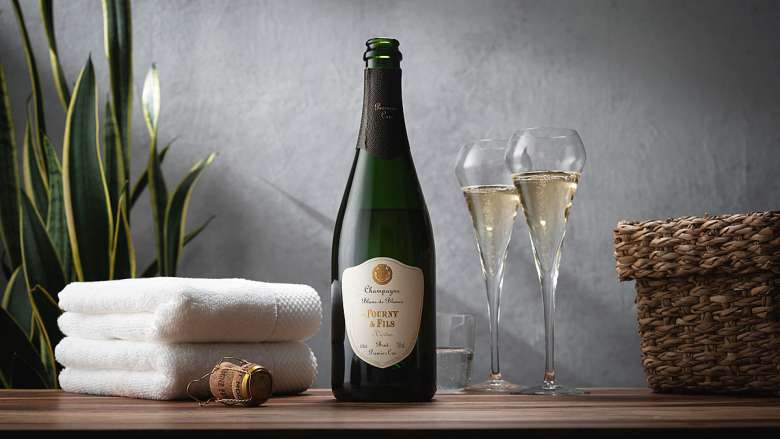 The wines:

Vertus Brut Nature Blanc de Blancs:
No dosage. Made of mainly -16, -17, -18, plus 20-25 % reserve wine. Three years on the lees before disgorging.
Charles-Henry Fourny: "Rich and chalky with a distinct minerality in the aftertaste. Most plots in the blend are facing east, but one of them has a southern aspect, which means that the wine is both rich and well-structured at the same time."

Blanc de Blancs Extra Brut Premier Cru:
Dosage around 5 g / l.
Charles-Henry Fourny: "Quite generous at first, however with the typical Côte des Blancs feel in the after taste. Again, an evident salinity."

Grande Réserve Brut Premier Cru:
At least 50% reserve wine and a blend of Chardonnay (80%) and Pinot Noir (20%), mainly from Vertus.
Charles-Henry Fourny: "This is an Extra Brut in reality, but we don't print that on the label since it is Pinot Noir in the blend. This cuvée will change its name to 'Grande Terroir' sometime next year since it has both Premier Cru and Grand Cru in it."

R Cuvée Extra Brut:
Only Chardonnay, maximum 3 g / l dosage. Always two different vintages, at the moment 2012 and 2013. Four years on the lees.
Charles-Henry Fourny: "The wines age in small oak barrels before bottling and second fermentation. The letter R is from Roger, who was one of the founders of Fourny & Fils."

Monts de Vertus Premier Cru 2014:
Made in small oak barrels. Only around 1,400 bottles produced every year.
Charles-Henry Fourny: "This is an Extra Brut Blanc de Blancs, with five years on the lees before disgorging. It has an austere finish, typical of the Côte des Blancs."

Published 22-November-2021
Sponsored / Sweden
Premium: Search more than 2000 wine lists in 35+ countries. Download an unlimited number of wine lists.