Haerlin
Restaurant
Hamburg, Germany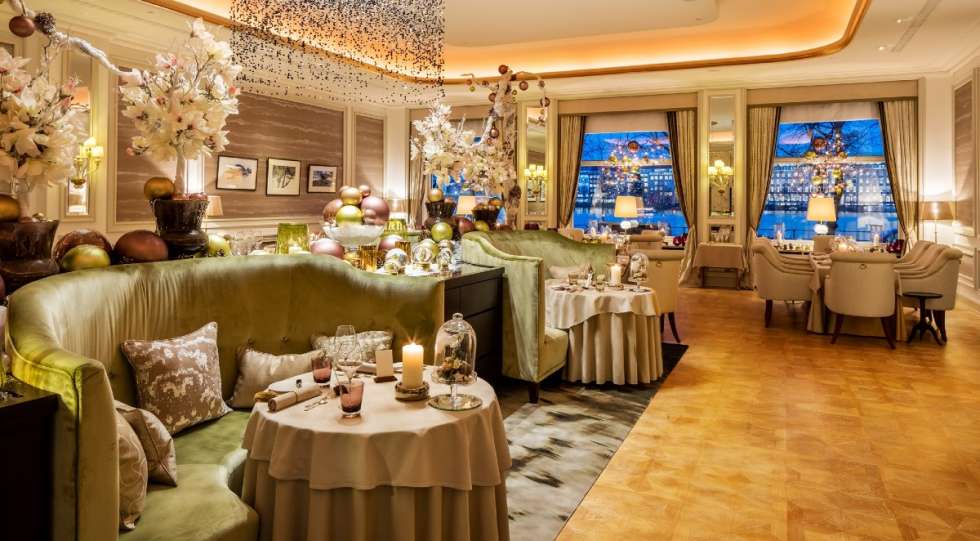 Haerlin Wine List
About Haerlin
Haerlin is the two Michelin star restaurant located inside the iconic Vier Jahreszeiten (Four Seasons) Hotel. This is a classic Hamburg place to go for celebrating special occasions. If you are part of the high society of Hamburg, you will have dinner here regularly. It has a fixed spot among the best-loved fine dining places in the city and a loyal following. It is the classic old school fancy, also with views of the Alster Lake.
The Haerlin dining room is plush with regal fine linens, fancy Nymphenburg porcelain sculptures and a floor-to-ceiling glass display cellar. Christoph Rüffer has worked at some of the best star restaurants in Germany and has been the Head Chef Haerlin since 2002. The food is international, creative and features local products. The hotel is a fabulous place to eat and drink!
Just across from Haerlin in the grand entrance is a fabulous very tiny cocktail bar complete with two stories and red leather. Perfect for an after-dinner martini.
About the Haerlin Wine List
Haerlin offers a list you would hope to find at a hotel that opened in 1905. This means they have lots of Bordeaux, Burgundy, German wine and Champagne. If you want to go all-in and try some Dom Pérignon from the '70s or explore DRC in-depth, this is the place to do it. The list is large and offers verticals of many iconic producers. That is not to say the list only offers big names and rare wines; the Haerlin wine list also has a very nice selection of trendy somm wines.
The wine list has had the touch of some of the best sommelier in Germany over the years. This is a must-go place in Hamburg if you want to go out and celebrate in style while drinking fabulous old Bordeaux! Don't forget Hamburg is one of the original port cities of the world and they have always been involved in the trading of Bordeaux. Bring your fancy dress and enjoy!
Great for
Haerlin awards