Apoteca
Wine Bar
Adelaide, Australia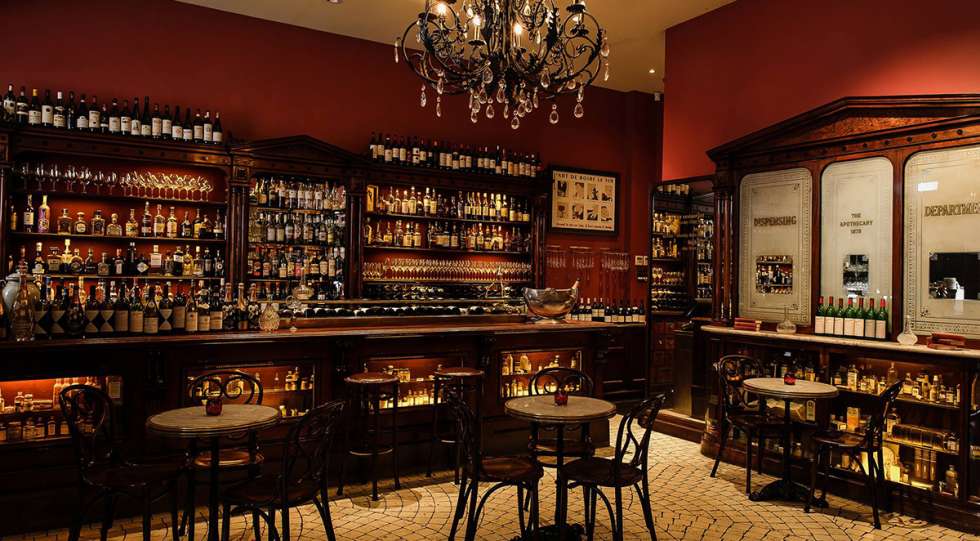 About Apoteca
Apoteca is your go-to New York inspired brasserie located in the popular west end precinct of Leigh Street Peel Street Hindley Street. A multi award winning Adelaide wine bar and restaurant that has a feel of the big smoke, it is multi-leveled with moody lights, vintage light fixtures, several nooks to hide in with your special one and various rooms for group bookings.
Run by owner Paola Caro since 2002, this bar celebrates the rustic brickwork and Byzantine ironwork of an old heritage-listed Edwardian building and one of its great features is the Cellar Dining Room where you can find some 1,200 bottles, each awaiting its renaissance. A real food and wine escape from Adelaide's busy and, sometimes intense and leery Hindley Street, what you will walk into is a Manhattan designed front bar that welcomes you with a great display of whiskey, cognac and gin bottles beautifully aligned on its historic 141-year-old pharmacy cabinets.
A well-kept​ secret is the courtyard at the back, which is a secluded and very pretty space, allowing for some relaxed, cozy outdoor imbibing. The food is always delicious and every time I come for dinner, I leave fulfilled and happy. I also just enjoy going there late at night for a bottle of wine and a cheese platter. Open seven days a week for dinner and late night snacks.
About the Apoteca Wine List
If there is one thing owner Paola is about is the support of everything local. And why should she not! We are spoiled for choices in this abundant state with some of the most diverse wine regions; from continental Barossa and Clare Valley, to the cool Adelaide hills, the Mediterranean McLaren Vale and the stunning Oceanic influenced limestone coast, you can find on the list outstanding producers who work with some of the oldest soils and vines in the world. Alternate varieties bring so much more playfulness in new world viticulture with no restrictive appellation laws and together with Paola's long standing relationship with the local wine community, you can find some special cellar release only few people know of.
With a list that remains fresh, you can also expect to see some esoteric drops from lesser sung regions in Europe as well as their Australian equivalents. It becomes fun to find old and new world stylistically similar wines and crack them open to compare. I am also impressed with their selection of half bottles. Half bottle but double the fun as they say. An important part of the Adelaide's hospitality landscape, and a buzzing centre for a celebration of everything local.
Great for