The guide to 10 great wine bars and wine restaurants in Adelaide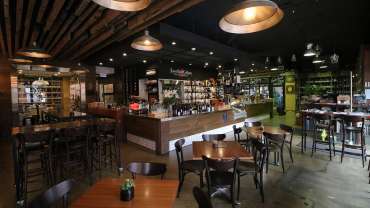 Adelaide is surrounded by famous wine districts, that's well known. But you will find great wine to drink in Adelaide as well, check in our guide to find where they are hiding. We also added some places in Adelaide Hills to the guide!
Phone: +61 8 8212 5511

Address: 2 King William Street, Adelaide

2KW Bar and Restaurant is a rooftop bar and multi-faceted venue offering plenty of outdoor areas to enjoy one of the greatest views of the River Torrens precinct and its landmark buildings. The terrace is set with well-manicured greenery, lounges and booths that can seat 2-15 people. The terrace Bar offers an extensive selection of local wines and craft brews, as well as a seasonal cocktail list using native ingredients. As day turns into night, the tempo is increased with deejays providing added entertainment, with a standing up capacity of 120 people. It is also,one of the rare places in the...

Phone: +61 8 8212 9099

Address: 118 Hindley Street, Adelaide

Apoteca is your go-to New York inspired brasserie located in the popular west end precinct of Leigh Street Peel Street Hindley Street. A multi award winning Adelaide wine bar and restaurant that has a feel of the big smoke, it is multi-leveled with moody lights, vintage light fixtures, several nooks to hide in with your special one and various rooms for group bookings. Run by owner Paola Caro since 2002, this bar celebrates the rustic brickwork and Byzantine ironwork of an old heritage-listed Edwardian building and one of its great features is the Cellar Dining Room where you can find some 1...

Address: 19 Peel Street, Adelaide

A cleverly designed bar in the midst of the busy Peel Street Leigh Street bar precinct of Adelaide. As soon as you step in, there is a warm feeling from the wood fittings and natural stone wall and the thirst for a great prohibition inspired cocktail or a bottle of Sancerre from Riffault sets in as you sit at the bar. The great staff does everything from plating up local cheese and meats, whipping up any cocktail and recommending a great bottle of Spanish natural wine from a carefully curated small but nifty wine list. There is also an extensive range of whiskies which has been sourced from in...

Phone: +61 8 8232 5300

Address: 25 Vardon Avenue, Adelaide

East End Cellars is considered an institution. The fact that you can pay retail price + $15 to drink wine on site is a great convenience to have before you head out for dinner in the east end vicinity, where you can access some of the best restaurants in town. You can either enjoy a tasting with one of the featured winemakers on Friday and Saturday nights or just pick a bottle from an ever-increasing 3,000-bottle collection. There is also an eclectic selection of interesting craft breweries, local gins, vermouth, as well as shrubs. You can order snacks from the bistro or choose from the pan...

Phone: +61 420 322 715

Address: Basement/201 Rundle Street, Adelaide

When a top sommelier/winemaker and the owner of a wine and spirits distributing company decide to join forces and open their own joint, Hellbound is what you get. Just off one of the busiest main streets of Adelaide, Hellbound has been created in the basement of one of the original buildings, in what used to be a meat locker for a butcher's shop upstairs. Step down one flight of stairs, and you will be welcome by the neon light installation proudly sporting the name of the bar on the brick wall. With a seating of about 60, you can either choose one of the tables or lounge in one of their chest...

Phone: +61 8 8410 8170

Address: 27 Gresham Street, Adelaide

La Buvette Drinkery is a French wine & aperitif bar serving specialty French food, not surprising given co-owner operator Dominique Lentz is a proud Alsatian. Nestled in a small alley along other bars, La Buvette really does ooze the French culture. Any good French speaking person in Adelaide knows where they can go if they need to speak, eat and drink French. One of the things I really enjoy is when I drink off their list of lo-fi wines whilst listening to Dominique's eccentric French beats. Yes, music is a big feature in this busy bar. Their playlist is more so influenced by French hip...

Phone: +61 499 555 461

Address: 9 Leigh Street, Adelaide

Located in one of the most popular wine bar precincts in Adelaide, Leigh Street Wine Room differentiates itself from the rest with an intelligently designed space that focuses on organically farmed wines. The bar runs in the middle of a long room with an arched ceiling that makes the entire space looks like a tunnel with walls sporting wine shelves displaying 450 different wine labels. The booth, bar stools and tables seat 40 people at any given time. The food menu changes constantly with sustainable produce which Nathan, head chef and co-owner, mostly sources directly from farmers and fisherm...

Phone: +61 8 8227 2273

Address: 22-26 Vardon Avenue, Adelaide

Open seven days and opposite East End Cellars, the best retail wine shop in South Australia, you will find wine bar MotherVine. Owned by Master of Wine David LeMire and sommelier Patrick Madden, you can rest assured that you will find some cult classic wines in their cellar. They have a section of the wine list with a featured winery from time to time, so it is great to be able to taste a variety of wines, cuvees and vintages from one single winery. They also throw wine dinners with Australian winemakers flying from all states to attend and present their wines. With magnum parties on Fridays...

Phone: +61 8 8339 2050

Address: 8 Main Street, Crafers

The Crafers Hotel used to be the Crafers Inn, an old pub in a very small country town, serving burgers, schnitzels and fries. The draft beers poured were monopolized by big beer companies, and that seemed to be enough to please the locals for decades, until it was bought from the previous owners in 2015, and totally revamped into a luxury hotel offering, arguably, the most diverse wine list in Australia. The locals soon realised they were in for a treat. The owners love French food and wine and always dreamt of opening up a lively pub where people could comfortably drink a Pétrus whilst enjo...

Phone: +61 477 410 105

Address: 1097 Greenhill Road, Summertown

The Summertown Aristologist is probably my favorite place to eat in South Australia. Since its opening in October 2016, it has brought upon a velvet revolution to the Hills community. The concept is idiomatic, and the inspiration comes from the original Uraidla Aristologist which was the first of its kind in Australia. The name sums up wonderfully what the venue is about. Aristology meaning the art or science of cooking and dining that encompasses the growing, preparing, curation, presentation, consumption and experience of a meal. Co-owned by three partners, Anton Van Klopper (Lucy Margaux),...