Paul Einbund: "Savoie is the most exciting wine region in the world!"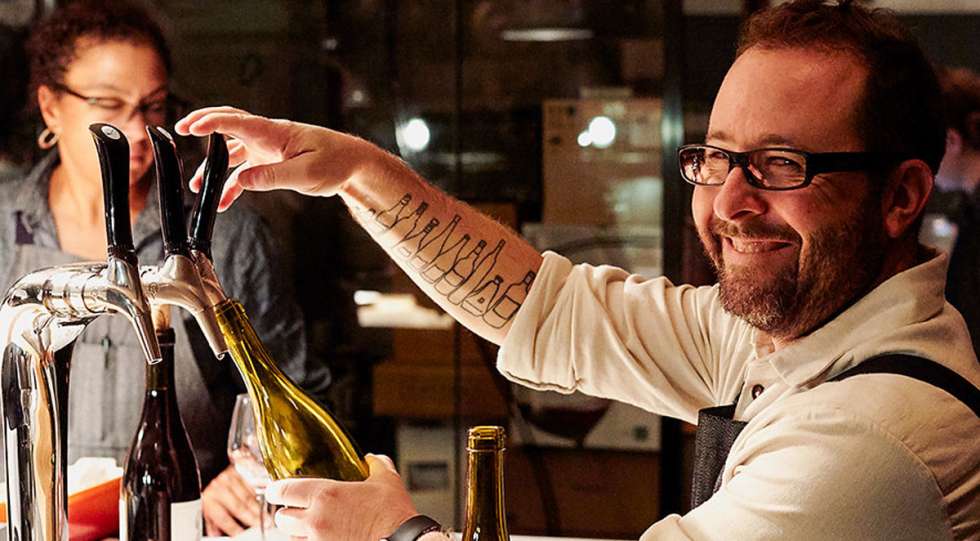 Paul Einbund is the owner and wine director of The Morris in San Francisco's Mission District, a restaurant where he gets to play around with the cellar he has been building for many years, beginning long before his restaurant was up and running. Star Wine List's Lulu McAllister Churchill got to chat with him.
A true industry veteran, Paul Einbund has lent his palate to the wine programs at some of the most esteemed restaurants in California over the course of his 20-plus years in the business – Melisse (LA), Coi (SF), and Frances (SF), to name a few. Now he runs The Morris, a small restaurant with an enormous cellar.
Your cellar is extensive — and awesome! Do you have any tips for folks, be they sommeliers or otherwise, who are just starting out collecting wine on the best way(s) to go about building a cellar?
"I bought the wines I wanted to drink! So The Morris opened with a giant cellar but with some gaping holes! When building your own wine cellar it's important to buy a lot of different kinds of wines even if you tend to drink mostly from one region or one grape — you never know when you're going to need a white or a rosé or a Burgundy or a Rhône, etcetera."
"Having wines in your cellar for all occasions is super fun! If you are building a cellar for aging then it's really important to select wines that you think are going to be better with...age. It sounds pretty basic, but the wines you are absolutely loving right now are probably not the wines that you'll be loving in five years. That said, if you don't like a wine now, you probably won't enjoy it in five years either. I purchased a lot of wines that I thought were awesome but had edges or tannin that I was hoping would soften with time. That's the joy of having a large cellar: watching things develop."
You were recently in New York for a few days. Where did you eat and drink? How does New York wine culture differ from that of San Francisco? Do you see a lot of the same bottles on lists there or is the selection very different from San Francisco?
"Yes, my wife and I were just in NYC and had a great time, as always. We ate at so many amazing places: Maison Yaki, The Nomad, Atomic, Racines, King, Pinch, The Grill, and, of course, Katz. New York has always had more European wines then we get in San Francisco, and I was introduced to another amazing wine, a Domaine du Closel Savannières, on this trip. We dined with some wine friends who ordered a bottle from a producer I know but a bottling I've never seen before — and loved!"
"I also noticed a 'Californication' going on. A lot of the restaurants we dined at could have been in San Francisco or Los Angeles. That's not a dig; they were awesome! It was fun to see more of a focus on the seasonal product on this trip then I have in the past. I would also like to mention that I wish we had a Japanese bar scene like New York. B-Flat and Angel's Share are my favorites."
I know you rarely get to travel, being as busy as you are, but which wine regions have been your favorite to visit? Are there any wine regions world-over about which you are particularly curious right now that you wish you could visit?
"Well, of course, I love to visit Chartreuse. On my most recent visit I was introduced to some incredible Mondeuse, so I can't wait to get back there and walk some of those Savoie vineyards. Mondeuse is the next big thing! I am working with an amazing Muscadet producer right now, Veronique Gunther-Chereau, and I think she is making the best wines in her region. I'm eager to visit her and see how and why she is making such important wines. I am very big on Madeira and have yet to visit, so that's top of my list as well."
Do you have any pet peeves when it comes to wine lists? What delights you in wine lists?
"Oh, that's a straight line – you know I could go on for days about my pet peeves! I have a handful of wines that, when I see them on a wine list, I know it's a young sommelier curating it who is more concerned with being cool than with the flavor of the wines they are serving. But I recently tasted the new vintage of one of those wines – a blanc from Chinon – and was blown away! So I now list a Chenin Blanc from Chinon (which is also fun to say), a reminder to taste every vintage every year before making assumptions."
"Also, wine prices have gotten a bit crazy all over. In New York this last trip we saw a bottle that I list for $325 listed at $900 – that's an issue."
Chenin Blanc has long been a favorite of mine, but​ now it sells like hot cakes!
Have you noticed patrons at The Morris gravitating towards any one particular section or producer on the list? Which wines are other wine professionals selecting off your list these days? Basically, what's selling?
"It has been fun to see trends shifting. Chenin Blanc has long been a favorite of mine, but now it sells like hot cakes! At The Morris we sell tons of Loire Cabernet Franc and Northern Rhone Syrah. These are the two grapes that work best with our food, and we have tons of both. It is truly the age of Champagne as well. Sommeliers have always loved Champagne, but when I first became a sommelier there were a handful of growers brought in by Terry Theise and Becky Wasserman. Now there are new growers put in front of me every week! It's very exciting to watch that region grow and blossom."
What has been your most awkward service moment to date? It's really hard to say, but mine was probably watching a young server firehose an entire table of guests with a poorly chilled bottle of pet nat from my place on the floor 10 feet away, where I was scrambling to clear the shrapnel from a dropped tray of stems half-full of red wine.
"Wow, that was a night you had! The Morris is small; we are pretty in control most of the time. Of course, there are always mistakes, but luckily they haven't been too major. My favorite 'messed up' story is about one of my favorite regular guests. He was hosting a large group for a dinner party and he had me do wine pairings but he had brought in a jeroboam of a very special wine he had been ageing for a long time. When the time came, I started working on the extremely thick wax capsule. After thoroughly bruising my fingers getting that stuff off I went at the cork which popped out shockingly easily and was surprisingly small."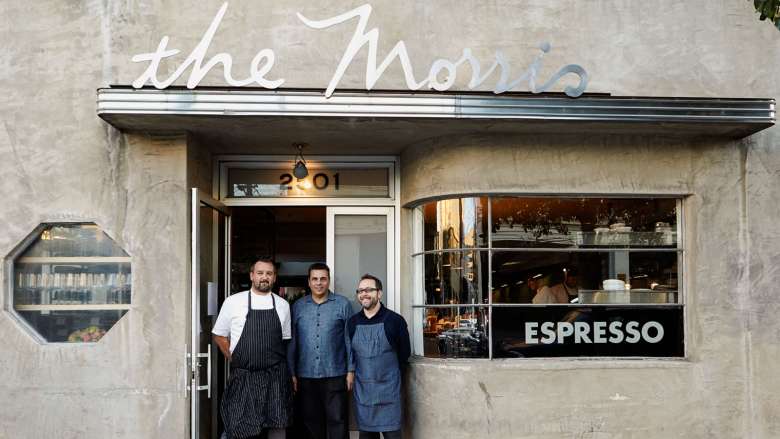 "I asked my General Manager to help me trade out decanters, as a jeroboam would require several to get the job done and you have to be very careful to keep the sediment clean while changing decanters. As I started pouring, I saw a very watery brown-colored liquid coming out. Then I noticed an oddly coffee-like aroma. After decanting the entire bottle I poured myself a taste to see what was going on and was shocked to taste…very old coffee. Evidently, this bottle was not intended to be sold— it was a dummy bottle for display purposes! Someone had messed up in the winery and sold a bottle of old coffee to my poor unsuspecting guest!"
What is typicity? How flexible is this concept?
"Funny, because I've been grappling with this a bit lately. The natural wine movement is challenging the importance of this concept, typicity. One of my good friends owns a great natural wine shop, and he asks, 'Why do wines need to taste of a specific place? Can't they just taste good or bad?' As a sommelier, it's always been my mantra that all of the wines on my list should taste like they are supposed to taste: wines of a specific place and time. While I have been of that mindset for my entire 20-plus years as a sommelier, I am not going to get angry at a consumer who just wants to drink good wine and doesn't care if what's in the bottle tastes like what's on the table. I still think that is my entire purpose of being, but I can see why the concept has its place and is not the alpha and omega."
Did you have a trigger wine?
"Shockingly nope! I had a trigger food-and-wine-pairing of house white wine and chicken in Riesling sauce with spaetzle in Alsace many many years ago, but never a single wine that made me want to become a sommelier. I've always been so excited about new flavors and new experiences, probably because I didn't start under another sommelier tasting me on the classics. Chartreuse VEP at my very first sommelier job: that was my trigger for collecting Chartreuse and other vintage spirits."
Have you had any revelatory wine discoveries recently? A producer, grape, region, new way of drinking, or an interesting pairing?
"Savoie! This region has completely changed for me. I'm not sure if it's the wines or my palate that has changed. Maybe it's the fact that I only recently had some with any age. Either way, this is the most exciting region in the world for me right now. The Jura is great, but Savoie is where my heart lies, and as I said earlier, it doesn't hurt that Chartreuse comes from this region as well!"