Pascaline Lepeltier competes for credibility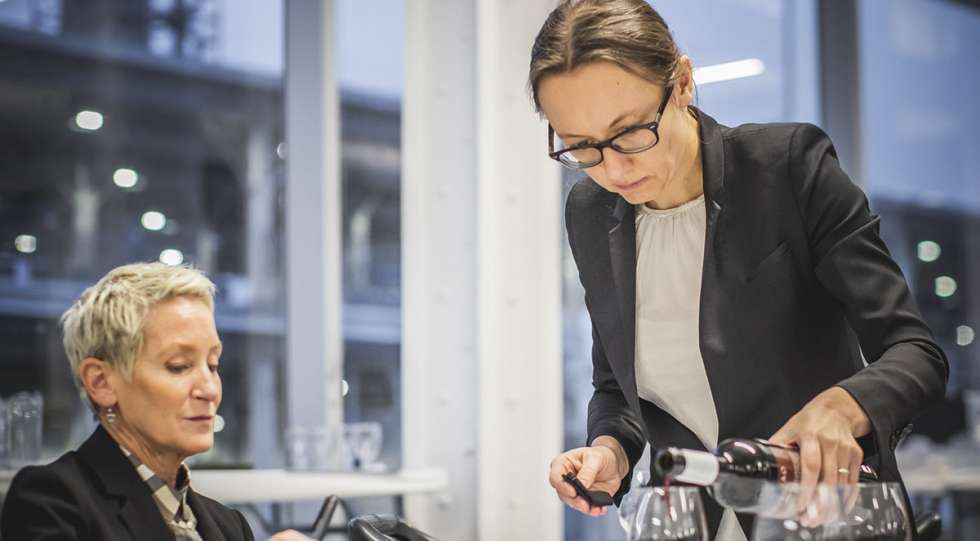 Master Sommelier Pascaline Lepeltier is one of New York's best-known sommeliers, particularly for natural wine lovers. A native from the Loire valley, her love for the valley's chenin blanc is well-documented.
In November Pascaline Lepeltier won the Best Sommelier of France competition. The same month, she became the first woman ever to have won the Meilleur Ouvrier de France in the Sommelier category.
The only reason she is not competing in the upcoming Best sommelier of the world next year is because France had already selected its candidate, David Biraud. But why compete at all?
"I think the motivation is my curiosity - trying to understand this wine world we are living in! And the competitions help me to acquire the credibility to be listened to when I am talking about the quality and the importance of organic and biodynamic farming, and our responsibility as influencers and prescriptors to help this urgent ecological transition," says Lepeltier.
In New York, Lepeltier spent a decade building the award-winning wine list at Rouge Tomate before leaving in 2017. Now she is partner at Racines, the wine bar and restaurant in downtown Manhattan which is a given destination in Arvid Rosengren's guide to the best wine bars and restaurants in the city.
How do you think New York compares to other cities when it comes to wine?
"I think New York is quite amazing now as we have all the wines from the world, but the price, the cost of operation and the lack of a high number of wine bars (like in Paris, London, Berlin, Copenhagen, Barcelona, Madrid, etc.) makes the scene not the most vibrant compared to the cities I just named. We have the supply, but the real estate is killing us."
What is the philosophy behind your wine list at Racines?
"Ecumenism with wines made by vignerons and farmers, 85% being organic, biodynamic or natural, from all over. We are looking to offer a "mature" view on the low-intervention wine world, having 15+ years of experience working with these wines."
When you start writing a list from scratch, where do you actually start? (eg. look at the food, the venue, the storage, your own personal choice, relationships with suppliers, cash flow etc)
"All the above. The practical and constraint first - which type of restaurant, how much space, how many dedicated staff members, which P&L, what anticipated volume, cash flow - etc. Without this framework, your program will be very difficult and labor intensive, without top results. Then you can create the list, based on the food of course, and your market. But always always with a point of view, and for me an ethic of selection supporting real, conscious farming! "
What are the biggest challenges (or advantages) of writing and maintaining a great wine list?
"Finding the wines, hunting them! It is getting so competitive now. The rest is easy if you are well organized."
Name three things that make a good wine list.
"A strong, clear, original point of view - and the ability to support it. A logical pricing - if there is a 5x mark up, I want the service or the experience to go with it (right temp of service, good glassware, knowledgeable staff, great combination with the food, etc.) A good design - smart organization, no spelling mistakes, some esthetics!"
Any pet hates about wine lists?
"A label list with all the cool-kids labels, and no idea about the wines - just a lazy paste and copy (usually with stupid mark-ups). Spelling mistakes are a big no-no. A list that is egotistic and egocentric."
Do you have a favourite wine and food-pairing that guests should not miss?
"Loire Chenin with everything, haha!"
Do you have any general advice for your guests when it comes to choosing wine?
"Be honest and transparent when you tell your sommelier what you want to drink or enjoy. Use your words, tell us a price. So we can make you really happy!"
What are your favourite wines at the moment?
"I still drink a lot of Loire Chenin, every Beppe Rinaldi I can, and some Jurancon sec (from Camin Larredya), and the champagnes from Emmanuel Brochet an Aurélien Suenen."
Which wines are overrated, in your view?
"The 100-points wines, and also the 99-points..."
Where would you travel for the best wine experiences?
"The Republic of Georgia for the naked, genuine wine hospitality and their amazing culture. The Loire Valley, because you will find the best wines."
What is your number one rule to live by in hospitality?
"Listen (to your guests, to your team, to your vignerons) and sincerely care (about your guests, to your team, to your vignerons)."
Where do you like to go out to drink in New York?
"The Ten Bells, The Four Horsemen, The Modern - and I am looking forward to go to the brand new place of the Franks Spuntino team, Franks Wine Bar in Gowanus."
By Krister Bengtsson
Published 12-December-2018
Interview
Premium: Search more than 2000 wine lists in 35+ countries. Download an unlimited number of wine lists.