Meet Maaemo's Jefferson Goldring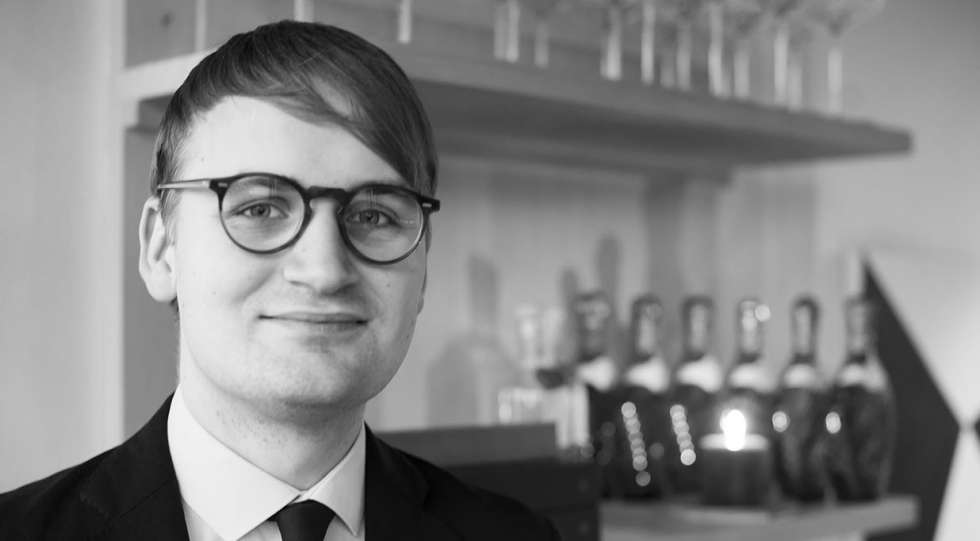 Behind every three Michelin star restaurant... is also a deeply engaged head sommelier. Oslo's and Norway's only three-star restaurant Maaemo has Jefferson Goldring from England. Linn Johnsen has his story.
(Editor's note: Since this story was published, Goldring has left Maaemo for Restaurant Under, see story linked below)
"I am originally from Manchester, a city not necessarily renowned for food or wine (we have not had a michelin star restaurant since 1974!). So I started off my career with a huge focus on beer and spirits, wine being the final frontier and worked on qualifications with the Court of Master Sommeliers whilst working at a one-star in Lancashire. A few stage experiences around the world followed and then a big move to Norway. I currently work and develop the wine identity at Restaurant Maaemo in Oslo where I have been for almost three years," says Jefferson Goldring.
What is your wine philosophy at Maaemo?
"The concept of our wine service and list is very simple; it has to support and/or enhance the food that we serve. I am extremely lucky to be working with such a kitchen that can present new and exciting challenges that demand respect and a carefully chosen bottle of wine to suit it. It is for this reason that we might have to neglect or even omit a particular region or even country and keep very focused to be always trying to support the food. Our restaurant has been open since 2010 and we have had some fantastic people leading the wine along the way, many leaving some real gems in the cellar and we do try to lay-down when possible until ready."
"Our strengths at the moment are definitely with grower Champagnes, Burgundy, German Riesling and Rhône. Of great importance to us is to be able to showcase our strengths in a carefully thought out manner with vertical or horizontal showcasing being especially valued."
Do you have any general advice for your guests when it comes to choosing wine?
"My major advice to customers is just to engage with your sommelier, it is a huge perk of our job and really helps us find the right thing for you."
If I go to Maaemo; bottles or the wine pairing?
"The question we constantly receive is whether to take the wine-pairing or to take bottles. I would generally recommend for tables of 1-3 to take the pairings as long as they open to both a discussion and also trying new things. Currently we have a slightly esoteric pairing with sour beer, Tannat, Romorantin, Hondarribi Zuri and barrel matured mead all featuring. However for tables of four and upwards I think that bottles are the way forward as we would be able to dig into our cellar and find some very special things to accompany the food."
Where would you travel for the best wine experiences?
"In terms of traveling I am constantly getting drawn time and again to Paris; you are only a few hours away from some amazing wine regions and of course, Paris possesses a plethora of wine and food options for all tastes and budgets."
How do you think Oslo compares to other cities when it comes to drinking wine?
"Oslo is a small city with a very dynamic and growing wine scene. In many ways, the country is an old market for fine wine and almost every restaurant has a few treasures hiding on the list for very nice prices."
Name three places where you like to go out to drink wine?
"If I were to recommend places to go to in Oslo I would have to put Einer/Einbar at the top of the list; this is such a fantastic concept in one of Oslo´s oldest buildings by an old colleague of mine, fine food upstairs and hyggelig ambiance and growing wine selection downstairs. A major stalwart of Oslo wine is also, of course, Territoriet, a bar that serves pretty much the whole list by the glass and another favourite would be Arakataka; friendly staff, great list and you have to try løjrom and spaghetti!"
Published 25-December-2018
Interview / Oslo
Premium: Search more than 1900 wine lists in 35+ countries