108 has Denmark's best Natural/Low Intervention wine list 2020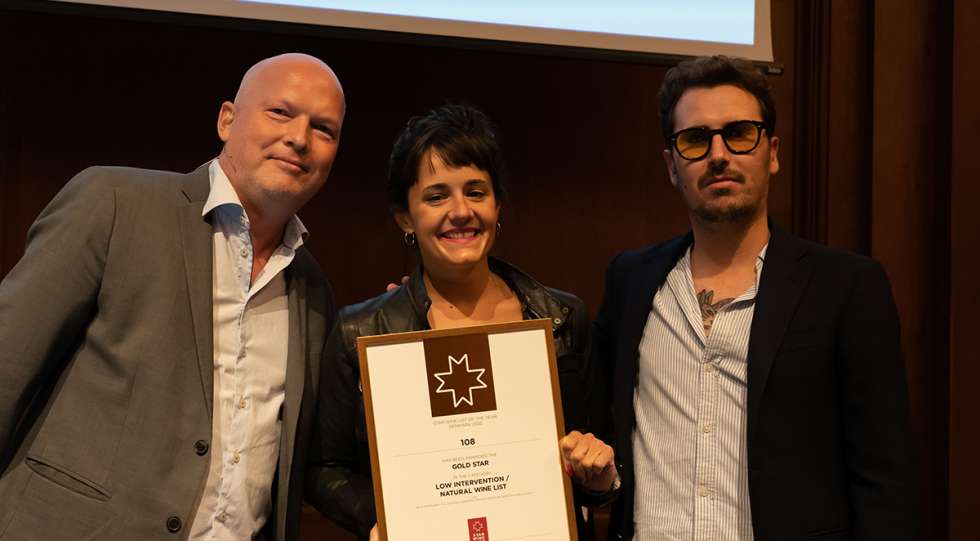 108 won the category Natural/Low Intervention when Star Wine List of the Year Denmark was held for the first time on 1 September.
"A really special wine list showing passion, knowledge and maturity working with one of the most complex categories of wines! The selection pays tribute to founders of the movement, but you also find the young talents from all over the world. A special mention for the Auvergne and Jura selection, as well as the back vintages available," says jury member Pascaline Lepeltier, Best Sommelier of France 2018.
Just the day before Star Wine List of the Year Denmark, 108 announced that they, unfortunately, are closing in a month because of the corona crisis.
"But we still have a month to clear up the list, and you are all welcome," said 108's Juliana Carrique when she and Thibault Chauvet received the gold diploma on stage.
The finalists in this category were: Admiralgade 26, Nr30, Pasteur, Anarki and Kødbyens Fiskebar.
In addition to the honour and diplomas, winners of several categories will be invited to the Global Final of Star Wine List of the Year in Vienna, May 28 2021 – where the best wine lists in the world will be crowned.
The winners of the category Best Austrian Wine List in each country will also get an all-inclusive trip to Vienna for the Global Final and VieVinum in May 2021.
Published 01-September-2020
News / Denmark