Heldenplatz
Restaurant
Hamburg, Germany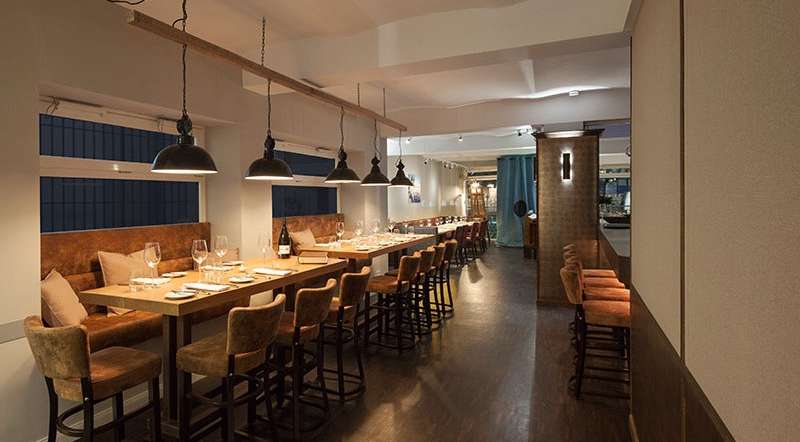 Heldenplatz Wine List
About Heldenplatz
Heldenplatz is one of a kind, serving great wines and food until 00:00. This is a place where the cities sommeliers go after work to drink and eat until the morning comes. The philharmonic is nearby, so booking a table even at 23:00 can be a good idea, as the restaurant is always full after the shows. The interior is clean and welcoming without fuss. The food is amazing, and chef Markus Hampp, who also happens to be one of the partners, is extremely talented.
Everything on the seasonal menu is delicious and changes a few times a month. The other two partners, André Jean-Marie Nini and Julia Hampp (Markus's wife), take care of the hospitality and wine. They all come from a background of fine dining. When the team started the place in 2016, they wanted to give a great experience in a way they felt fine dining was missing.
Heldenplatz understands what casual fine dining is; feed people well, give great service – and offer them interesting, fun things to drink! You can go here for a 5-course dinner and many bottles of wine or just a glass and a late-night snack. The full menu is always available for the entire night!
About the Heldenplatz Wine List
The wine list is interesting and diverse, showing they know a lot about wine without showing off. The list offers 50 wines by the glass since sommelier André wants to make sure that people can try different stuff. This is one of the unique hospitality standouts that Heldenplatz offers; great accessibility to fun and intreating wines.
André is doing service every night and is always happy to recommend something or put together or pair a wine to go with your meal. The standouts on the list are the German and French selections (André is French after all). The wine list, like the food menu, changes often and is always a pleasant surprise.
Great for
Star Wine List Of The Year