26 top wine bars and restaurants in Skåne 2022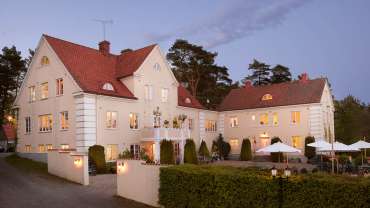 Skåne in south of Sweden is not only a beautiful region – there are also plenty of great places for wine lovers. Here is the guide to the best wine bars and wine restaurants in Skåne!
Phone: +46 414 732 35

Address: Bengtemöllevägen 7, Brösarp

Low intervention / Natural Wine List Of The Year Sweden 2020

Talldungens Gårdshotell has earned the reputation of being one of southern Sweden's foremost wine destinations. The restaurant is open not only to the hotel's guests and it might be a good idea to book well in advance during summer. The restaurant serves a five course set menu and with that you have plenty of choice in the well stocked wine cellar.

Phone: +46 414 240 89

Address: Skepparegatan 22, Brantevik

Hörnan på Brantevik in the southern Österlen summer paradise may look like a standard bed & breakfast, with a couple who left the busy city-life to pursue the lifestyle of the countryside. It's true, but this place is different because one half of the couple is called Stefan Gullberg, former music industry executive, former wine importer and serial wine hedonist. Brantevik serves simple tasty dishes with a good ambiance and a serious wine list. Open all summer and a lot of weekends in the off-season.

Phone: +46 73 997 10 41

Address: Hörte Hamn, Dybäck 465, Skivarp

Special Jury Prize Sweden 2022

Hörte Brygga & Köksbordet is located in Hörte Hamn on the Swedish south coast. The menu is based on locally sourced produce. The wine list follows the natural and non-intervention style. All wines can be had by the glass if the conditions allow. Köksbordet (=The kitchen table) is open during the winter months and serves a large number of small dishes during one seating. Hörte brygga is open during summer and with drop-in only. This is a must-visit destination if you are in south Sweden during summer. Exceptional food and wine.

Phone: +46 411 53 20 10

Address: Östra Vemmenhög, Skivarp

Special Jury Prize Sweden 2022

Sydkustens at Pillehill is both a farm hotel, brasserie and wine bar. The restaurant is open year round and serves a locally sourced cuisine. The wine list is wide with wines from both old and new world countries, and in many wine styles. Wine tastings are often available, both scheduled and by request. For the restaurant you need to book ahead, bar guests are welcome to drop in.

Phone: +46 76-163 40 40

Address: Idalavägen 33-5, Trelleborg

A winding road takes you to a small gastronomic oasis in the middle of the Scanian rapeseed fields between Trelleborg and Ystad – Weinberg's hotel. The original Idala Farm has been transformed under the ownership of the Weinbergs to become a small gem when it comes to gastro tourism with hotel rooms of international standard, an ambitious restaurant with its' own garden and vineyard. There is also a banquet hall to accommodate even the bigger groups of guests. The rooms are decorated in a fun and unexpected fashion, and none is the other alike. The restaurant delivers courses based on the ga...

Phone: +46 40-19 09 29

Address: Strandbadsvägen 30, Falsterbo

Bistro Perspektiv sets an ambitious agenda in the new Falsterbo Photo Art Museum, right next to the dunes and close to the sea in Falsterbo. The cuisine is French Nordic Bistro-style with Asian influences. Experienced sommelier Frida Ringström (previously at Sture in Malmö) is a partner and restaurant manager and she is building an interesting list to go with the wide ranging tastes from the kitchen. It doesn't hurt that veteran wine merchant Claes Lindquist is behind the photo museum, you can trust that a good range of Guigals will always be available.

Phone: +46 40-12 12 53

Address: Adelgatan 13, Malmö

Sture 1912 is classic restaurant territory in Malmö, and the walls have housed a restaurant for over 100 years. Under new ownership from the end of 2021, the restaurant was carefully renovated and restored to a more classic brasserie feel. The result is refreshingly elegant and continental. The menu is classically Swedish, with a strong nod towards classic European bistros. Perhaps it appeals to an older crowd, and it is charming in an old-mannish kind of way. In short - a welcome addition to Malmö's restaurant scene, even though the price point is on the higher side. The wine follows the...

Phone: +46 76-029 22 70

Address: Östergatan 7B, Malmö

Nestled in the old square of St. Gertrud, just a stone's throw from more well-known Drottningtorget in Malmö, lies a small oasis for all sorts of champagne lovers. The ambience is homely, with a living room home away from home feel. The staff is very friendly and makes you feel like coming home to a part of one's own family that is unified in love for champagne. The champagne list isn't long but extremely well-curated, focusing on small, independent growers. There is something for everyone on the list, both newbies and experienced drinkers alike – by the glass and bottle. The pricing is very...

Phone: +46 40-818 89

Address: Jagaregatan 6, Malmö

Aster chooses to go its' own path and sets the bar high as one of the first higher end establishments opened in 2021 in one of Malmö's most up and coming districts – Varvsstaden in the Western Harbour. Everything is more or less cooked over open flame and influences from the Mediterranean and the middle east are combined seamlessly with produce from the restaurant's own garden. Even though the concept of "middle dishes" can be found wherever you find yourself in Malmö, this menu feels vibrant and is a welcome addition to Malmö's restaurant scene. It is, to say the least, well worth the 10-minu...

Phone: +46 76 101 72 05

Address: Erik Dahlbergsgatan 14, Malmö

When Alexander Sjögren opened Mutantur at the end of 2017, nobody thought the concept would fly in the long run. Many restaurants have opened with the hope of being able to keep closed during the weekends but have been forced to have open on Saturdays and Sundays. The restaurant also only takes reservations between 5 and 5.30 pm, to make the later part of the evening more spontaneous. The restaurant's name translates into a Latin phrase meaning "change", and the only thing that hasn't changed since 2017 is the restaurant's opening hours. Mutantur is still closed during the weekends, and reserv...

Phone: +46 73-564 34 53

Address: Fersens väg 4, Malmö

Atmosfär has been around since the 90's and a good bistro never goes out of style. After the pandemic we expect the party to resume and we'll be back to finish off some more of the wine list's wines. As you can see along the walls, there have been good wine times here too.

Phone: +46 40-12 13 18

Address: Mäster Johansgatan 11, Malmö

Australian Wine List of the Year Sweden, presented by d'Arenberg 2022

Ruth's opened where it's successor Bastard closed at the end of 2020, and in March 2021 gave Malmö a whole new type of availability with opening hours stretching from breakfast to late dinner. With their own deli curated with seasonal favourites guests are also given the opportunity to bring a piece of Ruth's home. The ambiance is lively but homely and there is something for everyone on the menu, which is focused on locally grown and raised produce but also features highlights from fauna outside of the Nordics. To be able to enjoy breakfast at the same restaurant that you spent your evening th...

Phone: +46 40 29 44 44

Address: Anna Lindhs Plats 10, Malmö

Special Jury Prize Sweden 2022

Swedish Wine Center was not fortunate to open its doors during the 2020 pandemic. But the concept and the great location in central Malmö should ensure that it survives. If you are curious about the emerging Swedish wine scene, then this is the place to learn more. The experienced owners are also behind Skivarp's hotel in the Skåne countryside.

Phone: +46 40 30 68 50

Address: Andréelundsvägen 5, Malmö

Special Jury Prize Sweden 2022

Bouchon is the number one destination in Malmö if you crave food based on the traditional cuisine of Lyon, France. The keyword at Bouchon is rich. Rich in butter, meat, flavours and size. They offer both à la carte and a three-course menu but be sure not to miss out on their speciality, the pressed duck, a truly well served classic. Bring your second stomach and eat your heart out! A cosy and clean atmosphere with a small bar that hosts a generous list of stronger liquors and a ​smaller selection of cocktails.

Phone: +46 40 793 13

Address: Västergatan 16, Malmö

Cozy, elegant and relaxed restaurant Västergatan in the old town of Malmö is one of the restaurants in Malmö to scratch of your bucket list if you are a foodie or a connoisseur of food and wine. Västergatans kitchen has since its opening days focused on clean, subtle and interesting flavours in the vein of the new nordic cousine. À la carte and tasting menus is always available and to that juice or wine pairings. Book a table for the full experience or pop in and hang out in their bar section for a glas or two.

Phone: +46 40 627 11 60

Address: Tegelgårdsgatan 9, Malmö

Best Medium-Sized List of the Year Sweden 2022

Located in the old town of Malmö, two stones throws away from the tourist friendly lilla torg in Malmö, lies Julie. A wine bar established 2018 and is borrowing its name from Beaujolais artisan wine maker Julie Balagny. And just as the winemaker strives to be close to the "more than biodynamic" approach to the wine so do Julie (the wine bar).

Phone: +46 40 97 18 18

Address: Hjulhamnsgatan 5, Malmö

Sparkling Wine List of the Year Sweden, presented by Duval-Leroy 2022

Johan P is a classic fish restaurant and something of a institution in the Malmö restaurant scene. Seafood platters, lobsters, hollandaise sauce and classic environments with classic wine list.

Phone: +46 40 664 64 00

Address: Mäster Johansgatan 13, Malmö

MJ's is the former Mäster Johan's hotel that has transformed into an oasis with a restaurant in the courtyard and a cool hidden bar next to it.

Phone: +46 76 324 52 28

Address: Simrishamnsgatan 36A, Malmö

Lyran serves a set menu rooted in greens and complemented with selected seafood and meat depending on the season. The beautiful wine cellar behind a glass all has a natural focus. The wine list shows plenty of known natural producers from wine regions such as Jura, Loire, Burgundy and Sicily. But Spain, Austria and even Sweden may well be represented on the wine list. (Onni Pekkanen, sommelier at Lyran Matbar, also used to be Star Wine List's Malmö ambassador, Editor's note)

Phone: +46 40 615 36 51

Address: Folkets Park, Malmö

Niche Wine List Of The Year Nordic 2019

Far i Hatten leads a double life in the Malmö Folkets Park. During summer the big outdoor terrace is filled with people. During winter you have to look for the entrance to the old house and only a murmur and weak lights lets you know something is going on. But both summer and winter you will find sought-after pizza and small dishes and not least, a serious list of famous and lesser known natural wine producers. In the bar Malmö's natural wine lovers and sommeliers can be found in the late hours.

Phone: +46 40 23 09 10

Address: 3, Frans Suellsgatan, Malmö

The classic venue Årstiderna i Kockska huset in Malmö serves traditional Swedish cuisine in a historic setting. The wine list is also classically inclined with older vintages of wine regions like Bordeaux and Tuscany.

Phone: +46 40 43 81 81

Address: Västergatan 6C, Malmö

L'Enoteca is Malmö's living room and wine bar combined. L'Enoteca offers wine tastings, winemaker dinners and simple wine friendly dishes from Monday to Saturday. Great outdoor terrace for sunny summer days, and a perfect location near the central station if you want a quick stop.

Address: Kyrkogatan 17, Lund

Lenoteket Vinbar is a part of Riesling Week Sweden 2022.

Phone: +46 46 280 61 00

Address: Bantorget 1, Lund

South African Wine List Of The Year Sweden, presented by Nederburg 2020

Grand Hotel in Lund is a classical south Sweden wine destination. The dining room serves lunch and dinner and the cuisine is Nordic, with locally sourced produce in season.

Phone: +46 418-260 75

Address: Lill-olas väg 30, Landskrona

In the outskirts of Landskrona, neighbouring Borstahusen, lies a small and peculiar gastronomical block. Here you can eat everything from breakfast to dinner and late-night pizza. Under (partially) the same roof, you will also find a conference centre, bar and room for many special events and thematic dinners fronted by owners Dion Liljegren and Ludvig Odeholm. The ideas and concepts are many but unified under one common denominator – everything is delicious and fun with local roots and Scanian produce. The focus of the wine list lies on Piedmont and Burgundy, with an open mind towards the...

Phone: +46 42 506 04

Address: Helsingörskajen 10, Helsingörskajen

L'Enoteque is located right by the water in Helsingborg, and during summer they have a big patio where you can enjoy both wine and a beautiful sunset. Usually, there is around 200 wines by the glass to choose from; you just pick what you want from the bottles on the walls. The knowledgable staff can always guide you if you have trouble choosing.