What are sommeliers looking for in 2023?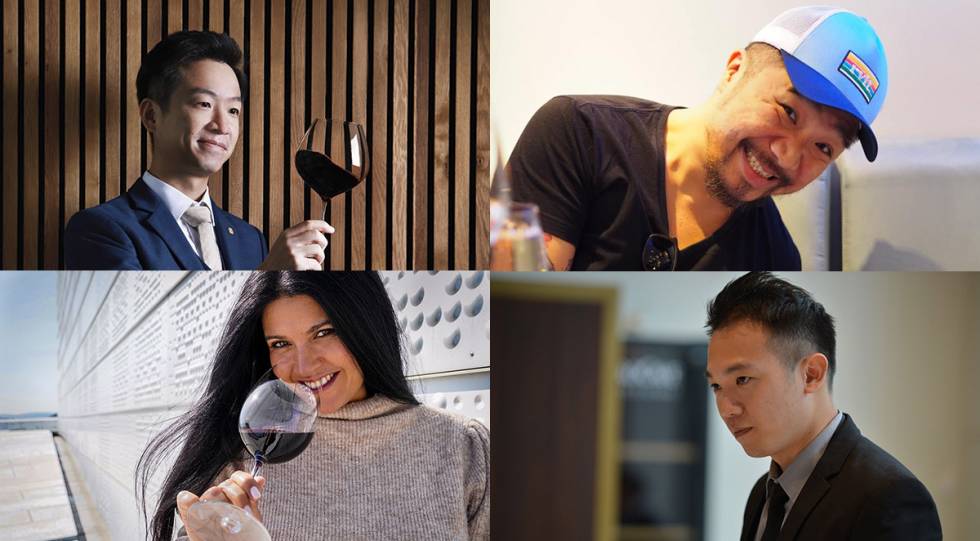 That is the question we posed in a survey to Star Wine List sommeliers. During Vinexpo Asia in May 2023 we hosted a panel of top sommeliers to share and discuss the results. There were some surprising discoveries, particularly around the issue of sustainability and its importance to wine drinkers, Star Wine List's founder and publisher Krister Bengtsson writes.
Last Wednesday, Conference Room 3 at Vinexpo Asia was packed with guests from around the world. Our panel included Liora Levi, president of the Norwegian Sommelier Association; Reeze Choi, Hong Kong consultant and sommelier and recently named third best sommelier in the World by ASI; Alvin Gho, restaurateur and sommelier in Singapore; and Justin Ho Li Vern, sommelier and educator in Malaysia, who has been named the best sommelier in Malaysia on several occasions.
Global answers
Of the nearly 100 respondents, about half were based in Europe and a quarter in Asia. The rest were from the rest of the world. A third work at fine dining restaurants, a third at casual dining restaurants and the rest mostly at wine bars with some other options thrown in.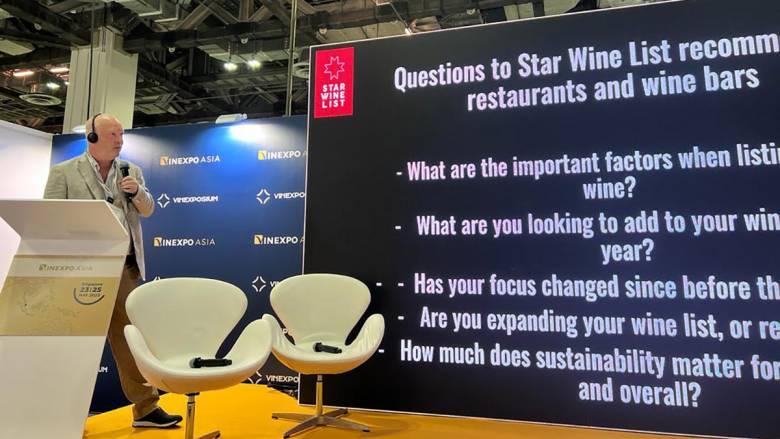 Natural is now mainstream
Forty-one per cent identified their place of work as a classical wine place, while only 6% identified themselves as a natural wine home. A majority of 53%, however, claimed they work with both classical and natural wines. According to this survey, natural wine has finally moved into the mainstream.
Alvin Gho, who runs wine bar RVLT in Singapore commented that he thinks it is really important to have a good mix of wines, meaning both natural and classical wines.
"I think natural wines is a real category, not just a trend," he said.
Reeze Choi agreed: "In Hong Kong, especially, the younger generations are more open-minded and want to try these wines."
From Malaysia, Justin Ho Li Vern noted that there are basically two categories of wine consumers.
"There are the ones that are looking for more classical wines and then a category that look for more trendy, natural wines. In Malaysia, natural only came on board probably six to seven years ago, but it was very slow."
Burgundy is now too expensive — looking for alternatives
One of our questions was: "Has your wine list focus changed since before the pandemic?" Forty percent answered "No, the focus has not changed". But another 20% said that costs, pricing and the need for value were major factors affecting the wine list.
One recurring theme were that Burgundy has become too expensive and that sommeliers are looking for alternatives.
Asked whether they are expanding their wine list in 2023, keeping it the same size or shortening it, 49% said they are planning to keep it the same size. In good news for wine producers, 41% said they are expanding their wine lists, meaning there will be more room for more producers.
Reeze Choi commented that because prices in Hong Kong are very transparent, there is a pressure on them.
"I always tell restaurants that the markups of three to four times no longer work, that they should be a little more competitive," he said. "I don't see that people are raising prices in Hong Kong, but more cutting the price and attracting consumers."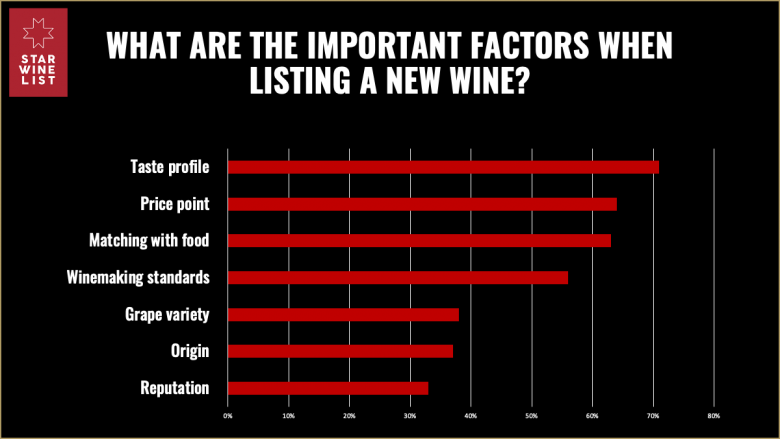 Important factors when listing a new wine
For this question, somms were given multiple choice options. Taste profile, the price point, and food matching came out on top, accounting for more than 60% of answers. Winemaking standards followed with 56%, while grape variety, origin and reputation all got between 30% and 40% of the answers.
What are you looking to add to your wine list this year?
Check out this word cloud for the most recurring themes. And while yes, Burgundy is the main word, it doesn't mean that people are looking for yet more classical Burgundy. Our responses showed that somms are now looking for alternatives to Burgundy or, in several cases, for "lesser" appellations in the Burgundy region.
How much does sustainability matter?
The answer to this question really surprised some of the somms present. The way the question was presented meant that somms could rate it from 1 (not important) to 5 (extremely important). Although 25% of respondents rated sustainability as extremely important, and 40% gave it a 4, more than 10% rated sustainability as a 1 or 2, meaning it's not important to them.
Alvin Gho, sommelier in Singapore and owner of (mostly) natural wine bars RVLT in both Singapore and Taipei, had some harsh truths to share:
"You know, in my opinion, most Asians don't care about sustainability. They don't believe in global warming."
But Reeze Choi of Hong Kong had a differing view.
"More people want to try these types of wines," he said. "We see that especially the younger generations are open minded and want something that is trendy. So yes, this is a trend, and I see more people really focusing on the sustainable."
Liora Levi, representing Europe and the Nordics, noted that sustainability is extremely important in the Nordic markets—up to and including the packaging the wine comes in.
Alvin Gho told the story of how he would love to have the glass bottles from his restaurant recycled but that he would have to pay to have them picked up - not really encouraging sustainability.
In the end, the panel agreed that the entire industry has to come together to offer sustainable solutions across the chain.
To learn about more future surveys and insights from Star Wine List - sign up to our newsletter below, at no cost.
Premium: Search more than 2000 wine lists in 35+ countries. Download an unlimited number of wine lists.