Top sommelier judges join jury for Denmark - enter now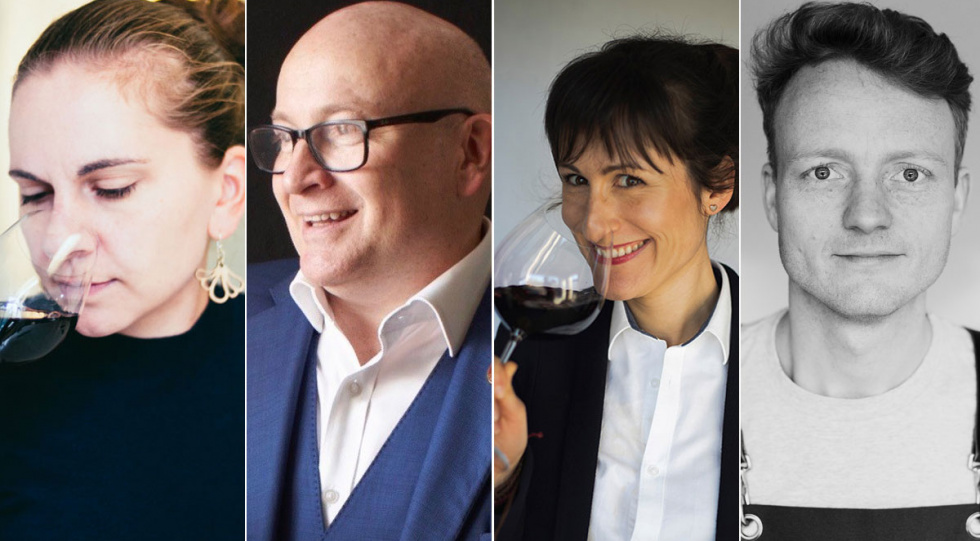 On October 23 we will return to Denmark to celebrate the best wine lists and the teams behind them for the fourth time, and all Danish restaurants and wine bars are welcome to enter, free of charge. To judge the competition, we have gathered an amazing lineup of top sommeliers: Heidi Mäkinen MW, Ronan Sayburn MS, Julie Dupouy-Young and local judge Christian Thorsholt Jacobsen. The deadline is extended to 10 September.
Star Wine List of the Year Denmark will be held on October 23, and this is the fourth time we are running it in Denmark.
"Our Danish celebration is one of my absolute favourites every year. The dedication and curiosity among the sommeliers and trade is inspiring, all the way from small natural wine bars to the best fine dining restaurants in the world. We can't wait to go back to Copenhagen!" says Krister Bengtsson, founder and publisher.
For local judge Christian Thorsholt Jacobsen, it is the first time joining the jury panel.
"It feels great! Being a sommelier I have, obviously, always had an interest in browsing through wine lists when dining out, but also from home to seek inspiration and to discover new wines through the lens of colleagues you admire and respect. Getting an opportunity to sit with this great jury with the sole focus to do exactly that is super exciting," he says.
What do you hope to see in the competing wine lists?
"I hope to see thoughtful selections and lists that try to reflect the food and the setting of the restaurant or wine bar. It may sound obvious but I find that it's rarely the case, given that it is much easier to sell well-known wines and well-established regions."
What is "a great wine list" in your opinion?
"A wine list that is on point with what it's doing, whether it's a grand list or a smaller one. I don't need a wine list that lists all the major producers of Côte Rotie in the most recent vintages, far from their maturity, regardless of how impressive it may look in print. List stuff that is nice to drink at the moment."
"A great wine list is also a list that offers good value and reflects the cuisine (see above). A wine list that is diverse in terms of who supplies it and doesn't buy everything from a few distributors."
The awards are open for all restaurants and wine bars in Denmark, free of charge.
Important dates
Last day to enter was: Sunday 10 September 2023
Event day 23 October 2023 at Trio in Copenhagen
Categories and criteria
Star Wine List judges the wine lists in several categories such as the Best Sparkling Wine List and Best By the Glass List. These categories are the same across all of the awards. In addition, local categories may be added. We have commercial partners for certain categories, such as the Best Sparkling Wine List, presented by Nyetimber. The commercial partners are, however, never involved in the selections of finalists or winners — that is completely up to our independent jury panel.
The criteria for the jury are straightforward but not simple: Vote for the most exciting wine list representing the category.
THE CATEGORIES
INTERNATIONAL CATEGORIES:

• Grand Prix
The best list overall
• Best Long List, presented by DAOU
For wine lists with more than 600 references.
• Best Medium-Sized List
200-600 references.
• Best Short List
<200 references.
• Best Austrian Wine List, presented by Austrian Wine
• Best Sparkling Wine List, presented by Nyetimber
• Best California Wine List, presented by Louis M. Martini
• Best By the Glass List
• Best Newcomer List
• Sustainable Wine List
For the Sustainable Wine List category, not only the wine list is evaluated, but also the stated actions of the venue, as described through a questionnaire in the application.

LOCAL CATEGORIES:

• Best Digestif List, presented by Juuls
Open for all establishments in Denmark, this category evaluates the best post dinner spirits list.

The winners in the international categories will qualify for our International Final in June 2024, where they will face off with the category winners from other countries and continents.
More categories, the jury and other news will be presented in this post later.
Read about the terms and how Star Wine List judges the wine lists here.
Premium: Search more than 2000 wine lists in 35+ countries. Download an unlimited number of wine lists.

The Austrian Wine Marketing Board is based in Vienna, and is a national service body for the Austrian wine industry. The aim is to strategically support, coordinate and maintain quality and sales.

English sparkling producer Nyetimber is the leading producer of sparkling wine in the country.

Louis M. Martini is an iconic Californian wine producer. Read more by clicking on the logo.