Sommelier Theo Lieberman is Star Wine List's new NYC ambassador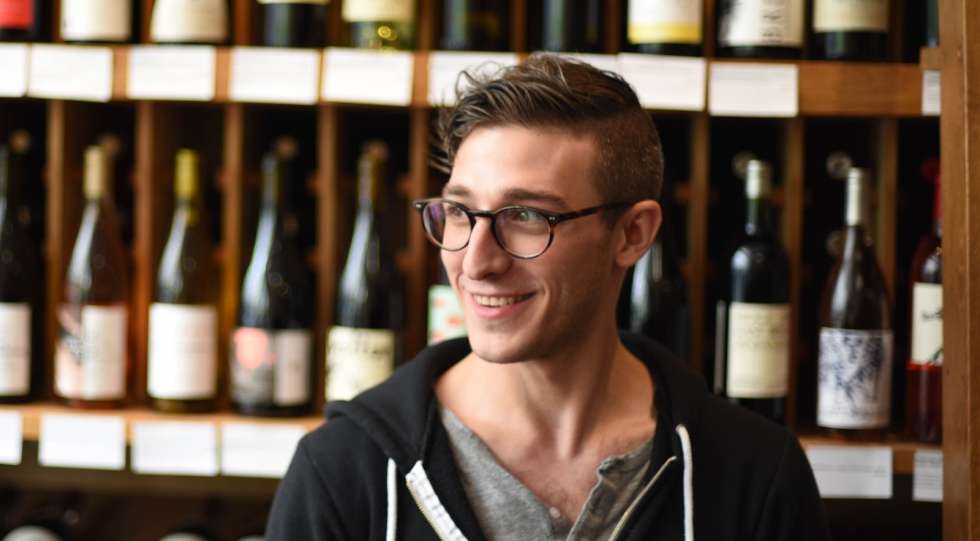 Theo Lieberman, wine director for Delicious Hospitality Group, joins Star Wine List as the new ambassador for New York City. At the same time, we re-launch the New York wine guide.
"It feels great to be part of a team that I have been admiring for so long. I think Star Wine List is such an amazing tool for any wine lover. New York has such an amazing wine scene, and I'm excited to share some of my favorite wine lists around the five boroughs," says Theo about his new ambassador role.
Theo Lieberman was born and raised in New York and has been working at some of the best bars and restaurants in the city. Over the past twelve years, he has worked alongside Sasha Petraske, multiple award-winning Chefs and Sommeliers, cementing his love of the service industry.
"I started in the beverage industry 12 years ago as a bartender at Milk & Honey. I always loved wine a lot and started collecting old Barolo and Burgundy in 2014. And then my love for wine really exploded while I was working at Eleven Madison Park," he says.
Since 2021, Theo has been the wine director for Delicious Hospitality Group and currently oversees Legacy Records, Charlie Bird & Pasquale Jones. Now he is also taking over as Star Wine List's NYC ambassador after Arvid Rosengren (Star Wine List partner and Best Sommelier of the World 2016) who has moved to Europe and Denmark.
Theo says that the wine scene in NYC is now coming back after the Omicron wave that hit the city.
"It was hard to go from a bustling December and then watch all of our covers disappear. But we definitely see an uptick in bottles going out, and a lot of people are spending more than usual due to the fact they were locked inside for another round, and for a lot of people, missed the holidays."
Theo has added 11 new venues to the guide, and in his selection you can find everything from laid-back neighbourhood gems to steakhouses, top-notch wine bars – and also a couple of venues north of Manhattan.
Can you see any specific trends on the NYC wine scene right now?
"It's become more imperative to find new and exciting things from lesser-known regions. Not only is that a fun part of the job, but between supply chain issues, prices going up, etc. You are seeing a lot of new, exciting producers being championed."
What makes a great wine list, in your opinion?
"I think it's really easy to have an impressive wine list with lots of expensive things on it, but for me, what makes a great wine list, is one that is just as much fun to look at in the $75 range as it is in the $7500 range. It always feels good to be at a place where my private clients can ball out, and there are still fun things to drink that I can afford."
What are your biggest pet peeves when it comes to wine lists?
"Inconsistencies are my biggest pet peeve. I love a unique layout or format, but it needs to be consistent throughout the whole list."
Anything you would like to see more of when it comes to wine places in NYC?
"A focus of inclusivity and agriculture."
Anything you would like to see less of?
"Not being dogmatic about what is on your wine list. I think it's important to realize that just because something is bottled with no sulphur, it doesn't mean you are buying wine that has been farmed any better than something that is more 'mainstream'".
You've also worked a lot as a bartender; why did you decide to go more into wine?
"I think the wine world is much more aggressive in terms of education. Being a sommelier or a wine director isn't just knowing about wine, it's all beverage. Say what you will about the CMS (Court of Master Sommeliers, Editor's note), but there's no reason I would know anything about sake if I hadn't been studying for the Master's exam."
I really love Austrian wine. There are such stark differences in wines and winemaking styles as you travel through each region
You took over as the Wine Director for Delicious Hospitality Group in 2021; what has been your main focus since then? Anything in particular you've been working on building/developing?
"I think the amazing thing about Delicious is the importance that wine has played into each restaurant. Robert Bohr, Grant Reynolds & Arvid Rosengren are just a few of the many names who made this group what it is. It's extremely important for me and Ryan Hardy (the Chef/Owner) to make sure we keep the vibes of the restaurants consistent while growing and staying relevant. I am always trying to bulk up on as much older Burgundy as possible, and I have been building out the champagne lists pretty aggressively."
What is your go-to wine on a night off at home?
"I drink a lot of Beaujolais and white wine from Austria."
What wine region in the world is the most interesting right now, in your opinion, and why?
"I really love Austrian wine. There are such stark differences in wines and winemaking styles as you travel through each region. Old Hirtzberger is one of my favorite things!"
Name one favourite food & wine pairing?
"Chateau Simone Blanc and chicken wings."
What is your most memorable wine moment?
"Blinding 1991 Clos de la Roche in the cellar at Dujac is pretty high on my list."
Published 17-March-2022
Interview / USA
Premium: Search more than 2000 wine lists in 35+ countries. Download an unlimited number of wine lists.