Theo Lieberman's 11 favourite wine bars and restaurants in New York 2022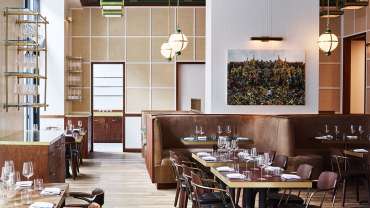 Laid-back neighbourhood gems, steakhouses and top notch wine bars. In this guide Theo Lieberman, Star Wine List's new ambassador in New York City shows you his favourite wine places in the city – as well as two venues north of Manhattan.
Phone: (917) 909-0434

Address: 231 Court Street, Brooklyn

Located in Carrol Garden's, June Wine Bar has long been a staple of the Brooklyn natural wine scene. This laid-back neighborhood favorite has recently been given an exciting boost when they brought on executive chef Diego Moya (formerly of Racines). Diego has always cooked some of my favorite food in the city, focusing on off-the-beat and path flavor combinations. The wine list definitely leans on the more natural side of things, there is even a section called "????????". The champagne section is always full of exciting growers, but make sure not to skip "Not Champagne, but tastes damn good"...

Address: 367 7th Avenue, Brooklyn

I spent eight years living in Park Slope, and all I ever wanted was a restaurant like Runner Up. Chef Daniel Eddy (formerly of Rebelle) has finally given this perfect neighborhood a perfect restaurant. When we were chatting, Daniel made a point to say that the food is made to be paired with wine – it's always a good sign when a chef loves wine as much a Daniel does. With only 12 seats and two induction burners, one would never guess this kitchen had any limitations. It might seem like the straightforward thing to do is get excellent cheese and charcuterie; the pro move is to build yourself a...

Phone: (917) 909-1427

Address: 348 Flatbush Avenue, Brooklyn

On the border of Park Slope and Prospect heights is the ever difficult to get into, Fausto. Erin Shambura's menu is full of incredible house made pastas, but I can never resist the chicken and the arancini. I always joke that you can judge everything you need to know about a restaurant by their chicken, and it certainly applies here, because both are great. The wine list has a great selection of wine from all over, but mostly focuses on French, Italian & American wine. There are always hidden gems on the list, some with a great amount of bottle age. My move is to have a cocktail at the bar w...

Phone: (212) 203-8095

Address: 8 Extra Place, New York

Momofuku Ko has always been the crown jewel of the David Chang empire, with a 10 course, 3-hour experience that rivals any of the great tasting menus in New York. However, right on the other side of the main dining room is the Bar at Ko, a tiny room with some of the most fun and affordable food in the city. For years I would pop in after service for a burger, some cold fried chicken and champagne. The wine list at Momofuku Ko and Ko bar are the same, and that's a very good thing. The list is French heavy and is categorized by the winemaker within the region. They have an amazing selection of...

Phone: (212) 401-7986

Address: 43 MacDougal Street, New York

Niche Niche is part of Ariel Arce's empire of Champagne driven wine bars (Air's Champagne Parlor, Tokyo Record Bar, Special Club). Think of Niche Niche as a different dinner party every night of the week, with a different host: There is an ever-changing list of sommeliers, wine directors, etc, acting as hosts and picking the wines for the night. The kitchen does an incredible job pairing food to the wines and the space always feels like a party. The wine list is priced much closer to retail and makes for some of the best wine deals in the city. The list is constantly evolving and focuses h...

Phone: (212) 401-7986

Address: 16 West 22nd Street b/w 5th & 6th Avenue, New York

Cote has been self-described as a Korean Steakhouse, but it feels like so much more. For $65 you can opt for the butcher's feast, which incorporates four selected cuts of A5 beef and a slew of accompanying sides. While the steak Omakase isn't cheap at $185 a person, it's one of the best dinners you can have in New York. During covid lockdown I ate quite a bit of take out, and trust me, the food travels well too. The wine list at Cote is what initially drew me in, which makes sense if you look at the folks who run it. They love large format wine, and you should definitely book a large party a...

Address: 104 East 30th Street, New York

From the chef behind the ever-popular Atoboy came the 12 seat, reservation only Korean fine dining restaurant Atomix. Chef Junghyun Park's "New Korean" tasting menu draws inspiration not only from his home of Korea, but also nods to his time working as a chef in London and New Zealand. The current menu is nine courses, and the menu tends to lean very heavily towards vegetables and fish. While the food is incredibly complex and technique driven, there is always something comforting about the flavors. The wine list at Atomix is first and foremost there to compliment the food. Due to the menu'...

Address: 1 White Street, New York

One White Street is a culmination of two great minds in hospitality, Chef Austin Johnson and Master Sommelier Dustin Willison. Located in one of the most iconic buildings in Tribeca, this restaurant keeps true to the allure of the address. There is a more casual restaurant (some might call it a fancy wine bar vibe?) downstairs, with a tasting menu upstairs. No matter where you wind up, you are in for a serious treat. The wine list at One White Street is separated into categories like: "Bright and Refreshing" and "Floral and Fragrant" for the whites. For reds we have: "Noble Red Fruit" and "R...

Phone: (917) 748-3248

Address: 517 West 38th Street, New York

Recently re-opened after a long covid closure, Legacy Records is finally back and serving chef Ryan Hardy's Italian inspired fare. Handmade pasta, raw bar and an incredible honey lacquered duck breast are not to be missed. In typical Delicious Hospitality fashion, the lighting is dim, the music is loud, and the decor is on point. Don't forget to grab a cocktail at Ada's Place upstairs before or after your meal. There's Tarragona Chartreuse waiting for you… The wine list focuses heavily on French and Italian wine, but there is a smattering of wines from all over the world. Due to covid closure...

Phone: (914) 366-9600

Address: 630 Bedford Road,Blue Hill at Stone Barns

Just a 45-minute train ride outside of Manhattan is one of the greatest culinary destinations in New York. Chef Dan Barber's seasonal tasting menu is hyper local, sourcing most ingredients from their 80-acre farm. Sustainability and low waste have always been on the forefront of this restaurant, so much so that they even launched Row 7, a business that sells seeds for more flavorful and sustainable vegetables. The wine list is beautifully curated with a focus on both classic old-world regions and championing small producers from exciting new world regions. There is an impressive selection of...

Phone: (914) 666-8044

Address: 11 Kittle Road, Chappaqua

I went to high school three minutes away from Crab Tree Kittle house, and very few people I know even know it exists. Tucked at the end of a cul-de-sac in a very sleepy town, this is one of the greatest wine lists in New York. The venue is also a bed and breakfast with a surprisingly good brunch buffet (oysters, shrimp cocktail and lots of roasts). Grab some friends, book some rooms and have an epic dinner on Saturday night and chase the hangover away with just as much wine as you had at dinner for the Sunday brunch. With 45,000 bottles in the cellar, there are certainly many options on the...