Ruth Spivey remembers Andrew Edmunds, London restaurateur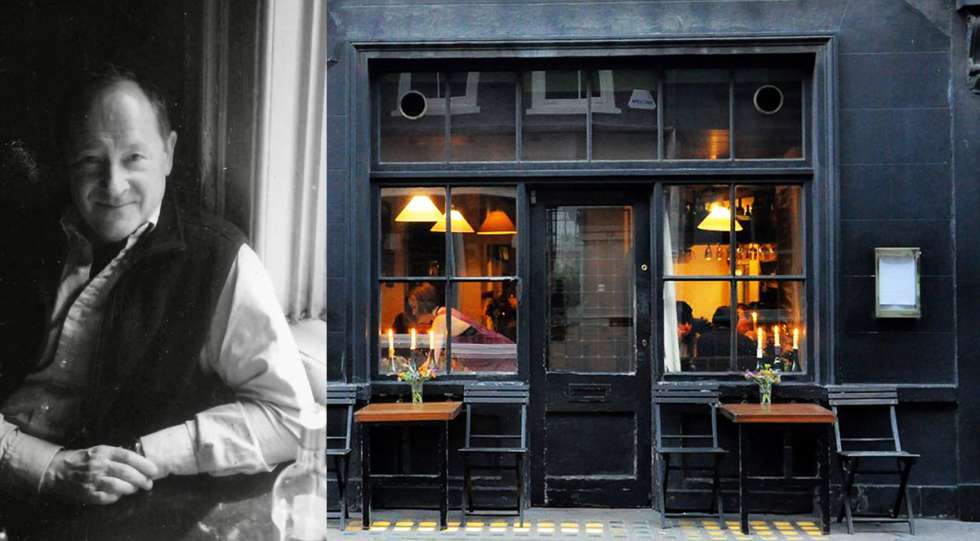 A little over two weeks ago, London heard the deeply sad news of the death of Andrew Edmunds, Soho restaurateur, art dealer, and so much more. Star Wine List's UK ambassador Ruth Spivey shares her memories of him, and his place.
Summing up the impact and influence Andrew and his eponymous London restaurant had on so many individuals and the industry is a task I am not going to attempt. If you know, you know.
I first met Andrew Edmunds - the restaurant - in my very early 20s following a recommendation by a photographer with whom I was shooting. It was his 'new favourite place', he said – an entirely correct opinion held by pretty much every person who crossed its threshold. It was 'the most wonderful place, so romantic, perfect for a date or pretty much any occasion and the wine is amazing value'. As soon as I could find (or invent) a reason to go, I did. And so began a 20-year-and-counting relationship.
In 2010, I got to know Andrew personally, through two wine friends - David Clasen, and Mark Roberts of Decorum Vintners who'd sold wine to Andrew for years. When I decided to turn my hobby into a career, David introduced me to Mark who, along with his business partner Rupert Monier-Williams, rather charitably gave me my first job.
On leaving Decorum for pastures new, I continued to be a (very happy) customer of the restaurant and for reasons utterly unbeknownst to me, Andrew always took an interest in what I was up to. I don't for one minute think that makes me remotely special: he took an interest in an infinite amount of people and things. And you felt it.
In the summer of 2015, I ended up working in the restaurant and club for several months. From the first second I walked in years before, I thought, 'this is the kind of restaurant I would like to have'. Working there was the next best thing.
The Wine List
And the wine list! Where to start..… Classic and deep, both in vintage and quality, peppered with judiciously selected oddities. The famously friendly prices: partly the result of Andrew buying en primeur and cellaring until ready, but also his commitment to people being able to drink very well, at reasonable prices. Instead of marking up as per, whilst patting himself on the back for having such fortuitous foresight, he simply added a bit on. I have endless memories of him saying 'when I started buying this it was only £9 a bottle… and the 2010 vintage was £90 a case but now… ". It's the creation of thought, knowledge and personality, not of someone who's gone on a superficial shopping spree.
Back then they still had a handwritten reservations book, phone number only (you can now book online). Andrew did the flowers for the tables each week (he had a passion for the natural world and conservation). Stilton was (is?) only served in December and cut correctly (not sure how many of us passed that test). He had the rare ability to have attention to detail whilst seeing the woods from the trees.
It was a privilege to go 'backstage', so to speak, at one of the most special places anywhere. The rickety staircases, the original cellar, the staff who've been there for years, the handwritten menus, aperitifs at the top of the menu, Pineau des Charentes to start, vintage Port by the glass, the blackboard of wine specials, the farty wallpaper in the club loo.
It's got quirks and cracks, yet it runs like a dream and despite being so much of its 'old Soho' time, it is, quite simply, timeless.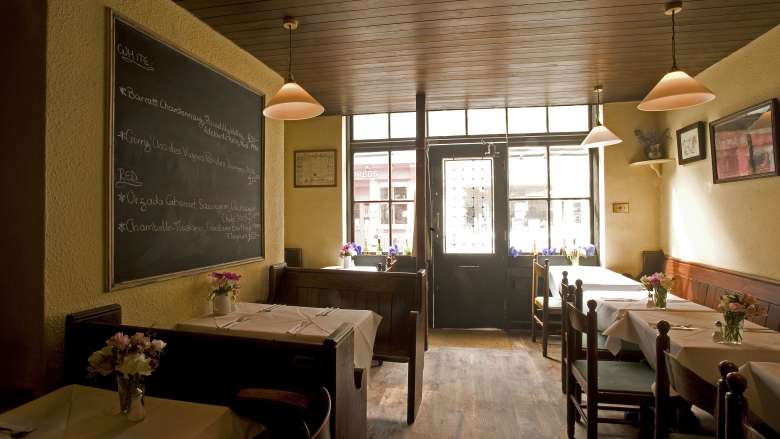 Andrew created one of the most democratic of restaurants – locals, leftfields, literati and landed gentry. Impoverished artists, outrageous aristos, tourists and Tinseltown. Everyone is welcome, everyone treated the same.
When I was wine repping (appallingly) for Fields, Morris & Verdin, Andrew invited me to bring samples in, with a view to refresh the list from time to time. The tastings were brilliant fun and most rewarding; for everybody except my employers, of course, as I never managed to get anything past his superior palate.
Since then, he's welcomed me organising two trade tastings in the club upstairs and now, once again, I am a very happy customer. I had lunch with him in August. Caesar salad (me – it was insanely good), gazpacho (him), we both had lobster for main (perfectly cooked, indecently sweet, whopping in size), then a couple of wedges of cheese for pudding with half a Ch. Climens '05. Sweet wine - Sauternes in particular - was a love. Lunching with Andrew was always a valuable reminder that we should all drink more sweet wine.
In my next life, I'm coming back as Andrew Edmunds
In early September I was in the club killing time, and in he walked. We shared some afternoon wine and a general catch-up. He was superlative company on both occasions. His breadth of conversation invariably entertaining and inspiring.
Jason Millar (of Theatre of Wine) commented that it was his most treasured London restaurant, a sentiment I share. For some reason I can remember the wines I've drunk there more than anywhere else. And certainly not because it's the type of place so devoid of debauchery that all you can recollect are the cold, dull facts of consumption. Within hours of the news landing, I had several friends message, reminiscing about the bottles we shared, where we sat, who was present and what fun ensued. Andrew and the microcosm he created enriched so many lives and facilitated even more memories.
It's important to note that whilst – as restaurateur Russell Norman put it so well "Andrew was the restaurant, and the restaurant was Andrew" – his life was much more. His family, children, farm, fishing, art, books… Perhaps in part that's what made him such a good restaurateur. His interests were also other. I'd always known he had the print shop next door, but never really thought much about it. It wasn't until I worked there that I realised quite how impressive his non-restaurant pursuits were. One shift someone casually mentioned, "Oh Andrew's in America this week, lecturing on Hogarth at [an Ivy League University, I forget which one]".
Upon hearing the news two weeks ago, I came across a 2017 article in The Oldie by its publisher and restaurant reviewer, James Pembroke. The crucial pull quote was, "In my next life, I'm coming back as Andrew Edmunds".
Not a bad sentiment at all, but really, I think we'd all just like Andrew to come back instead.
Premium: Search more than 2000 wine lists in 35+ countries