Meet Nutawan Jumpanak, Bangkok's Wine Guru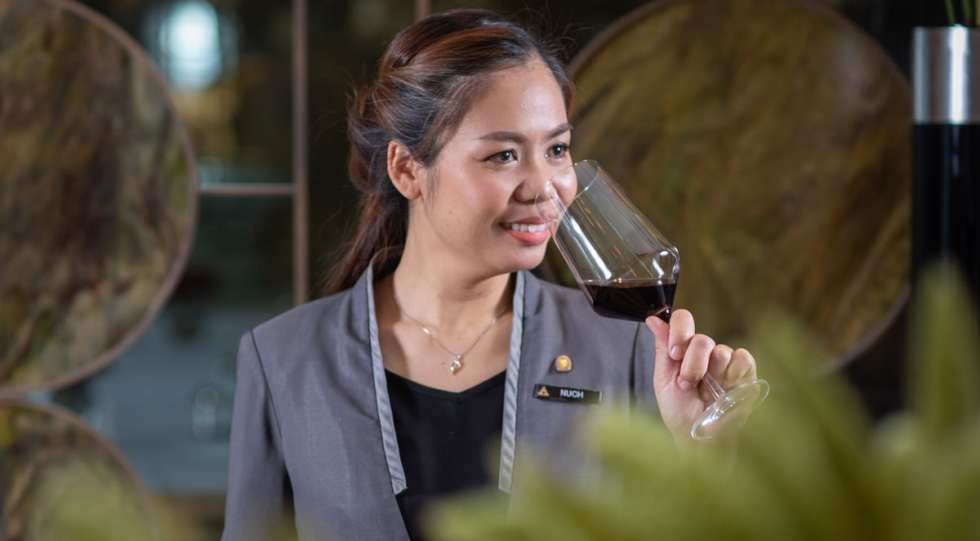 Top sommelier Nutawan Jumpanak, "Wine Guru" at Anantara Siam Bangkok Hotel and Thailand's Best Sommelier 2019, wants to use her knowledge to develop the wine scene in Thailand – and to change the prejudices when it comes to women and alcohol in Asia.
"If you look back at Asian countries in general, and Thailand in particular, there's been a lot of prejudice against women, and women consuming alcohol have been considered 'bad girls'. So, it was a big thing when I won Thailand's Best Sommelier, that changed things a lot," she says.
Nutawan Jumpanak's childhood didn't exactly point towards a career as a top sommelier and the title Thailand's Best Sommelier: She grew up in the countryside province of Chaiyaphum, and wine was definitely not a part of the daily life.
"My childhood was a very simple countryside life, and it wasn't until late in my life I had my first sip of wine."
But, after finishing high school, she went to Bangkok and started working as a bartender. It was there that her manager pushed her to study both English and wine.
"I still remember when a guest let me taste a sip of wine and said, 'If you want to become a good sommelier, you should try this'. It was a Poggio all'Oro Brunello di Montalcino Riserva 1993, and the whole world just froze in time. It was such a joyful moment and a game-changer for me," Nutawan Jumpanak remembers.
In 2011 she moved to the US and started working with Disney cruises, travelling around to many different countries. At the same time, she continued to study wine and enrolled in the Court of Master Sommeliers.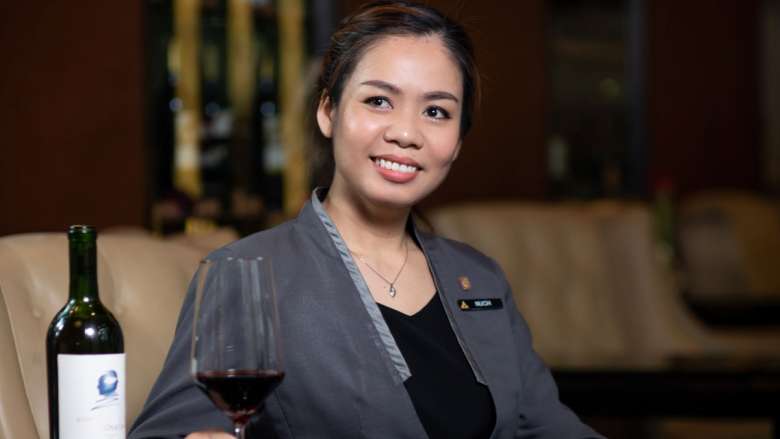 In 2018 she went back to Thailand and started working at the luxury resort Soneva Kiri. Her F&B Manager suggested she enter some competitions, particularly Thailand's Best Sommelier. Said and done, she entered in 2019 – and won.
"At that time, for twelve years, only men had won the competition. I felt that if I could be the first woman to win, it would be awesome. I felt full of energy and happiness when entering the competition. It felt amazing when I heard my name announced as the winner. I'm very proud of that victory," she says and continues:
"An award like that is the result of your passion and hard work."
Since 2020, Nutawan Jumpanak has been the resident "Wine Guru" at Anantara Siam Bangkok Hotel. She oversees the entire wine collection and supplies wine to all of the property's bars and restaurants.
"The best part of my job is that wine, and especially sparkling wine, stands for happiness and celebration. Every day we are serving happiness," she says.
Right now, you can find a lot of biodynamic/natural wine from lesser-known boutique producers
What is a great wine list, in your opinion?
"A great wine list should be for everyone and every occasion, from very approachable to high-end."
What's your opinion about the wine scene in Thailand right now?
"The wine business is growing, and I think it will continue doing so."
Any specific trends going on?
"Right now, you can find a lot of biodynamic/natural wine from lesser-known boutique producers. And the exciting thing is that you can find wines like this in almost every Thai restaurant in Bangkok."
Name a favourite food & wine pairing?
"At one of our restaurants, we have an 'Insalata dal Giardino', a green salad with baby vegetables, dried cranberries, walnuts, apple cider and a green vinaigrette that we pair with a crisp, clean and refreshing Bramito della Sala Chardonnay from Umbria and the producer Antinori. A simple dish and simple wine, but a great pairing."
What wine region in the world is the most interesting right now, in your opinion? And why?
"Well, there are many, but if I have to choose one, it would be Burgundy, because every time I try a wine from Burgundy, I can feel the passion and respect of nature coming through in the glass. It's endlessly charming."