Joseph Dhafana: "You can't be in it just for the money, you have to live it"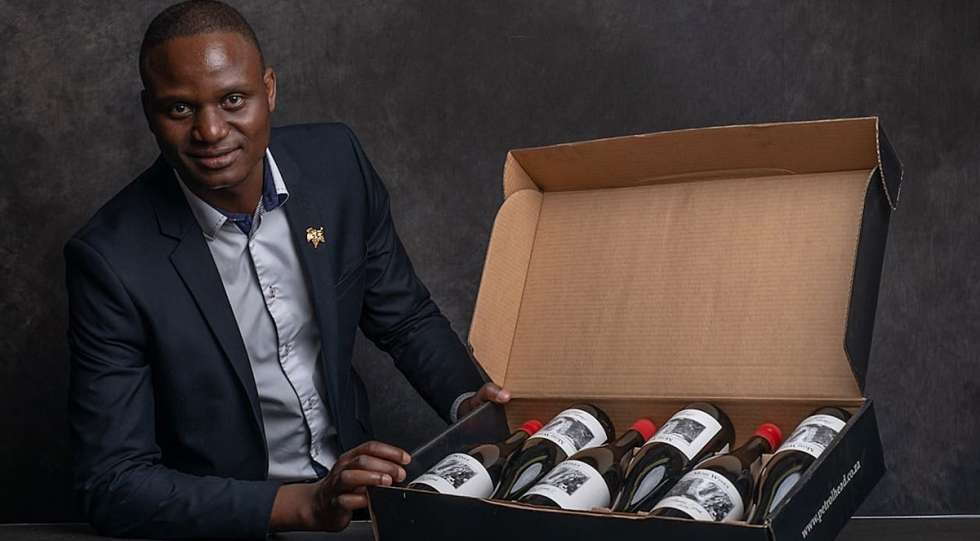 Joseph Dhafana came to South Africa as an asylum seeker in 2009. Today he's the Head Sommelier at La Colombe, one of South Africas best fine-dining restaurants. He also won the Eat Out Wine Service Award 2019.
You'll often hear stories touted about refugees crossing the border into South Africa. Only to be greeted by one of the many philanthropic restaurant owners, welcoming them with open arms, handing them their first glass of Pinotage, as is customary in job interviews down here, and then having an earth-shattering epiphany setting them on the path to vinous glory.
The reality, however, is often a lot more unexceptional. Many come into the profession simply because, as one gentleman put it; "It pays more than being a mechanic". Necessity then, as they say, is the mother of invention. Or at least in this case sommellerie.
Joseph Dhafana, Head Sommelier for La Colombe restaurant, is the poster boy refugee sommelier. He came from Zimbabwe to South Africa as an asylum seeker in 2009 and found himself working as a gardener at Bar Bar Black Sheep in Riebeek Kasteel.
So how did he get from there into sommellerie?
"I still can't believe it. It was on my birthday in 2010 when chef Mynhardt Joubert handed me a glass of Brut MCC; I had one sip, and I didn't like it. But then, in 2013, I started studying at the Cape Wine Academy. Imagine getting into, and getting to understand wine, starting with a glass of bubbles! "
So there was quite a big gap between trying your first wine and start studying?
"Yeah, but in between that I moved to Aubergine to work in the bar and then got inspired by the work Howard Booysen was doing."
Howard Booysen, the Cape Winemakers Guild Protégé, today exciting new winemaker?"
"Yes exactly, he was working at Aubergine at the time."
And that's when you really got in wine?
"Yes, and I never looked back. In 2014 I started making my own wine with the help of Chris Mullineux, Roger Clayton and Eben Sadie, and 2015 I moved to La Colombe."
We pause, waiting for a vagrant to stop shouting at himself in front of the coffee shop window. Woodstock…
"Then I took the wine judging program by Michal Fridhjon, took part in the world blind tasting championships, became a board member of the South African Sommelier Association (SASA), a founding member of the Black Cellar Club. Got my WSET Level 3, SASA Level 2…"
Joseph rattles through what he has squeezed in over the past four years, not pausing to dwell on the fact that he's one of a very small handful of people to complete the gruelling SASA Level 2 Certified Sommelier exam, first time around, while launching his own wine label and organizing an all Zimbabwean team to go to the world blind tasting championships.
And now the Eat Out Wine Service Award 2019?
" Yes…"
It's incredible how much hard work you've squeezed into such a short period of time. How do we get more young sommeliers to follow in your footsteps?
"I don't know, but you can't be in it just for the money. You have to live it."
Where do you go when you're done with service?
"When I'm done with work I go home, you know, um, our industry requires a lot of hours, so. But when I'm off duty, I like going to Bascule Bar for a cocktail. Or a glass of wine upstairs in the library at Signal Restaurant. Marlvin always has something interesting there."
Marlvin Gwese that is, Cape Grace's Head Sommelier and another Zimbabwean import making a name for himself in the wine industry.
And your own wine program? What does that look like?
"We focus on South African wine and at the moment, mostly current vintages. My wine list is really full of young wine I would say, I mean, we haven't had an in-depth wine program in the way that we could keep back stock. Because La Colombe is only like five years old now."
Yes, La Colombe moved to the new site, and there are new owners. So, La Colombe today is not the same 19-year-old place it was; It's only five years old, but they managed to keep a lot of the same old staff.
"For now, I'm buying a lot of stuff from cellars like old Vergelegen. But we have some very exciting stuff coming this January that I cannot say more about now, except that I will finally be able to buy like three cases of Eben Sadie – sell two and keep one. So, we'll see in another five years time."
If the previous five years are anything to go by, I can only expect great things in the future for both Joseph Dhafana and La Colombe.
Check out La Colombe's wine list by clicking the link below.