Great Families of Cape Wine: Rupert & Rothschild Vignerons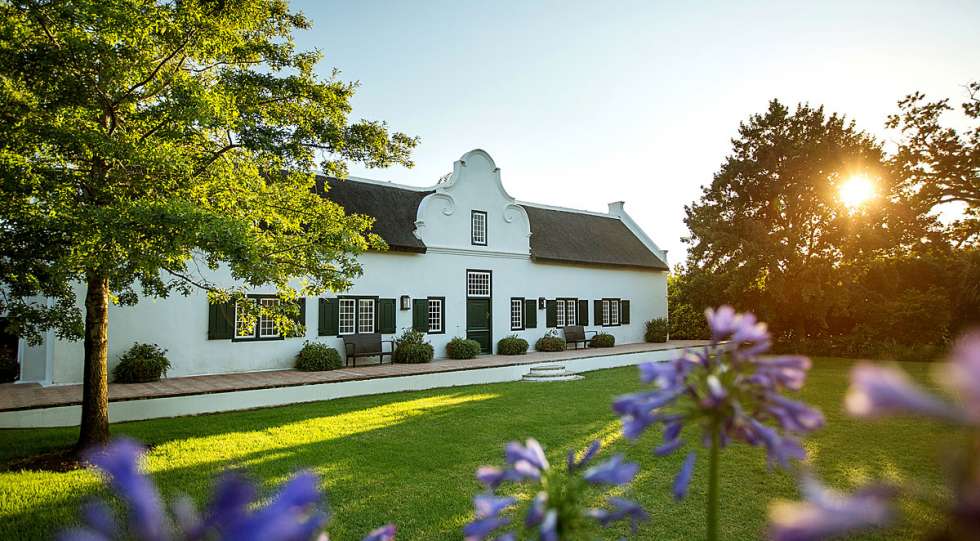 The story of two eminent families from France and South Africa who came together in a partnership of wine that combines the rich experience of the old world with the exceptional potential of the new world begins in 1997 in South Africa's Cape winelands.
A shared friendship in wine gave rise to Rupert & Rothschild Vignerons, a prestigious joint venture between the late Dr Anton Rupert of South Africa and Baron Benjamin de Rothschild of France – both with deep interests in wine and owners of private vineyards in their respective countries. Both men later relinquished the reigns to their respective sons: Anthonij Rupert and Baron Benjamin de Rothschild. Following the passing of Anthonij Rupert in 2001, his older brother Johann Rupert and sister Hanneli Rupert-Koegelenberg assumed his position.
The wines are produced on the historic French Huguenot farm, Fredericksberg located at the foot of the spectacular Simonsberg mountain in the Franschhoek Valley. The estate is a delightful destination welcoming guests into tranquil surroundings with a luxurious French-South African inspired interior showcasing contemporary artwork from the Rupert Art museum in Stellenbosch. The sophisticated setting of the restaurant and tasting room create the perfect setting to experience fine food together with their three exceptional wines.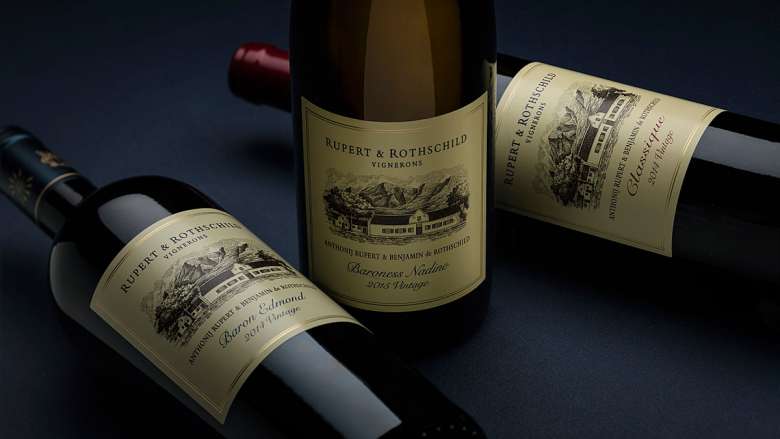 Rupert & Rothschild Baroness Nadine is a single varietal Chardonnay named after the wife of Baron Edmond. A barrel-fermented wine of great power and poise that aptly captures its Cape vineyard origins with intense lemon and lime intensity layered with alluring white flowers and soft vanilla pod intricacy.
Rupert & Rothschild Baron Edmond is a classic Merlot-led Bordeaux-styled blend packed with alluring raspberry, blackcurrant and plum aromas with hints of pine nettle and fresh coriander. Polished, silky tannins unfold on the palate with flavours of cranberry and dark chocolate.
Rupert & Rothschild Classique, one of South Africa's most sought after and favourite red blends. A wine of inviting balance and harmony expressing bold red and black fruit vivacity framed with subtle oak spice supported by a plush textured finish.
Today, Rupert & Rothschild Vignerons is an internationally recognised premier wine brand. Their wines are celebrated as icons of the Cape signifying classic elegance and sheer pedigree made possible by their distinctive origin and inherent family tradition of excellence and craftsmanship.
Sponsored: Rupert & Rotschild is a launch partner with Star Wine List in Cape Town - find the guide to Cape Town's top wine bars and wine restaurants through the links below.
Published 27-November-2019
Sponsored / Cape Town