Caroline takes over Margaux-bar Clarette in London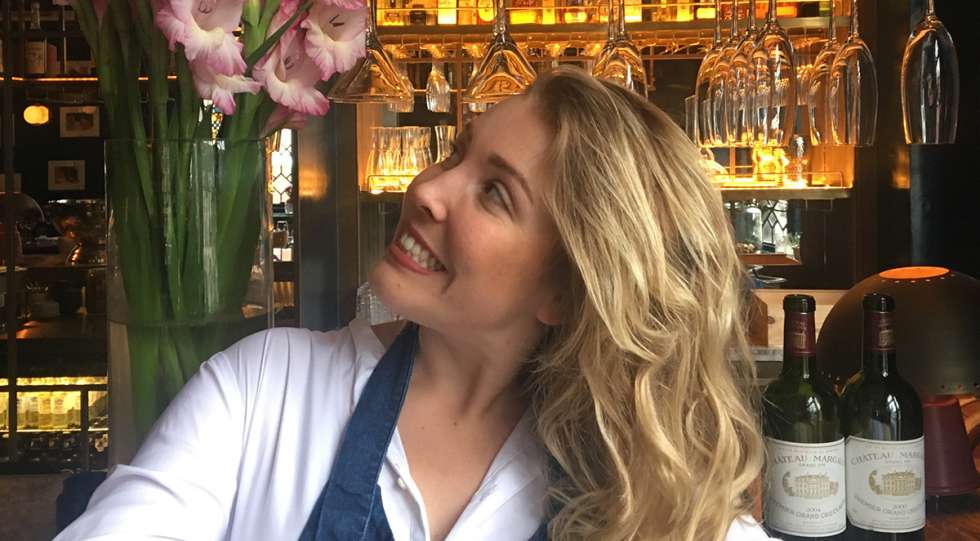 Swede Caroline Fridolfsson has just taken over as Head sommelier at the wine bar Clarette in London. Clarette opened in spring and is well known for its Chateau Margaux connection – one of the owners is Alexandra Petit, the youngest daughter of the Margaux family.
"It is a bit of girl power all the way, the other partner is Natsuko Perromat du Marais, from the Alain Ducasse group, and all of the sommeliers on my team are female," says Caroline Fridolfsson and laughs.
Fridolfsson, born in 1988 "a pretty good Bordeaux vintage and a great Champagne vintage!" is originally from Gothenburg but has spent most of this decade abroad. A job as an air stewardess in Dubai was followed by a move to Chicago where she studied and worked extra at the one star restaurant Mexique. She worked her way up to Beverage director and sommelier before moving to London via Shanghai. She first landed a job as a sommelier at Oblix in The Shard and then heard about a wine club that was about to open at Pall Mall.
"I thought it would be a small scale wine club but then I went there and saw the construction site and realised, shit, this is going to be big. Four floors with wine dinners, master classes and I saw the list of top producers who were members and understood how amazing it was going to be. I went to interview and was honest with Ronan (Sayburn, Head of Wine at 67 Pall Mall) and told him that I have worked with fine wine, I may not be the most knowledgeable in the World but I have a hunger to learn more."
How was it to work at 67 Pall Mall?
"It was sommelier heaven. Ronan put together a fantastic, dynamic team with sommeliers from all over the world. I don't think anyone understood the sheer volume of fine wine we were working with. We said that people will hate us if we post any more bottles on social media. I also learned so much more in depth about vintages, producers and even unicorn wines that we could taste and talk about when other sommeliers perhaps have only read about them. "
"But it was also a lot of pressure, we served the most knowledgeable guests in the industry so you had to know your facts. We studied a lot and discussed among ourselves and asked things like, how was the Rayas yesterday?"
At the end Caroline became sommelier in charge of events at 67 Pall Mall. And then came the offer from Clarette.
"People said, how can you leave 67, it's the best place. I understand that but think I was at the peak of my career at 67. It was not easy to leave but I felt it was the right moment to take the step to run my own race, to challenge myself, to be able to create a wine programme and earn more experience as a head sommelier instead of going with the flow as I did a little bit at 67."
What are your plans for Clarette?
"It is a former Scottish pub and a bit of a landmark in Marylebone, and now it will be more wine focused."
"My idea is to do the wine service a bit more casual, a bit more relaxed but still professional. We have serious producers and great vintages and not as extreme prices as for example in Mayfair. I also want to rotate the wine list and have some more different types of wines, from Greece, Hungary and Croatia for example. I want to be a bit anti-mainstream."
How does the connection with Chateau Margaux work?
"Clarette is not owned by Chateau Margaux, the chateau is not a partner but it is a project that is partly owned by Alexandra, the youngest sibling. But we have 10-12 vintages of Chateau Margaux and the advantage is of course that we get them at extra generous prices and directly from the chateau."
Can you order any wines you like or how does it work?
"When it comes to ordering wines, yes, but I do have to clear the suppliers with Alexandra. I also ask my sommeliers which wines they want to have on the list, which wines motivate them."
Who are your guests?
"It is a mix but mostly people working in the area. It is quite accepted to have wine for lunch and of course the locals like to go out after work so we are busy Monday-Thursday. Then we have guests who know our association with Chateau Margaux or know me from 67 or know Alexandra."
Which are your favourite places when you go out in London?
"I work so much that when I don't work, I don't go out much. But usually then to a place where I know the staff, or a cool wine bar like Sager + Wilde that has great winemaker evenings. And Noble Rot is probably the best place for a good glass of wine that is both interesting and good value."
In London it is quite common to have a corkage fee and bring your own bottle, something that is not legal in Sweden.
"For a wine focused venue it is a good service I think. You can attract people who want to show off some wines or combine dinner with something from home. Some places in Mayfair charge up to 50 pounds per bottle, we charge 20 pounds."
Three tips from Caroline Fridolfsson if you want to work as an international sommelier:
1. Challenge yourself
"It is not easy to take the step to work in hospitality internationally. You have to be willing to challenge yourself and work hard." 2. Get the knowledge at home
"Start studying at WSET, Court of Master Sommeliers or a sommelier programme." 3. Find the right place and hang out in wine circles
"Find a good place where you can work your way up, and see people who share your interests so that you can taste, do dinners and study together. Where it is in the World does not matter that much."
Read more, read the wine list and book a table at Clarette's web page.
Published 03-August-2017
News / Sweden