Eleven Madison Park takes over luxury hotel restaurant in London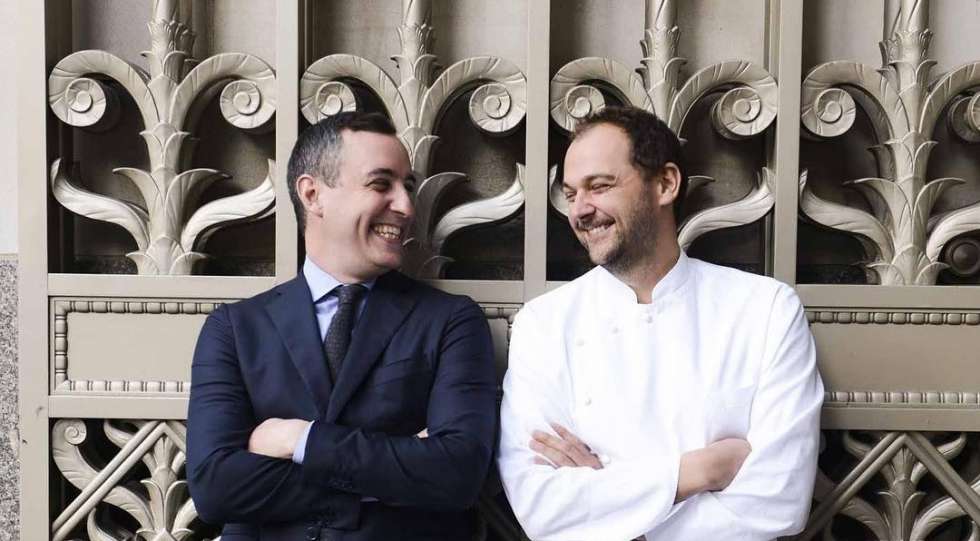 Exciting, if not surprising, news from the walls of Claridge's this week, confirming rumours that globally acclaimed chef Daniel Humm and his partner restaurateur Will Guidara will open their first European restaurant this summer in the iconic London hotel. It will take the space that was the one Michelin star Fera, launched by Simon Rogan in 2014.
It will be named the somewhat low-key 'Davies & Brook' (Claridge's is situated on the corner of Davies and Brook streets), a nod to the traditional cross street address format often used in New York. They are yet to release details on specific dishes or wine but the current plan for the menu will be a choice of two, three or four courses, in place of a long tasting menu. Humm told Bloomberg: "We are not opening Eleven Madison Park in London. It is a different restaurant, a different format, but with the same philosophy. It is going to be of the same family as EMP."
Claridge's don't give much away either, describing it as a 'fine dining restaurant without pretence that embraces the heritage of location with a contemporary sensibility'. Will Guidara adds, "The history of Claridge's and the responsibility that comes with opening a restaurant within those walls is not something we take lightly – it's an opportunity we're truly humbled by and we can't wait to open our doors later this year."
As well as Eleven Madison Park (voted No.1 in the world by the World's 50 Best in 2017, and currently No. 4), the innovative culinary duo's group 'Make It Nice Hospitality' also operates the hip 'NoMad' restaurants and bars in New York, Los Angeles and Las Vegas and fast-casual 'Made Nice' in Manhattan.
Having built his career in the States, it's easy to forget Humm was born in Switzerland and only moved to the US in 2003. He's looking forward to cooking in Europe again and the location is a rather delightful twist of fate. "When I was 15 years old, I cooked at Claridge's very early in my career," he told Bloomberg. "At that time, I was intimidated by Claridge's, just walking by and seeing all the fancy cars outside. I would never have set foot in there. I was using the staff entrance and working downstairs. The other reason is what while I love being in America – it has been very good for us – at heart I am European. And spending time in Europe is important for me."
By Ruth Spivey
Published 24-January-2019
News