The guide to Skåne's wine spots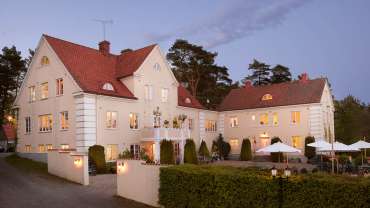 As spring has arrived in Sweden, we dream of roaming the fields of Skåne in southern Sweden, stopping at one great wine place after another. We are of course psyched to be able to show you the wine list of the great two-star restaurant Daniel Berlin, followed by the massive natural wine list of Talldungen, the bubbles of Eva på Torget, the Jura selection of Köksbordet/Hörte Brygga and to cap your trip, some fantastic wine bars and wine restaurants in Malmö.
Daniel Berlin

Phone: +46 417 203 00

Address: Diligensvägen 21, 273 92 Tomelilla

For a foodie, a visit chez Daniel Berlin in Skåne Tranås is like a spiritual journey. One wonders what Michelin needs to give one of Europe's best restaurants its third star. The food, the service and the environment is well documented elsewhere so let's focus on Daniel Berlin's wine list. It used to be focused on natural wines but since 2017 it has expanded to cater to more classical tastes, for example with wines from Bordeaux and California. Burgundy and Champagne can be said to lead the wine list, followed by wines from Loire and other French regions, Italy, Austria and Germany but you can...

Talldungens Gårdshotell

Phone: +46 414 732 35

Address: Bengtemöllevägen 7, 273 50 Brösarp

Talldungens Gårdshotell has earned the reputation of being one of southern Sweden's foremost wine destinations. The restaurant is open not only to the hotel's guests and it might be a good idea to book well in advance during summer. The restaurant serves a four course set menu and with that you have plenty of choice in the well stocked wine cellar. The wine list focuses on organic and biodynamic producers and even though France and its most famous natural names are in front row, there are also Italian and other European wine makers on the Talldungen wine list.

Eva på Torget

Phone: +46 70 939 88 11

Address: Västanvägen 2, 277 31 Kivik

Eva på Torget (Eva on the Square) is a small family restaurant in Kivik that is open evenings from spring to Lucia, five days a week and six days during summer. The Eva på Torget wine list focuses particularly on Champagne but you can also get "regular" wines such as Burgundy, Rhône, California and Piedmont. The Gilck family serves wines by the glass from an oenoteque and also some more exclusive wines by the glass with Coravin.

Köksbordet / Hörte Brygga

Phone: +46 73 997 10 41

Address: Hörte Hamn, Dybäck 465, 274 54 Skivarp

Hörte Brygga & Köksbordet is located in Hörte Hamn on the Swedish south coast. The menu is based on locally sourced produce. The wine list follows the natural and non-intervention style. All wines can be had by the glass if the conditions allow. Köksbordet (=The kitchen table) is open during the winter months and serves a large number of small dishes during one seating. Hörte brygga is open during summer and with drop-in only.

Grand Hotel Lund

Phone: +46 46 280 61 00

Address: Bantorget 1, 222 29 Lund

Grand Hotel in Lund is a classical south Sweden wine destination. The dining room serves lunch and dinner and the cuisine is Nordic, with locally sourced produce in season. The Grand in Lund wine list is stocked with older vintages from classical producers like DRC, Guigal and several Bordeaux chateaux. But lovers of trendier natural producers will also find favourites, not least from Jura.

Sydkustens at Pillehill

Phone: +46 411 53 20 10

Address: Östra Vemmenhög, 274 54 Skivarp

Sydkustens at Pillehill is both a farm hotel, brasserie and wine bar. The restaurant is open Thursday to Saturday evenings and serves a locally sourced cuisine. The wine list is wide with wines from both old and new world countries, and in many wine styles. Wine tastings are often available, both scheduled and by request.

Lyran Matbar

Phone: +46 76 324 52 28

Address: Simrishamnsgatan 36A, 214 35 Malmö

Lyran serves a set menu rooted in greens and complemented with selected seafood and meat depending on the season. The beautiful wine cellar behind a glass all has a natural focus. The wine list shows plenty of known natural producers from wine regions such as Jura, Loire, Burgundy and Sicily. But Spain, Austria and even Sweden may well be represented on the wine list.

Far i Hatten

Phone: +46 40 615 36 51

Address: Folkets Park, 214 36 Malmö

Far i Hatten leads a double life in the Malmö Folkets Park. During summer the big outdoor terrace is filled with people. During winter you have to look for the entrance to the old house and only a murmur and weak lights lets you know something is going on. But both summer and winter you will find sought-after pizza and small dishes and not least, a serious list of famous and lesser known natural wine producers. In the bar Malmö's natural wine lovers and sommeliers can be found in the late hours.

Paddys Vin & Ginbar

Phone: +46 40 786 00

Address: Kalendegatan 7, 211 35 Malmö

Paddy's vin & ginbar (you can figure out what that means) is recommended by the Spanish empassy in Sweden and we understand why: pintxos and tapas are served with a serious selection of Spanish wine. But there are a number of other wine countries on Paddy's wine list that runs over 200 references. The wine list leaning towards classically made wines, which is somewhat unusual in Malmö where many venues go for natural wines. And as the name suggests, you can find a lot of gin here too.

MJs

Phone: +46 40 664 64 00

Address: Mäster Johansgatan 13, 211 21 Malmö

MJ's is the former Mäster Johan's hotel that has transformed into an oasis with a restaurant in the courtyard and a cool hidden bar next to it. To go with your dinner or bar visit check out MJ's wine list that mixes the hippest Juras and Beaujolais with seriously heavy Californian wines.

L'Enoteca

Phone: +46 40 43 81 81

Address: Västergatan 6C, 211 21 Malmö, Sverige

L'Enoteca is Malmö's living room and wine bar combined. You'll find a wide variety of wines by the bottle and by the glass, but not much of a wine list since prices are scribbled on bottles. L'Enoteca serves wine tastings, winemaker dinners and simple wine friendly dishes from Monday to Saturday.