Star Wine List joins forces for Norway's best wine lists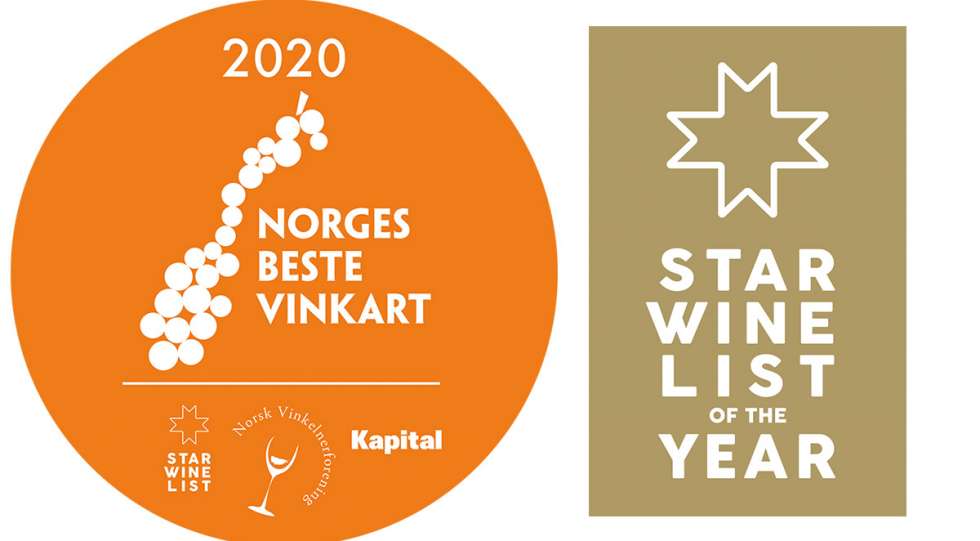 Star Wine List of the Year is teaming up with the Norwegian Sommelier Association and Kapital magazine to celebrate the great wine lists of Norway. On 9 November, the winners of "Norges Beste Vinkart" will be announced. Several category winners will be invited to the Global Final in Vienna in May 2021.
The Norwegian Sommelier Association and business magazine Kapital have run the wine list competition Norges Beste Vinkart successfully for several years.
"They are doing a great job and we know the people involved are very trustworthy. So instead of creating our own Star Wine List of the Year event in Norway we asked if we could join them. Thankfully our friends at the sommelier association and Kapital said yes!" says Krister Bengtsson, Star Wine List's founder.
"The Norwegian Sommelier Association looks forward to expanding the ongoing partnership with Kapital to include Star Wine List. Together we aim to improve and expand the award of Norway's Best Wine List to include even more restaurants who will have the opportunity to reach not only national, but even international recognition for their wine selections," says Liora Levi, president of the Norwegian Sommelier Association.
"We could not be happier than to cooperate with Star Wine List to name the best wine lists in Norway. The goal has always been to make it easier to find the best places to drink wine in Norway, and with Star Wine List on the team, we could not do better than that," says Jon Trygve Hegnar on behalf of Kapital and Hegnar Media.
Since this is the first time Star Wine List is cooperating with Norges Beste Vinkart, there will be some changes from how Star Wine List of the Year is usually conducted:
Star Wine List venues in Norway should send their wine lists to Kapital to enter the competition, no later than 25 October (see more info on competition website).

There are seven regular categories in Norges Beste Vinkart, with Star Wine List of the Year names within parenthesis: Norges Beste Vinkart (Grand Prix), Beste "Lille" Vinkart (Short Wine List), Folkets favoritt, Vinmeny, Årets Nykommer, Beste Champagne/Musserende vinliste, Beste Vinkart - Vin på glass (By the Glass).

In addition to these seven categories - Star Wine List's regular international sommelier jury will decide the Best Austrian Wine List category, in cooperation with Austrian Wine.

Of the seven regular categories, the winners of Grand Prix, Short Wine List and By the Glass will qualify for the Global Final of Star Wine List of the Year in Vienna in May, hosted by Austrian Wine. This includes entry to Vievinum afterwards.

The winner of the Best Austrian Wine List category will be invited all-inclusive with hotel and flights.
On Monday 9 November the winners will be announced in Oslo - and in all our channels.
The jury for Norges Beste Vinkart: Rune Rake, Heidi Iren Hansen MW, Tone Veseth and Trond Erling Pettersen.
The Star Wine List of the Year international sommelier jury: Marc Almert, Paz Levinson, Pascaline Lepeltier, Raimonds Tomsons, Arvid Rosengren and Lu Yang.
Categories and jury members may be added before the competition.
For more info in Norwegian, please check out:
Published 16-October-2020
News / Norway
Premium: Search more than 2000 wine lists in 35+ countries. Download an unlimited number of wine lists.