Star Wine List's Oslo wine guide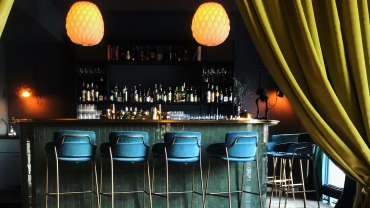 From A to Å, here are all great wine bars and wine restaurants on our Oslo map. You can also find our guide to Oslo wine bars or other Oslo guides by choosing Wine Guides in the menu above. For an overview, choose Map in the menu above and Oslo in the drop-down. Enjoy your tour in Oslo!
Andre til høyre

Phone: +47 23 65 31 50

Address: Youngs gate 19, 0181 Oslo

Situated at Youngstorget, you approach Andre til høyre (Second to the right) through the bar Håndslag and up the stairways. Beautifully decorated, the bar gives the feeling of an artful luxurious home. The wine bar is set up as an apartment and every day the scene is set for a house party, whether you hang out in the lounge or the kitchen. The wine list carries serious wines from classic areas like Burgundy and Champagne along with newcomers from South Africa and the USA.

Arakataka

Phone: +47 23 32 83 00

Address: Mariboes gate 7B, 0183 Oslo

Arakataka in central Oslo is a restaurant and wine bar which continues to build one of the most interesting wine lists in Oslo. In the restaurant a seasonal menu is offered while modern bar food is served in the more informal wine bar. Arakataka's wine list has an eclectic mix of contemporary and classic producers and there is always a good selection of interesting wines by the glass.

Bar Brutus

Phone: +47 22 38 00 88

Address: Eiriks gate 2, 0650 Oslo

The traditional Nordic cuisine has received a modern makeover at the wine bar and bistro Brutus. To go with the sharing plates there is nothing but natural wine chosen from farmers they trust. The natural wine selection is extensive and ranging from up-and-coming producers to natural wine makers finally receiving mainstream tribute. At Brutus you don't find a regular wine list, but you are invited to have a tour in their cellar and there's always a selection by the glass.

Bass Oslo

Phone: +47 482 41 489

Address: Thorvald Meyers gate 26C, 0555 Oslo

Bass Oslo is a trendy neighbourhood restaurant set in Grünerløkka. The dining room is sparsely decorated with an industrial feel, yet there is nothing industrial about the service. Local and seasonal produce serve as the basis for Bass Oslo's menu of sharing plates. The Bass wine list is a gold mine for fine wine lovers and natural wine enthusiasts alike and while Bass Oslo only opened their doors a few years back, the cellar consists of both young and mature wines. Bass Oslo also has a bar where wine lovers from near and afar gather.

Beijing Palace

Phone: +47 22 11 08 00

Address: Pilestredet 27, 0164 Oslo

Beijing Palace might be more famous for their wine list than their food. The blue suede sofas gives a warm touch to the otherwise clean and simple interior right in the middle of Oslo city center. The Chinese menu is long, but it is the simple and sublime dim sum that attracts Oslo's wine enthusiasts. A unique wine list is on offer and Beijing Palace has a selection of fine wines difficult to come across elsewhere.

Chez Colin

Phone: +47 23 20 23 23

Address: Fredensborgveien 44, 0177 Oslo

Tucked in between old wood houses and brand new apartment buildings in the outskirts of central Oslo, Chez Colin is an everyday French bistro with a French wine list out of the ordinary. There is always a perfect match to the fresh oysters, moules au frites or the stirred steak tartare. Chez Colin was established only in 2015, but has already managed to build one of the most interesting new wine cellars in Oslo.

Cru Vin & Kjøkken

Phone: +47 23 98 98 98

Address: Ingelbrecht Knudssøns gate 1, 0365 Oslo

In the west part of Oslo's city center, Cru has gained a reputation as a wine bar with a personal and interesting wine list. Enjoy the relaxed atmosphere in the wine bar section and share a few French bistro courses or go for a full menu of modern British cuisine in the restaurant. Cru has an extensive wine list which goes deep into classical European regions like Burgundy, Mosel and Champagne.

Enoteca

Phone: +47 23 27 09 27

Address: Bygdøy allé 59, 0265 Oslo

Oslo's Enoteca is an intimate Italian restaurant located in beautiful Frogner, always busy with local regulars stopping by for a classic Italian dish and a bottle from Enoteca's well-sourced cellar. The Enoteca wine list is almost purely Italian and has a fine line up of classics like Barolo, Barbaresco and Tuscans. There's always a solid list of wines by the glass as well.

Gaasa

Phone: +47 454 16 469

Address: Storgata 36J, 0182 Oslo

Centrally located in downtown Oslo, you might not expect to find DRC when you enter the wine bar Gaasa from the busy tram street Brugata. With a simple and cool interior, Gaasa is a hidden gem for wine lovers. The wine list covers classic and contemporary producers with a focus on both European fine wines and hipper producers. You won't find much to eat here, but that leaves the wine to speak for itself.

Grand Café & Vinkjeller

Phone: +47 981 82 000

Address: Karl Johans gate 31, 0159 Oslo

Oslo's legendary Grand Café & Vinkjeller is located in Grand Hotel next to the city's main street, Karl Johan. The wine bar downstairs offers a selection of finger food and small plates and among the 16000 bottles and 1500 labels, there should be something for all wine lovers. All main regions are covered on Grand Café & Vinkjeller's wine list which is a textbook in classical wines. Every day there is also a selection of wines by the glass in this perfect hideaway from busy everyday life.

Happolati

Phone: +47 479 78 087

Address: Sankt Olavs Plass 2, 0165 Oslo

Happolati is a modern restaurant with a fun Asian inspired menu based on seasonal produce. The dining room feels light and open, and the elegant furniture balances the art of being trendy, yet comfortable and warm. Happolati offers a varied wine list with emphasis on classical areas like Germany, Austria, France and the US. For a few producers and geographical areas, Happolati's wine list goes into great depth, while also showing a playful interest in other areas.

Katla

Phone: +47 22 69 50 00

Address: Universitetsgata 12

In the middle of Oslo, Katla is a recently established restaurant and wine bar, with the chef joining from Pjoltergeist. In the restaurant an eight-course menu is served, while the wine bar has a menu served a la carte. The kitchen presents an eclectic set of dishes inspired by Iceland, Asia and South America. Katla's wine menu is designed to match the spice and concentration of flavours from the kitchen and is centered around grower champagne, juicy reds and fresh whites, taking onboard cult natural producers as well as classic GGs from Germany.

Kolonialen

Address: Sofies gate 16, 0170 Oslo

Kolonialen is a neighbourhood restaurant at popular St.Hanshaugen. With the feel of a fine bistro in Paris, Kolonialen has chess patterned floors and custom made leather sofas. The restaurant serves a tasty bistro menu – and the owner's very own home made sourdough bread. The Kolonialen wine list proves the classical training (and perhaps the network in the wine trade) of the owner Pontus Dahlström, formerly a founding partner at Maaemo. Don't be afraid to ask for something special by the glass.

Kontrast

Phone: +47 21 60 01 01

Address: Maridalsveien 15a, 0175 Oslo

Kontrast is located in the culinary area of Vulkan which used to be an industrial area by the Akerselva river. The Michelin starred restaurant offers the best produce of the season in both tasting menus and a la carte with beautiful presentations. If you choose one of the wine pairing menus you might be surprised by the modern touch to it, but Kontrast's wine list is also worth a serious study before you dig in.

Le Benjamin

Phone: +47 22 35 79 44

Address: Søndre gate 6, 0550 Oslo

Le Benjamin Bar & Bistro is a family-owned bistro with ambiance and a hearty French menu. Have some oysters at the bar or enjoy a full menu in one of the dark leather sofas. The wine list at Le Benjamin is French, terroir driven and packed with top producers.

Lulu

Phone: +47 23 65 32 30

Address: Youngs gate 7, 0181 Oslo

Lulu is an omakase restaurant which means that you follow the chef's choice for the evening. Lulu's omakase combines cuisines from around the world with a focus on Asia. This is echoed in Lulu's wine list that focuses on wines that pairs well with Asian fusion.

Maaemo

Phone: +47 22 17 99 69

Address: Schweigaards gate 15B, 0191 Oslo

Norway's only three star restaurant is worth a journey to Oslo for its contemporary and unique cuisine. There is a test kitchen/chef's table upstairs, overlooking the more formal dining room downstairs. The atmosphere is calm and the wine cellar deep. Fine wine enthusiasts will most definitely enjoy Maaemo's selection of classic wines, but the wine list also offers wines for the more experimental guest. You can choose to be lazy at Maaemo; the wine pairing is always exciting here.

Markveien Mat & Vinhus og Vinbaren Dr. Kneipps

Phone: +47 22 37 22 97

Address: Torvbakkgata 12, 0550 Oslo

Perhaps Oslo's first wine bar, Dr. Kneipp´s at Markveien Mat & Vinhus is an institution that continues to attract wine enthusiasts. The atmosphere in both the wine bar and restaurant area is relaxed and the worn dining room bears witness to conversations and bottles shared over three decades. Markveien Mat & Vinhus has a long and classic wine list from regions like France, Italy, Spain and the US. The wine list will also reveal some older vintages rarely found elsewhere.

Nedre Foss Gård

Phone: +47 923 38 293

Address: Nordre gate 2, 0551 Oslo

Oslo's Nedre Foss Gård, the beautifully restored farm from the 1800s has a spacious dining room with an open kitchen also overlooking parts of the wine cellar. Wooden, fishbone floors, glamorous wall paper and custom-made leather sofas mixed with neo Scandinavian furniture sets the scene for long dinners or Sunday roasts accompanied by a bottle from their well curated wine cellar. French classics meet modern American wines, South Africa meets Australia. Across the yard, you will find the Radegast wine bar, also listed here on Star Wine List.

Nemesis

Phone: +47 23 65 33 10

Address: Youngs gate 11-13, 0181 Oslo

Nemesis is among the rising stars on the fine dining scene in Oslo. More smart than casual – and already their signature dish, caviar served with a shot of vodka, is the talk of the town. The wine list has a fair share of fine Burgundy, this is Oslo after all, but you will also find a good amount of South African wines from the Swartland region.

Omakase Oslo

Phone: +47 456 85 022

Address: Ruseløkkveien 3, 0251 Oslo

Omakase is a Japanese restaurant offering an "omakase" menu, which means "to trust the chef". With only 15 seats around the counter, Omakase offers a unique, personal Tokyo style eating experience. The Omakase Oslo beverage menu is broad with classical Japanese pairings like beer and a wide range of sakes, but the wine list has a selection to match the wide range of produce offered. Champagne and German riesling are well represented together with other major classic regions and a few surprises.

Pedro's

Phone: +47 974 73 286

Address: Hegdehaugsveien 36C, 0352 Oslo

Pedro's is a tiny wine bar and an eatery, as Pedro Caiado puts it himself. A selection of mostly natural wines can be found by the glass or by the bottle and petiscos, small bites, accompany the drinks.

Radegast

Phone: +47 923 38 293

Address: Nordre gate 2, 0551 Oslo

As you enter the Radegast wine bar at Nedre Foss Gård, you may get the feeling of entering a private wine cellar or a wine club. The temperature controlled glass cupboards are filled with wine bottles and there is plenty to choose from, such as Jura (for once in Oslo, the Jura selection may actually be larger than the Burgundy one), Spain, Italy and South Africa.

Smalhans

Phone: +47 22 69 60 00

Address: Ullevålsveien 43, 0171 Oslo

Smalhans is a neighbourhood restaurant in the popular St.Hanshaugen area of Oslo. Perhaps the first restaurant in Oslo to offer a pure naked wine wine list, Smalhans is now well established among the locals as the place to go for for a full "Krøsus" menu, a snack in the bar, a plat du jour or a Sunday burger. The menu is varied and takes inspiration from all the corners of the world, and the wine list features some of the most well known naturalist wine makers of Europe.

Teatro

Phone: +47 21 50 72 20

Address: Stortingsgata 16, 0161 Oslo

A pizza gem located right off one of the main metro stations in the Oslo city center combines convenience, modern pizzas and an extensive list of fine wines (including a whole lot of Domaine Leflaive and Pingus). There is also a good selection of wines by the glass.

Territoriet

Address: Markveien 58, 0550 Oslo

While Territoriet's history only dates back to 2014, it has become an institution in Oslo with its extensive wine list and by the glass policy. The small wine bar is contemporarily decorated and has an intimate atmosphere which allows you to study the wine list in comfortable surroundings. Territoriet has a long wine list which covers most classical wine regions. While Territoriet has a special heart for the classics you will also find contemporary producers from the old and new world. (Photo Copyright Lars Myhren Holand)

Trattoria Popolare

Phone: +47 406 75 231

Address: Trondheimsveien 2, 0560 Oslo

Trattoria Popolare has become the most popular trattoria in Oslo. The sound of the waiters' shoes over tiled floors, glasses meeting and buzz from wine sipping guests give resonance to the Italian eatery. The Trattoria Popolare wine list is of course geared towards Italy and it carries a large selection from the country's wine regions, both classic and natural wines and bottles with age.

TXOTX

Phone: +47 921 69 062

Address: Trondheimsveien 2, 0560 Oslo

Txotx is something as exotic as a Basque pintxos bar in Oslo, the interior is fun and casual, and the wine list is Iberican. Txotx might just have the widest selection of wines from Spain and Portugal available in Norway, with both modern and traditional producers represented. And of course some Txakoli.

Vintage Kitchen

Phone: +47 459 15 625

Address: Lakkegata 55, 0187 Oslo

In the eastern part of Oslo city center, tucked in between new office buildings, an old listed building houses Vintage Kitchen, a restaurant and wine bar. Vintage Kitchen combines the essence of a Danish "kro", offering lavish open sandwiches daytime and a classic kitchen in the evenings. The wine list is extensive and mostly classic, but you will find some hipster wines too. Vintage Kitchen also offers a broad selection of wines by the glass.