Rubén traded New York for Småland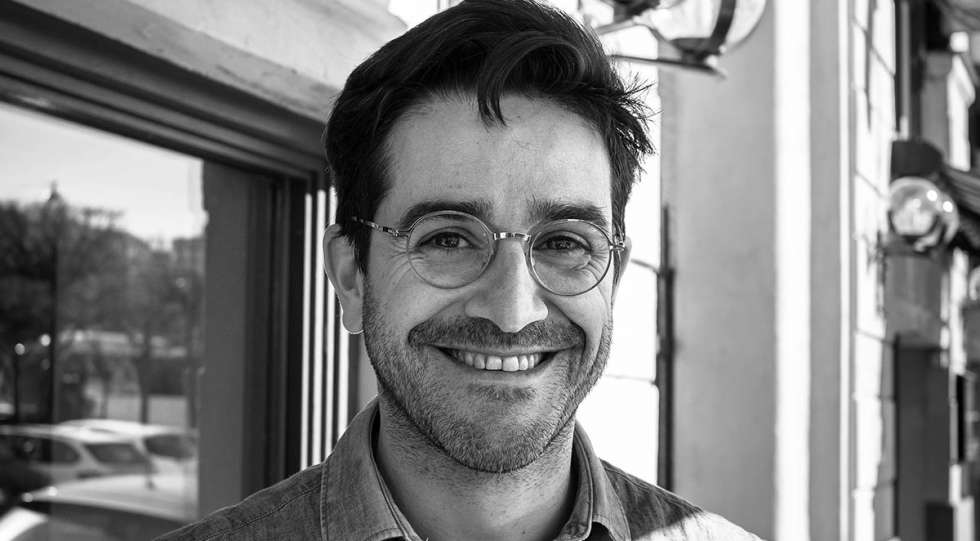 PM & Vänner in Växjö celebrates both 25 years and that it recently won a Grand Award from Wine Spectator for its wine list. Rubén Sanz Ramiro came from New York to manage its wine programme.
It is Monday morning by the kitchen table in the old vicarage in a village outside Alvesta. The closest visible neighbours are a few cows at the farm next door. When they don't make any noise, and when the wind is not blowing through the apple trees, it is quiet. As quiet that it can only be far away from nearest town and main road. At least after Ruben's daughter got an ipad in her hands. On the dinner table a couple of Zalto glasses are filled with water after last night's dinner. We're sipping coffee and talking about the wine world.
Rubén Sanz Ramiro is originally from the wine region Ribera del Duero in Spain and studied hotel and restaurant management in Barcelona before realising he wanted to work with wine and service. He moved to London and on to New York where he worked eight years. After New York, the next move was to… Småland. Rubén's Swedish wife Elna Svenle had the opportunity to manage Vandalorum, the museum for art and design in Värnamo. A contact with PM & Vänner led to a job offer for Rubén and he has now been there for four years.
"I worked with a big wine programme in New York and it was important to me to continue to work in a similar fashion. It was a matter of luck and serendipity to find it here."
Despite of, or perhaps thanks to, an extremely humble approach, Rubén Sanz Ramiro has gotten a lot of attention in the Swedish wine scene. Livets goda has named him best sommelier of Sweden twice and last year 100 sommeliers voted him the Sommeliers' sommelier in Sweden. But of course, the move from Brooklyn to Småland has not been without challenges.
"It took me quite some time to land and I still feel that after four years that I am starting to land and to feel grounded here. But I knew it would be like this and honestly, we were ready to embrace a change of lifestyle. Both Elna and I had spent the last 15 years living in big cities and we wanted to explore other environments and being closer to nature, and I am grateful for that as well."
Later that day, PM &Vänner has invited a hundred guests to celebrate the Wine Spectator Grand Award, an award only given to 89 restaurants around the world. PM & Vänner also celebrates 25 years this year. At the party, the owner Per Bengtsson and Rubén Sanz Ramiro give credit to all the sommeliers that have worked in building up the cellar, such as Robert Andersson, Johan Nilsson, Fredrik Horn, Fredrik Lundberg and of course Andreas Larsson, who challenged Per Bengtsson to really build a great cellar.
"The award recognises 25 years of hard work and ambition that the founders of PM & Vänner had. They had since day one the idea of creating a destination where gastronomy is celebrated. It is a reason to be happy and we hope that it will be a reason for many people to discover Småland and come to PM and discover what we do."
PM's wine list counts over 4000 wines and as might be expected, France dominate the numbers. But there are also 200 German and 400 Austrian wines and substantial sections from USA and Spain. The New World, apart from the US, is represented by South Africa, New Zealand, Australia and a few bottles from Chile and Argentina. The prices, compared to many big city restaurant and Michelin stars, are comparatively low. And as for the plans going forward, it will be more evolution than revolution.
Back to the vicarage. The coffee is finished and it is time to drop off at day care and then head into Växjö for the PM event. On the book shelves there are a number of souvenirs from a career in wine, including empties of wines most of us could only dream of, like Henri Jayer, DRC and Pingus. But which is really the best wine that Sanz Ramiro has ever tasted?
"Oh, ah, I would have to name a few I think… 1919 Armand Rousseau Chambertin… 1959 Henri Jayer Richebourg… 1971 Romanée-Conti… 1962 Leroy La Romanée… 1945 Mouton-Rothschild, 1959 Chateau Latour, 1972 Vega Sicilia Unico. And I would have to add some white wines… 1973 DRC Montrachet, 1978 Raveneau Montée de Tonnerre, 1978 Leflaive Pucelles and 1985 Ramonet Montrachet, for example!"
Published 21-September-2017
News / Sweden