La Dame de Pic's Jan Konetzki: "It's important to break boundaries"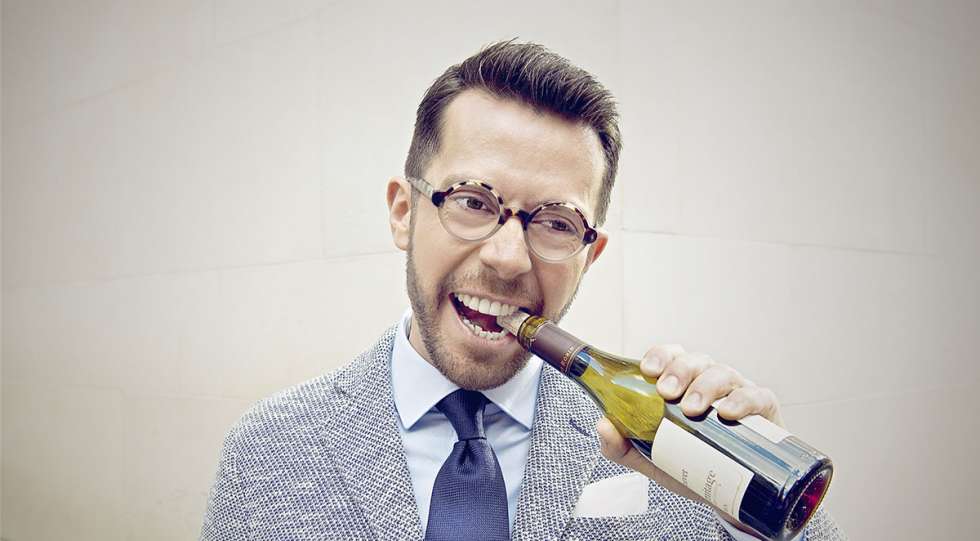 Star Wine List's London ambassador Ruth Spivey meets sommelier Jan Konetzki, the multi-awarded Wine Director of La Dame de Pic and the Four Seasons Hotel in London. The story includes a cheeky 1982 Chateau Latour, pairing Tom Shobbrook at a three-star restaurant, the stigma of sommeliers and what makes a really great wine list.
"It's important people break boundaries – whatever you think about winemaking there is a lot of learning in different types of wines. Different times have brought different wines and extremes – oak in the 90's, the natural extremes of today – but it all provides a lot of learning. If you don't explore extremes there is no learning. The result of some wines might not be to my liking, but I still admire the work. You should always have respect for other people's work. Especially if it's an artisan one - someone put a year or more of their life into it. We should have respect for that."
Jan might have managed cellars and written lists for some of the most prestigious fine dining restaurants, but he's always brought his own style and creativity to the table.
"The stigma of sommeliers making you uncomfortable about your choices is long over. At Royal Hospital Road for example, I paired a venison main with Tommy Ruff [a natural Syrah/Mourvèdre by Tom Shobbrook in the Barossa Valley] – that wasn't often seen or expected in a 3-star restaurant, it's a quite a leftfield choice but it mirrored what I wanted to drink with it and what worked with the food. You might expect a 2nd Growth or a Hermitage… but the world has many different shades and they are there to be acknowledged."
German-born Jan Konetzki began his career training as a baker from 17 to 19, and working in New York, Miami, Greece and Switzerland.
"After a while I was enjoying the travel more than the baking, so I took a break, went to Mykonos to work the bars and then from there went into wine…"
We first met when he was Head Sommelier at Gordon Ramsay's three-star restaurant at Royal Hospital Road. He worked for Gordon Ramsay Holdings for nine years, starting at Maze and Maze Grill before Claridge's until 2009. It was here he completed the Advanced Certificate of Master Sommeliers and was awarded the Riedel Trophy for the best result in Europe. After Claridge's came Royal Hospital Road.
Jan won UK Sommelier of The Year in 2012, having also competed in 2009 and 2010. He encourages and supports his team who want to go down the competition route too, although admits "it is a huge amount to learn – theory, appellations, winemakers, new wine regions, spirits, beer, all the terminology."
Almost every year since has brought an award for Konetzki, but regardless of that his commitment to service is still at the heart.
"Whatever awards you're lucky enough to win, you are only as good as the last table you served and the last bottle of wine you suggested."
At Four Seasons Hotel at Ten Trinity Square, Jan Konetzki directs the wine for the hotel's two restaurants and its private club. The flagship restaurant, La Dame de Pic, is overseen by Michelin starred chef Anne-Sophie Pic, with a menu showcasing her cuisine from her home of Valence in the Rhone Valley and a 450 bin list emphasizing wines from the region and Rhône varieties grown elsewhere (which you can check out on Star Wine List).
"It's a classic restaurant experience but the list is still very much an edit, curated according to the seasons to allow interaction with the guests, to follow the fashions of drinkers and allow stories to be told," says Jan Konetzki.
Chateau Latour's involvement as co-owners of the Private Club at the hotel is the first time they've lent their name to something outside of the vineyards. It's a collection of discreet and lavish rooms, with original and pristine wood panelling and plush carpets throughout - including the most impressive stretch of shagpile I've ever seen. It runs the entire length of a long, winding corridor and features the actual shape of Bordeaux's Gironde river, with the metaphorical water coloured 'claret red'. If you're going to spill wine, aim for inside the river banks and no-one will ever know.
The pièce de resistance is the Latour Discovery room, where you can drink 45 different vintages by the glass and gaze at a hefty collection of library stock including '39, '59 and '61, all sourced direct from the Chateau and the largest collection of its kind.
When I set up the meeting with Jan, who is also ambassador for Chateau Latour and the Artemis estates, he asked if there was anything he should prepare, to which I obviously replied 'oh, just open a magnum of 1982'. With huge generosity and style when we returned to the club after the tour, two small glasses of that very wine were waiting for us. Further proof that my mantra of 'if you don't ask, you don't get' is a good one to live by.
A surprising number of people come in and order a club sandwich with a glass of '82 Latour
"A surprising number of people come in and order a club sandwich with a glass of '82", Jan told me. At £600 a glass that should keep things afloat. It was, of course, sublime and if I had the money I'd buy as much as I could. Complexity is highly prized in wine and whilst this had plenty, my overall impression was one of pure, uncomplicated pleasure.
When you start drinking great wine it's hard to stop, so next up was 2003 Les Forts de Latour, their second wine, from double magnum. None of this would have happened had it not been for Coravin of course.
"There is no other system at present that is as useful – it works," said Jan. "It can depend on the quality of the cork of course and you must keep an eye on when it was last used. There is a slight contradiction with the philosophy of some great winemakers – when the wine is hand harvested, using gravity-flow, natural ferments and then suddenly you stick a needle in the cork to extract some wine and replace it with Argon gas. I would always prefer to pull a cork, but for offering diversity, it's fantastic."
Jan's role at Ten Trinity has seen a change of culture for him.
"It was very different there [Royal Hospital Road] as it was family run. Decisions were made at the pass – when we changed all our glasses to Zaltos, I just asked and Gordon said yes and that was that. In a hotel which is part of a global company there are many layers of approval needed. There's a real people focus here, HR in these companies is always very strong. Whereas in a smaller company perhaps survival is the main focus, followed by the philosophy."
On what it means to be a sommelier today, Jan says:
"Today the sommelier job has many different aspects compared to in the past – just like with chefs – there are breakfast chefs, party chefs, fine dining chefs. We have a strong lack of idols and role models though. Our career is full of stigma – if you leave the floor at a certain age to work more behind the scenes or you work in certain style of restaurant. There's always the question of what shall I do when I get in to my 30s…?"
"It's a style of life with long hours and the job can be demanding but there is a big job to create better working environments. Here the Sommelier de Rang work 40 hours – which is great and allows people to have time to study. It's also important to not be at work all the time! We have had a generational change, people want to have a life now."
Wine lists have changed too, with many restaurants, even smart ones, preferring something shorter.
"Smaller lists can be more agile, represent the taste of the time and the chef of the moment. They are the prêt-a-porter of wine lists."
"A good wine list should always have something on that people recognise. It shouldn't make people feel alien. As sommeliers we want to be asked, to play the game and suggest people wine. But sometimes it's better when we don't try so hard, which is when a list with bottles on that people recognise is useful. Not only do you have more time for the guests that really do want help, guidance and experimentation but you also allow the other people, who just want to drink their regular favourites, to be happy too. We have a responsibility to set them up for a great night out. You still get to express yourself as a sommelier. But it's important to remember you are not serving yourself. At the end of the day it's all entertainment."
By Ruth Spivey
Premium: Search more than 2000 wine lists in 35+ countries. Download an unlimited number of wine lists.