Han Yew Kong: "I hope to see the orange wine movement create a spark"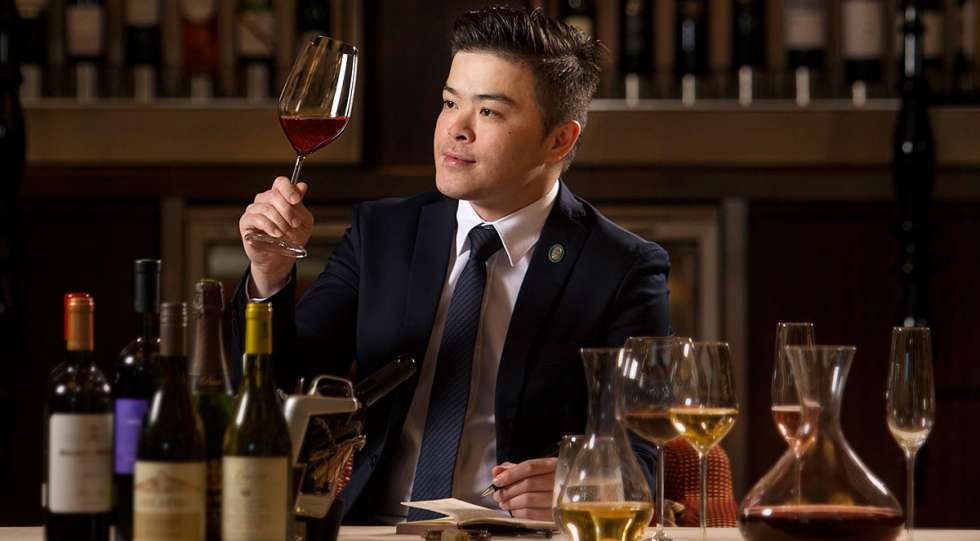 Han Yew Kong is an award-winning sommelier, currently working as Head Sommelier at the Galaxy Hotel in Macau. He says that even though French wine is still the biggest trend in Macau, he thinks that natural wine will be the next big thing.
"We are introducing some natural wines to our customers, and the feedback has been quite positive. I hope to see the orange wine movement create a little spark here," he says.
Han Yew Kong started off as a bartender, over ten years ago, but after a guest started asking him questions about wine – he says he knew nothing about wine back then – he started reading and studying. Today he's the Head Sommelier for the Galaxy Entertainment Group in Macau, that features wine restaurants such as 8 ½ Otto E Mezzo Bombana and Terrazza.
"Currently, we have more than 1,100 different labels from all over the world. Our focus is on French and Italian wines, mainly because we have two great Italian restaurants in the group (Terrazza and 8 1/2 Otto E Mezzo Bombana, Editor's note). Our list covers most of the classic interpretations of regions and grapes, and we are continually sourcing for more interesting wine," says Han.
When it comes to the wine bar scene in Macau, Han describes it as "exciting":
"It's getting exciting with all these new hotels and great restaurants opening with fun and unique wine lists. The community of sommeliers is growing, and I'm happy to see how they're getting together for tastings and stuff."
Since Han Yew Kong is the Head Sommelier for a group of restaurants and bars, he and his team are always working to develop the lists, and the wine program evolves continuously:
"It's an ongoing dialogue with the sommeliers to check if the wine list is working for their particular outlets; we like our wines to move as well as introducing new wines to our customers."
What are the biggest challenges when it comes to building a great wine list in Macau today?
"I would say: to get allocation. There are many labels I don't even get to see here in Macau. We are still a secondary market from Hong Kong, where most of the allocations of fine wines end up."
You've also worked in Singapore – how is the wine scene in Macau different from there?
"Singapore is a very vibrant city, and the consumers are very open-minded. Regular guests will come back to try new wines; One night you could be selling obscure grapes like Freisa, and the next day you will be selling a bottle of Schiopettino."
"Macau is very different from that, since most of our guests are from mainland China, and French wine is mainly what they search for. Also, local Macanese guests still prefer Portuguese wines, because that's what they're used to. There are some great Portuguese wines to find here though."
What is your weirdest/most fun customer experience?
"I will share a very weird case with you: I had a guest that brought a bottle of Lafite 2003 and asked me to decant the wine for him. Without hesitation, I opened and decanted the bottle in front of them – and then I saw that the wine cork was printed with "Duhart Milon 2000". I decided not to show the cork to the guests on that particular occasion…"
What do you drink on a night off?
"I had some Agrapart Terroir Champagne for a celebration recently. Otherwise usually Riesling at home; Gunderloch Riesling which is a great match with sushi. I also like well-chilled pilsner or IPA."
Name your three favourite places to drink wine in Macau, and why?
"Don Alfonso Grand Lisboa: They have the same wine list as Robuchon. Here you'll find a lot of amazing wine, like some great value red Burgundies and a good bargain on Frank Cornelissen Munjebel – love that wine! Portofino: I always go back there for some decently priced vintage Barolo and Barbaresco. Barcelona Taipa: I really have a soft spot for this place. A lot of Spanish wines to choose from, together with great tapas!"
Check out the wine lists for Terrazza and 8 1/2 Otto E Mezzo Bombana below.
Premium: Search more than 2000 wine lists in 35+ countries. Download an unlimited number of wine lists.