New Red Star listings in New York City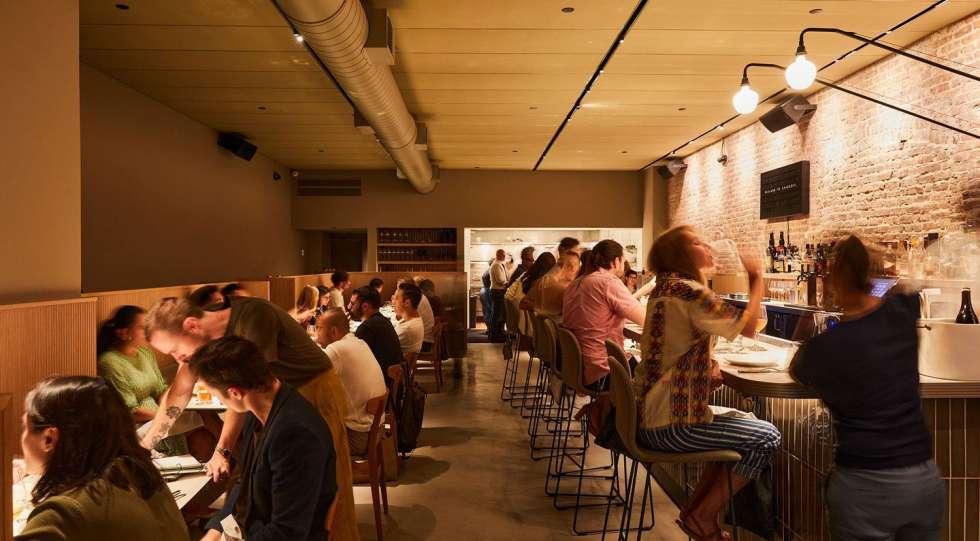 We have a number of new additions to our Star Wine List New York selection, chosen by our New York ambassador Theo Lieberman.
Theo Lieberman, wine director for Delicious Hospitality Group, knows New York City intimately, as he was born and raised there, and has first-hand experience of its wine, having worked at some of its best bars and restaurants.
Since 2021, Theo has been the wine director for Delicious Hospitality Group and currently oversees Legacy Records, Charlie Bird and Pasquale Jones. These are his picks—all of them are well worth a visit.
The new Red Star venues are:
"The wine list at Chambers is an absolute gem, which is no surprise as Pascaline Lepeltier is one of the partners," he writes."There are glasses of wine starting at $9 (a thing that is slowly disappearing from New York City restaurants)." Theo also compliments the fresh, seasonal ingredients.
Artisanal pizzas and epic playlists. What could be better? Maybe the focused wine list, with lots of Italian gems.
There's plenty to choose from, from the a la carte menu to a seven-course extravaganza, and the menu changes every six weeks. With more than 600 wines listed, there's lots to explore.
Do you love Sicily? Then Bar Pasquale is for you, as both the food and the wine list is inspired by this southern Italian region.
A chop house is the British version of a steakhouse, except with more cuts of meat. Gus's also has a French bistro influence, ensuring that there's something for every taste on the menu. Couple that with an affordable, inventive wine list, and it's a must-visit.
Unpretentious fine dining, with food that blends French, Japanese and southwestern cuisine. And there's plenty of Champagne, sake and Old World wines, too.
Food with flair, and a wine list that has more than 800 offerings, plenty of which are under $100.
Andrew Quinn and Cedric Nicaise, who met while working at Eleven Madison Park, have opened up the ideal neighbourhood restaurant. The wine list has more than 400 wines.
This 22-seat seafood restaurant is one of the hottest venues in New York right now, so if you want to pay a visit, book early.
New American cuisine with European flair, plus a restored historic interior.
Published 09-December-2022
News / New York City
Premium: Search more than 2000 wine lists in 35+ countries. Download an unlimited number of wine lists.