Germany Wine List 2018: PM & Vänner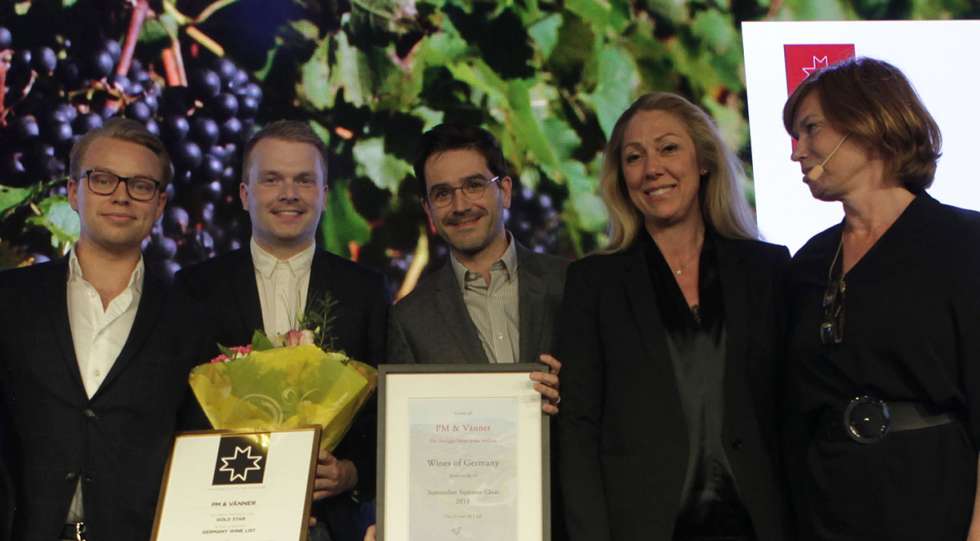 PM & Vänner won the Star Wine List of the Year 2018 in the category for best German wine list.
In total there were nine categories in Star Wine List of the Year 2018. The finalists and winners in seven of them were voted by the jury with Mischa Billing, Mark Andrew MW, Per Styregård, Erika Lindström and Krister Bengtsson.
One category was voted for by the readers of Star Wine List and one category was voted for by sommeliers.
"Have to say, the overall standard was seriously impressive," sade jurymedlemmen Mark Andrew, MW och grundare av Noble Rot Magazine & Wine Bar.
PM & Vänner won the gold star diploma for the best German wine list.
The other finalists won silver stars:
Bar Central, Stockholm
Djuret, Stockholm
Farang, Stockholm
Grand Hôtel, Stockholm
---
THE CATEGORY IS SPONSORED BY WINES OF GERMANY:
Wines of Germany är en tysk branschorganisation med syfte att marknadsföra tyska viner nationellt och internationellt. I Sverige arrangerar Wines of Germany löpande provningar, event, vinresor och sprider information om vad som händer i vårt närmaste vinland.
Tyska viner har en särskild plats i många vinälskares hjärtan. Riesling är den klara stjärnan och få druvor kan ge så varierade uttryck som denna druva kan. Vad många kanske inte känner till är att tyskt vin genomgått lite av en vinrevolution och bjuder i dag på ökad kvalitet och moderna viner. Här finns också en ny generation vinmakare redo att ta över. Tyska organisationen Generation Riesling är världens största organisation för unga vinmakare med över 500 medlemmar som alla är under 36 år och aktiva vinproducenter.
Landet förknippas mest med vita viner och producerar stora mängder pinot gris och pinot blanc, men har faktiskt blivit ett stolt rödvinsland. I dag är Tyskland tredje största producenten av pinot noir i världen, vilket få känner till. Och här finns alla stilar från torra vita viner, eleganta röda, söta och mousserande viner.
Genom inspiration och utbildning arbetar Wines of Germany för att sprida kunskap och inspiration kring tyska viner.
För mer information om tyska viner och arrangemang i Sverige, besök gärna: www.winesofgermany.se.
Hör gärna av dig till oss på info@winesofgermany.se.
---
Published 07-May-2018
News / Sweden
Premium: Search more than 2000 wine lists in 35+ countries. Download an unlimited number of wine lists.