The 27 best wine bars in Stockholm 2021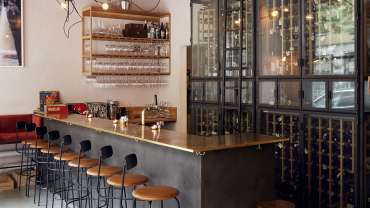 Stockholm is experiencing a boom in wine bars and it's a boon for wine lovers. You will find a wide range of wine scenes in the wine bar scene in Stockholm, all the way from the strictly natural wine bars to classical wine bars with Bordeaux, Champagne and other classical wine regions.. Here are our favourite Stockholm wine bars.
Address: Tomtebogatan 22, Stockholm

Niche Wine List Of The Year Nordic 2019

Ambar is the Stockholm wine bar that likes to serve orange wines and beverages, hence the name that plays on amber. But there are plenty of other colours and types on the wine list. If you are hungry, there are delicious small dishes with touches of Japanese cuisine.

Phone: +46 8 121 465 84

Address: Narvavägen 32, Stockholm

Philippe Simon transformed a little post office into a French oasis in 2013. Both neighbours and tourists enjoy French cuisine, music and of course wines in this wine bar in the Östermalm part of Stockholm.

Phone: +46 8 509 022 24

Address: Roslagsgatan 6, Stockholm

Best Short List of the Year Sweden 2020

As the name implies, the Stockholm restaurant and wine bar Babette is a feast in itself. A place for lively discussions over delicious small plates and some of Stockholm's most tasty pizzas. But don't miss the other plates from the chef's menu. In summer the crowd spills out onto a small terrace.

Phone: +46 8 578 828 60

Address: Brunkebergstorg 6, Stockholm

Blanche & Hierta is the wine bar at hotel At Six in central Stockholm. The wine bar shares its ambitious wine list with the restaurant at the hotel: At Six Dining. Blanche & Hierta is open seven days a week and you can also get breakfast and coffee here. In summer there is an outdoor terrace to take a break in the middle of the city center.

Phone: +46 76 894 34 39

Address: Stora Nygatan 22, Stockholm

Cork is a new charming, relaxed and cosy wine bar in the Old Town in Stockholm. The wine list focuses on Portugal, and the food is Mediterranean, leaning mostly towards Italy (you have to try the risotto!). The venue itself is quite small and intimate, with a lot of wood and – of course – cork. The best spot is by the bar counter, where you can chat with knowledgable owner/sommelier Alexandre Carreira, while he serves you some great wine.

Phone: +46 8 640 99 50

Address: Åsögatan 171, Stockholm

Best Short List of the Year Sweden 2020

Café Nizza is one of Stockholm neighbourhood Södermalm's hottest restaurants and wine bars, serving a menu of delicious food with French and Italian influences. The bistro also has a bar and from the wine cellar flows mostly natural wines with one or two classical cousins in the mix. Café Nizza's wine list is mostly sourced from the Old World's wine regions. Since 2021, Cave Nizza is its little sibling wine bar next door.

Phone: +46 8 522 256 52

Address: Odengatan 52, Stockholm

By the Glass List of the Year Sweden, presented by Le Verre de Vin by Sparkling Ideas 2020

A wine bar in the Vasastan area of Stockholm with a few classic dishes, warm atmosphere, and a very wide range of wines on the wine list. The crew is experienced and knows how to take care of guests.

Phone: +46 76 128 91 87

Address: Swedenborgsgatan 1, Stockholm

Original Wine List of the Year Sweden 2019

Dryck Vinbar (Beverage Wine bar in Swedish) greets guests with warm colours and well stocked wine fridges in the Södermalm part of Stockholm. The bar menu lists small dishes along with cheese and charcuterie.

Phone: +46 73 430 43 41

Address: Birger Jarlsgatan 112, Stockholm

New Wine List of the Year Sweden, presented by Vintec 2020

Wine bar and restaurant E & G (short for Egon and Gösen) is located at Birger Jarlsgatan in Stockholm, a few minute's walk from the crowded neighbourhoods around Odengatan. The place is relaxed, like a living room away from home. The food is rustic and tasty and made for sharing – snacks, smaller dishes and stews. Small, intimate and cosy and with an interior where wine is, literally, all around you.

Address: Erstagatan 21, Stockholm

International By the Glass List, presented by Coravin 2021

Experienced sommeliers Béatrice Becher and Jonas Sandberg opened the Stockholm wine bar they wanted to visit themselves in this eastern Södermalm part of town. The name plays on the French word for madness, Folie. As you'll see on the interior, it's loosely related to Territoriet in Oslo. Folii is one of the best wine bars in town and they have won our wine list competition in the By the glass-category several times. There are tasty small dishes on the menu and if you are eager for a more full meal - drop in to their restaurant next door: Voisine.

Phone: +46 8 679 35 00

Address: Södra Blasieholmshamnen 8, Stockholm

Italian Wine List of the Year Sweden, presented by Mandrarossa 2020

The grandest hotel in the city also boasts one of the grandest wine cellars, including a bottle from the year the hotel opened, 1874. The wine list is massive and accessible in the hotel's classic Veranda restaurant and Cadier bar, as well as in the Mathias Dahlgren restaurants Rutabaga and Matbaren.

Address: Magnus Ladulåsgatan 8D, Stockholm

Gemla Vinbar & Studio is the new creation from well-known Stockholm natural wine sommelier Anna Mellfos. It is opened in a furniture factory space and oozes style. Simple wine friendly dishes are served as well as cheese and charcuteries.

Phone: +46 8 610 66 00

Address: Karlbergsvägen 14, Stockholm

Grus Grus is the wine bar opened by Tranan just next door on Odenplan in Stockholm's Vasastan neighbourhood. Snacks, small dishes and larger dishes to share are served in the cosy space. The Grus Grus wine list offers mostly wines from small-scale producers, often with an organic and natural focus. But be sure to check out the shelves in the wine fridge, where unlisted treasures from the Tranan "secret" wine cellar can be found at very attractive prices.

Phone: +46 8 20 85 83

Address: Mälartorget 15, Stockholm

Gaston in the Old Town of Stockholm is the wine bar connected with restaurant The Flying Elk and cocktail bar Corner Club in the same building. It reopened in 2021 with new owners, kept the vibe but added a new crew of experienced somms. The interior is clean and classy, with marble, wood and copper. On the floor, you'll find a team of skilled sommeliers, who can guide you through the wine list and the by-the-glass list of the day. A bonus is that wines have been kept for a while, there are some older vintages available.

Phone: +46 8 22 00 21

Address: Hornsbruksgatan 24, Stockholm

The corner place in the hip Hornstull part of Södermalm is part of entertainment fixture Tjoget. A great benefit here, besides the knowledgeable staff: Late night opening hours.

Phone: +46 70 090 03 79

Address: Tegnérgatan 9, Stockholm

New Wine List of the Year Sweden, presented by Vintec 2020

The team behind Hasselbo has lots of experience from maestro Mathias Dahlgren's restaurants and you could consider Hasselbo to be a modern child of Matbaren. The level is very high in all from decoration, service to the small dishes that appear from the tiny kitchen. Both a wine bar and a restaurant, the full menu served in the bar as well.

Address: Fleminggatan 62B, Stockholm

Kungsholmens vinbar is a neighbourhood wine bar that has a small bar counter and several small tables. It has quickly become a neighbourhood joint that fills up with families and older patrons.

Phone: +46 8 676 58 00

Address: Operahuset, Karl XII:s torg, Stockholm

By the Glass List of the Year Sweden, presented by Le Verre de Vin by Sparkling Ideas 2020

Operakällaren in Stockholm's Opera House is probably the most beautiful dining room in Sweden. And the service is like a scene from the Opera stage, professional, classic and warm. The menu is French-inspired, classical and executed at the highest level (one Michelin star).

Address: Nytorget 4, Stockholm

Post Bar is a wine bar in Stockholm's Södermalm neighborhood. The food concept Urban Deli celebrate its first ten years with a new experience – at Post Bar with its own entrance, they are serving artisanal beverages and food with the same spirit. Relaxed attitude and cozy atmosphere with dark velvet and big windows. As made for an after work or a longer session with something from the seasonal menu, which get its inspiration from the food hall one floor up. Green is the color of both the interior and the plates. If you prefer other drinks than fermented juice, you can choose from creative cock...

Phone: +46 8 88 16 58

Address: Nybrogatan 19, Stockholm

The name might take you to New York and you will indeed find a Reuben sandwich on the menu, next to snacks and dishes with a more Swedish and European heritage. The team behind Schmaltz also runs Babette and Café Nizza, which is a guarantee for a laid back and professional service.

Phone: +46 76 609 86 07

Address: Tegnérgatan 4, Stockholm

Low intervention / Natural Wine List Of The Year Sweden 2020

Savant is a wine bar in Stockholm that changes profile during the day. From early morning it's a café and later in the day it turns into a neighbourhood wine bar with charcuteries and some small dishes. Everything is built around sustainability and the wines are in the natural style. Photos: Dan Lepp, Sandra Backlund

Phone: +46 8 506 400 85

Address: Yxsmedsgränd 12, Stockholm

In the Leijontornet gastronomic block in the Old Town of Stockholm, The Burgundy is the wine bar with wine friendly bistro food.

Phone: +46735193343

Address: Birger Jarlsgatan 26, Stockholm

New Wine List of the Year Sweden, presented by Vintec 2020

The Sparrow is (despite the Anglo name) a French wine bar and restaurant attached to the Stockholm hotel with the same name. The venue is owned by Grand Hotel and its master chef Mathias Dahlgren has been involved in the cuisine.

Phone: +46 8 519 422 77

Address: Brahegatan 4, Stockholm

Low intervention / Natural Wine List Of The Year Sweden 2020

Tyge & Sessil is a busy wine café or wine bar near Stureplan in central Stockholm but with a more casual manner than many of the other local hangouts in this rather posh part of town. Delicious small dishes are delivered by the little kitchen. Tyge & Sessil is one of the foremost natural wine places in Stockholm.

Phone: +46 8 33 04 00

Address: Norrtullsgatan 24, Stockholm

Vinverket, located in northern Vasastan in central Stockholm, is more of a wine bar than a restaurant, and it feels like coming home to friends. Going down the stairs a few steps, and you'll find a wine cooler reaching from floor to ceiling, and a solid kitchen table serving both as bar and workplace. Walk a few more meters and sit down by the small tables, perfect for a tête a tête. You will be served smaller dishes, influenced by the Mediterranean cuisine.

Phone: +46 70 406 66 26

Address: Sofiagatan 1, Stockholm

Vina is a cosy wine bar on Södermalm in Stockholm that likes to serve wines from small producers who care for the nature. Many of the wines are served by the glass as well as by the bottle and if you're hungry, the little kitchen produces pintxos, cheese and charcuteries as well as main dishes.

Phone: +46 76 556 65 26

Address: Roslagsgatan 15, Stockholm

Vineriet or The winery has opened a few steps down from Roslagsgatan and it's a cosy environment. The small kitchen turns out some classic tasty dishes, cheese and charcuterie. Founder Antoni Daoud has loaded the wine list to the brim with an impressive range, including a lot of mature stuff. Lovers of Piedmont and Tuscany are especially well taken care of.