Wine flows on tap in London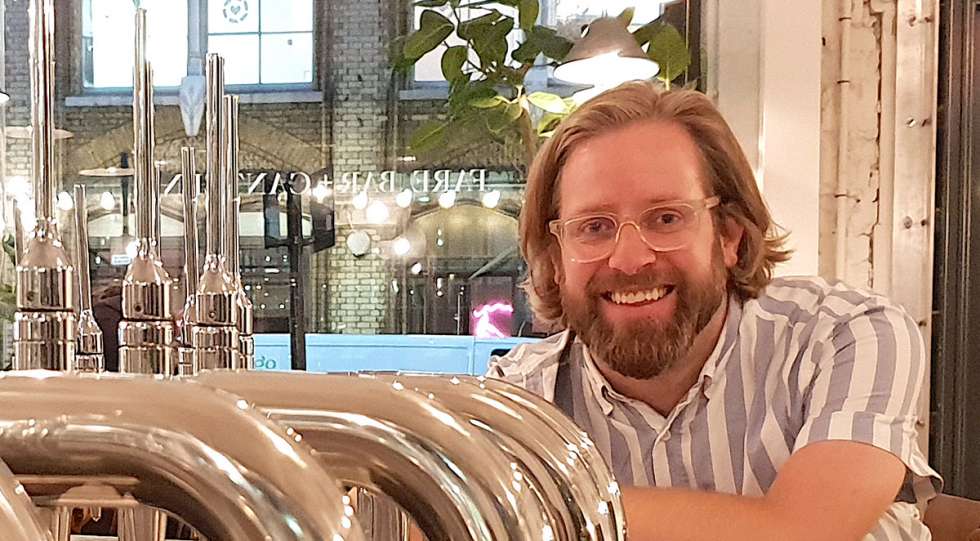 Rupert Taylor is a former sommelier turned wine merchant who recently set up his own company, Uncharted Wines. Uncharted has spearheaded the wine on tap revolution in London, with their range of producers and slick installations in some of the best bars and restaurants across town.
Ruth Spivey met Rupert Taylor at Fare Bar & Canteen, the latest London venue to join the tap party.
RS – What was it that made you want to start a wine on tap business?
RT - I love going to pubs but I never drink wine in them 'cos I don't know what I'm getting. Red wine is likely be warm and oxidized. Also, there's the environmental aspect. I love the wine trade and restaurant business but I think we need to change. So instead of being annoyed about things not changing I wanted to do something about it. Wine on tap makes sense - as well as the reduction in glass, it's much easier to ship. Uncharted has been trading for just under a year and at any one time we have around 60-80 different wines available in keg from some really great producers.
RS - It gives you a lot more flexibility, I suppose. These days restaurants are often about having loads of wines by the glass, and claiming they regularly change their offer, but you have to have really good husbandry of your stock to do this successfully.
RT - Exactly. Storing the kegs and doing stocktake is much easier and quicker. You simply weigh the keg to see what's remaining, which is arguably more accurate than estimating from a bottle. If you look at somewhere like Fare Bar & Canteen, there's 12 wines by the glass and they're all consistent, people will have a great experience and fast service. That's where we want to go with it, increasing the amount of options we all have. It's more challenging as it means a lot more investment in all our customers as we buy all the equipment and install it. But we like to own the technical side of it because our winemakers are more comfortable knowing that we look after that side of things. They know their wine will come out as it should. Next year it means we'll probably do less projects, but bigger ones - not bigger in the sense of posher or fancier, but more taps per venue.
RS – You've installed wine on tap in a whole variety of venues, from small local bistros and pubs right up to Michelin star restaurants. It's a good sign so many different places have embraced it.
RT – Yes, we've done a few hotels now too and there's definitely some 'proper' places that have got behind it. People like Adam Byatt, Chris Galvin, Martin Lamb, Jerry Bannister, great industry figures who support it. All these guys run very good restaurant businesses and it's good for them in terms of margin and customer satisfaction. We're also in the Tate, thanks to the wine buyer Hamish Anderson. Blacklock and Clipstone were early supporters too.
RS - Most times when you order a glass of wine it arrives already in the glass anyway, so you don't actually see where it's come from. I'd rather have a quality product from a tap than the dregs of a bottle that's been open too long or sat on a hot shelf.
RT – Yes. I think people are pretty comfortable with it. The wines trade is so focussed on the things we perceive people want, but it doesn't always think about what people drink wine for. Only a small amount of wine experiences are about the wine. It's about other things - catching up with friends, getting over a shit day at work, or celebrating a great day at work, the need to relax. The same reasons we drink other drinks. Because we love what we do and romanticise about it so much in the trade, we forget the fact that we're also supposed to be providing a really nice beverage, a consistent drink.
RS – Customers certainly value speed of service and consistency of product. Nothing worse than not being able to get a drink in a bar!
RT - If you talk to mates who aren't in the businesses the thing they find hardest is the language. They can find it confusing and intimidating and wine on tap gets around some of that. Fare is an interesting example 'cos they have cocktails, soft drinks, beer and wine all dispensed in same way. So, there's not only something for everyone to drink but it's also served in a very democratic way. Customers don't have to look through a big list or talk to a different member of staff. Wine on tap helps to sell wine in places where wine doesn't always fit, but might fit using the tap format. When a new customer contacts us we always ask why they're keen though - we don't think people should have it just because it's new fad.
RS - There are obvious positives - environmental, less wastage, consistency, ease of service. Are there any limitations or downsides?
RT - There is a romantic thing about pulling a cork - but there are also corked wines! The biggest challenge we have is getting customers to taste everything, filling up sample bottles in the office – sample stock is about 800l of wine sat in our office which we decant for tastings. It also hasn't really work in retail yet, but I've got some ideas for next year to change that. It's also got real potential for use at home.
RS - I'd love to have a wine tap at home. Can you get mini kegs?
RT - The manufacturers started making 10 litre kegs which means it's not going to be accessible to everyone but if you're someone who has a lot of people to stay… Or for weddings, B&B's, ski chalets, villas. It's quite fun for those sorts of places, and you won't have to throw out loads of bottles the next day.
RS - And if it's included in the price you can just help yourself…
RT: We've just done an install of six taps at Coombeshead Farm in Cornwall. They're only open four days a week which can produce wastage - and they are very focused on sustainability. We talked about putting some taps in the cellar like an Honesty Bar, so you can fill up a carafe and take it back to your room. What we do has never really been about a solely commercial angle.
RS - The taps also look pretty stylish too, which helps.
RT - We try not to brand anything, we try to integrate it. We want to a make it part of the restaurant rather than it being an add on. Some breweries put a big garish label on their taps in pubs, it's simply an advert their brand. We try and stay away from that. The idea is eventually other companies will end up offering taps on their portfolio too, but we will have helped to set a high bar in quality - and if other people want to get into it they'll have to come up to that level.
RS – Yeah, the way it launched a few years ago was never going to have any longevity. The first people that did it pigeon-holed it into an entry level box.
RT - Wine on tap really started in Wetherspoons, they were technically the pioneers. It was actually bag-in-box, using the bag instead of a keg, but it came out of a tap into the glass. That was about 12 or 15 years ago. When I started doing it I wanted to be as far away from that as possible, in order to build with a view of quality. Occasionally we still get it people asking if it's 'like Wetherspoon's'… In Ireland Wine Lab (another Wine on Tap company) have got so many customers and built a phenomenal reputation for it. We're still working on that in London and the UK. We've only recently starting doing some pubs, the first burger joint we did was the brilliant Bleeker Burger. A few years ago I had lunch with Charlie McVeigh, then of the successful Draft House pub group and he said we shouldn't actually start with them, as they were too big. He wrote me a list of other places, which included the Drapers Arms and the Canton Arms who we now both work with. It's good to remind yourself of these stories and his advice really helped. Should maybe go and see him again now actually!
RS – So make it aspirational first, expand later.
RT - There's so much to be had and so many great restaurants. Which means I can just sell to those places and I don't need to worry about the rest. We want to build the category but we'll let other people take the places where quality isn't the driver. I used to joke with a chef friend about opening a restaurant called Ding Splash where the kitchen is a microwave and a sous vide. I once washed up in a pub in Suffolk and they had a four hob domestic cooker and a wall of microwaves. If somewhere has a wall of microwaves it's just not a place for us to sell our wine and, to be honest, that's fine.
RS - Because of the cost savings of wine on tap do you see it's an opportunity to get 'better wine' in venues that traditionally have 'bad wine'?
RT - Definitely, but there has to be an openness to it. In the early days I got hoodwinked a bit - you think people are in it for the right reasons but then you discover they slap on a silly high margin. We try and get an idea of people's margin aspirations. I'm not keen on greedy margins – I understand if you're in central London and have a huge building and that all needs to be paid for but much above 75 % I don't really get. And of course we consider which venues our producers would be happy for their wine to be sold in.
RS - You work with such a great roster of people who are quality driven. How many of your producers in bottles also keg for you?
RT - About 40%. Sometimes it's a special cuvee just for keg. I don't hide it from the bottle producers that I'd love them to keg. When we did our first big tasting last February we did a little keg vertical of Macon from Le Grappin. Some of the other producers tasted it, realised the potential and decided to take the plunge.
RS - What are the advantages to a producer?
RT - Using up excess juice is one advantage. Also to experiment. Two of our Spanish producers - Succes Vinicola and Frisach - kegged wines they've not made before, so it gave them somewhere to put those wines without having to come up with a label and invest in bottles. Also, with a bottle the producer has to sort of sell one at a time, in the sense each unit is only 750mls. Whereas we buy and sell a bigger chunk of liquid in one unit. One thing producers like is not having to physically bottle. If you've ever been at a winery at bottling time it's pretty horrible, they're trying to push through everything as fast as possible as it costs a lot of money. It's a fairly aggressive experience. Kegging isn't, it's much gentler. Jordan Frieda of Padella explained to his staff that if you think about wine production it's kind of crazy to try to get 5000 litres - and often a lot more - into lots of tiny bottles.
RS - What's in the (excuse the pun) pipeline at the moment?
RT - We're going to launch a new sparkling wine in keg early next year - a Pet Nat - called Keg Nat. It's being made for us by a smart, young winemaker in the Loire.
RS - So the fermentation is completed in the keg?
RT - Yes, it's got the lees still in there.
RS – So the keg almost becomes the wine making vessel and you simply pump it out. It seems obvious, why haven't people don't that before?
RT - People have. Les Capriades – who for me are the benchmark for Pet Nat - made one in keg with a brewer friend of theirs. Now we're giving it go with one of our producers and will only serve it in places we can do a proper set up, as it will require different technical bits for dispensing. Otherwise you could do tank fermentation and transfer it, but that has limitations.
RS - Prosecco was one of the first wines to go on tap, wasn't it? I made an effort to taste as many as possible about five or six years ago. A lot of them were quite flat and bland – I wasn't that impressed.
RT - They were very much a commercial house product. We sell one and we hope it ones of the best ones available but it's such a small amount of what we do on tap. We try to never just be about house wines. We try to do something more interesting. We've got a fair few customers that don't use our taps for house wine at all. For them it's about having something premium on by the glass that can be consistent and incur minimal wastage. That's how Trinity in Clapham use it. They have things like Secateurs Chenin Blanc from Adi Badenhorst on tap. We're working on some new stuff from South Africa actually. Two wines from Mick and Jeanine Craven under a new label - Yellowbelly - and one from Duncan Savage who's made a Sauvignon Blanc for us. It's going to make people want to drink Sauvignon Blanc again!
RS - What's it called? Sauvignon's Back?
RT – Haha. I wanted to call it the Silver Surfer but I don't think Marvel will be too keen on that. Or Savvy Surfer, but that turned out to be a website telling parents how you stop your children looking at dodgy things on the internet. We'll come up with something, that's part of the fun.
RS - It seems like a collaborative thing. And even though you haven't got the bottle and label to hold and touch, the stories behind it bring the consumer closer to the wine.
RT – A lot of wine merchants don't bring the customers closer to wine. They try and be in between it. We tag all our producers in posts so they see what's happening and tell them where the wines are listed. We encourage people to go and see them without us too. That's a very conscious thing – to bring people closer to wine. I've been in the trade for maybe 15 years now, including in restaurants. I used to think going to wineries or a region or talking to winemakers was hard, 'cos some importers don't open it up to you. But it isn't. It's really important to make it clear that it's not complicated. We want to create less distance between producer and customer.
RS – I suppose it's about making the customer feel they're part of it all as well. They're not just the person at the end of the chain handing over the money. They're part of the whole process - no point in making wine if no-one is drinking it! Speaking of your customers, do you think wine on tap is particularly appealing to millennials?
RT - I hate the word millennials. As soon as you use it, it means you don't know who they are. But, the word aside, because wine on tap is very accepted in a craft beer bars and cocktail bars, we're giving people who want to drink wine in those venues the chance to do so. It gives more people access.
RS - But perhaps the younger generation are less reticent, in part because it's new and seems trendy, but also due to an increased environmental conscience?
RT - They're not really that different to us. the UK wine trade has hardly changed compared to other industries, it hasn't really altered its direction for decades. Whereas the beer and spirits industries have. Sipsmith gin and Kernel beer have been big inspirations for me. And the way other countries import wine – the Japanese importers such as Raffiné are impressive, they're enthusiastic and pro-active – and ask for what they want for their market. We also work with Josh Adler who has the Paris Wine Co. in the US and what he's achieved and the access he's gained for his producers is amazing. I originally hoped that wine on tap would be something thing would make people in the UK think a little differently, but it's almost worked out much better than I could ever have imagined.
By Ruth Spivey
Published 25-December-2018
Interview / London